8 of the best oud perfumes for a warm and long-lasting scent
The best oud perfumes give off a dark, smoky and sexy scent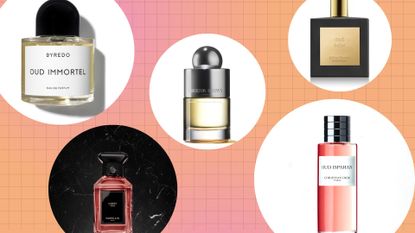 (Image credit: Future)
Rich and intoxicating, the best oud perfumes are powerful and impressive—but also, not for the faint-hearted. These fragrances stand out from the crowd with their heady, warm aroma that's often described as 'opulence, bottled'. A polarizing fragrance note, oud enthusiasts love its woody, smoky undertones, making it one of the best perfumes for women if you're looking for something to make a statement. Whether you like oud or not, it's currently having a moment—and here, contributing beauty expert Emma Stoddart has tested and shared her verdict on the best oud perfumes around.
"Aoud (or oud) comes from a fragrant resin harvested from the heart of the knotted Aquilaria tree, native to Southeast Asia" explains Roja Dove, British perfumer and founder of his eponymous fragrance line. Oud oil is extracted from the wood, which is extremely difficult to do, hence why it's so expensive. "The oldest aouds will cost thousands of pounds for just a few millilitres," adds Dove, who's had the privilege of smelling oud oil that's 120 years old.
"It is still the scent of choice in the Middle East," says Roja, "and it's now firmly established in Western perfumery, too." Because of its rarity, most fragrances today (even if they have oud in the title), do not contain natural oud. "It has become a name for a style of odor, as it is so very costly," adds Roja Dove. While several fragrances listed here contain synthetic substitutes, they still manage to conjure up that smoky, woody scent associated with the Middle East. From traditional oud fragrances to more modern iterations, discover our pick of the best oud perfumes, at a range of different price points, below.
How to pick the best oud perfumes for you
According to Eva Carlo, Creed's perfume expert, there are a few factors to consider when choosing the best oud perfume for you, to ensure you decide on the right option. Consider:
The other ingredients in the perfume: "A good starting point is to see whether the perfume is blended with any other ingredients," says Eva, "if it is, choose from your favorite florals, woody or even fruity notes." For instance, if you like the scent of rose, go for an oud and rose concoction. The perfume notes (e.g the other ingredients) will change how the scent comes out, so don't presume that if a perfume says 'oud' on the front, that it will smell how you expect it to.
Your budget: As mentioned, the best oud perfumes can be some of the more expensive scent options out there, because of the way oud is collected. In fact, one bottle below sells for $500/£500! For this reason, it's important to set your budget and stick to it. Don't be swayed by fancy names if it isn't financially a realistic option for you.
Testing the perfume: "The only way to really know if it's for you is to test it first on a blotter and if you like the result, then apply it onto your skin," says Eva. "If it's a natural oud, then it will develop in a unique way to you. Wear the fragrance for a day or two before committing to a purchase, as the evolution will be slow, and you want to be sure that you love it until the very end." If you're buying online, this obviously won't be possible—but if you can, it's well worth popping into a store to sample a tester before buying.
Best oud perfumes, as reviewed by a beauty editor
1. Dior Oud Ispahan
Best overall oud perfume
Specifications
RRP: $125/£115
Top notes: Labdanum
Heart notes: Rose, patchouli and saffron
Base notes: Oud, sandalwood and cedar
Longevity: Long-lasting
Reasons to buy
+
Complex scent that evolves on skin
+
Impressive longevity
+
Beautiful rose and oud combination
Reasons to avoid
-
May be too animalic for some
Stealing our number one spot in our round-up of the best oud perfumes is Christian Dior Parfums' Oud Ispahan. An iconic rose and oud concoction, this fragrance is elegant, refined and animalic. Inspired by Persia, the decadent blend combines smoky, woody notes with delicate rose and hints of spice. At first, we were struck by the beautiful scent of rose (that's more powdery than jammy), before the comforting oud base took over.
Lingering long after spritzing, this is one of the best long-lasting perfumes we've tested, as we found that it stuck around for 12 hours (or more), which is very impressive. Note that a little goes a long way though, and if you spritz on too much, it can become overpowering. Overall, this beautiful blend is a great 'entry-level' oud for anyone who's keen to expand their fragrance wardrobe and experiment with oud. And while it's expensive, the impressive staying power and complexity of the scent make the price point slightly more palatable, which it's why it's made it to the top spot.
2. Molton Brown Mesmerising Oudh Accord & Gold Eau de Toilette
Best affordable oud perfume
Specifications
RRP: £60 for 50ml (UK only)
Top notes: Cinnamon, nutmeg and bergamot
Heart notes: Myrrh, elemi and black tea
Base notes: Oudh, vetiver, tobacco and honey accord
Longevity: Moderate
Reasons to buy
+
Comforting fragrance
+
Not too heavy
+
Ideal warming scent for winter
Reasons to avoid
-
Scent doesn't stick around for long
As we mentioned before, oud is an extremely rare and expensive ingredient which is why most oud perfumes (even those containing synthetic substitutes) come with a high price tag. But this one, from Molton Brown (one of the best vegan and cruelty free perfume brands), is far more reasonable. An Eau de Toilette, the longevity and projection aren't great—but considering the decent price point, we think it's worth it anyway. Laced with cinnamon, citrus and honey—this oud perfume is warm and comforting without being too heavy.
So, if you're searching for a lighter oud perfume that's extremely wearable, this could be the perfect pick for you. Great for the winter months as well as everyday wear, this creamy, smooth and delicate number starts off fresh (thanks to bergamot) before it dries down to a sweet oud and smoky base. Spritz this on whenever you're in need of a comforting pick-me-up; it's definitely one of the best oud perfumes if you're on more of a budget.
3. Roja Parfums Aoud Parfum
Best luxury oud perfume
Specifications
RRP: $615/£595 for 100ml
Top notes: Lemon verbena, bergamot, lemon
Heart notes: Rose, geranium, ylang-ylang, jasmine
Base notes: Oud, leather, ambergris, saffron, musk, cashmere wood, patchouli, rhubarb, sandalwood, nutmeg, cedar, cinnamon, vanilla
Longevity: Long-lasting
Reasons to buy
+
Complex scent evolves on the skin
+
Impressive staying power
+
A luxury pick—great for formal events
This perfume is for the few, not the many. Costing upwards of £500, it is not an impulsive buy. No, this fragrance needs to be tried and tested, worn on the skin for a day or two, before it's purchased. An ode to oud, the scent draws inspiration from the Middle East where perfumer Roja Dove spent three years working closely with this rare material to understand its complex nature. Here, Roja pairs oud with creamy florals (specifically rose) and rich spices to create this warm, complex and heady blend.
Dark, mysterious and extremely sensual—we were completely taken by this oud fragrance. It's beautifully balanced with its citrus-y opening that cuts through the heavy agar wood and leather base. Rose adds a feminine touch while musk, sandalwood and vanilla give this fragrance a smooth and creamy dry down. And it's the dry down that lingers on the skin, staying put for 12 hours (or more), which demonstrated, once again, a very impressive staying power. There's a reason this oud perfume is such an investment—but if you can truly afford to splurge, it's the ultimate indulgence.
4. Versace Oud Oriental Eau de Parfum
Best oriental oud perfume
Specifications
RRP: $135/£130 for 100ml
Top notes: Rose, saffron and freesia
Heart notes: Violet, heliotrope and patchouli
Base notes: Oud, leather, sandalwood and vanilla
Longevity: Long-lasting
Reasons to buy
+
Fresh oud fragrance
+
Sophisticated scent
+
Not too heavy
Reasons to avoid
-
Expensive considering its simplicity
If you're after a simplistic scent that's great for everyday wear, turn your nose to this Oud Oriental perfume from Versace. Housed in an opulent gold bottle, this luxurious scent is sophisticated and chic. We can imagine wearing it with a tailored suit and crisp poplin shirt. Alongside oud, the perfume features a bouquet of blooms (think rose, freesia, violet and heliotrope), creamy vanilla and rich leather.
While the name spotlights oud, we found that the floral notes are the real star of the show here. Powdery, soft and ever so slightly sweet, this is a great choice for any floral perfume fanatics. After a while, once the scent warms on the skin, we detected rich leather and smoky oud which together add warmth to this otherwise light fragrance. So if it's a heady, oud perfume you're after, we'd suggest looking elsewhere. And it's worth noting that it is a rather pricey choice for how simple and straightforward a fragrance it is. But, if you adore florals and prefer a fresh fragrance, give this one a whirl.
5. D.S. & Durga Notorious Oud Eau de Parfum
Best unique oud perfume
Specifications
RRP: $190/£148 for 50ml
Top notes: Saffron, camphor, galbanum
Heart notes: Oud, Bulgarian rose, lavender
Base notes: Papyrus, civet, cetalox
Longevity: Long-lasting
Reasons to buy
+
Impressive longevity
+
Smells expensive
+
Evolves on the skin throughout the day
After a new signature scent? Consider this unique blend from Brooklyn-born fragrance brand D.S. & Durga. Confident, loud and complex, this standout scent demands to be noticed with its sensual, smoky and green aroma. At first during testing, we were hit by spicy saffron before the rich oud made an appearance—a combination which we thought just smelt *expensive*, if you know what we mean?
In the background, floral notes (including rose and lavender) add a soft touch to this otherwise powerful concoction. Overall, we'd describe this scent as woody, green and masculine. While the sillage is moderate (the trail of perfume left behind you), the scent does linger on the skin long after spritzing, so you can rely on it to see you through the working day, for example. A great autumn/winter pick, this is a confidence booster in fragrance form.
6. Guerlain L'Art & La Matière Cherry Oud Eau de Parfum
Best fruity oud perfume
Specifications
RRP: $360/£280 for 100ml
Top notes: Cherry and fruity notes
Heart notes: Turkish rose and Bulgarian rose
Base notes: Leather and oud
Longevity: Long-lasting
Reasons to buy
+
Smells luxurious
+
Good silage
+
Fruity twist
Reasons to avoid
-
Fruity notes are too light to linger
-
Very pricey
Guerlain do some of the most popular perfumes around, and we completely understand why. For a fruity twist on a classic rose and oud concoction, turn your nose to this feminine fragrance from the high-end brand. One of three new oud fragrances to join the collection, this scent stands out for its fruity top notes that smell refreshingly bright and sweet—a nice pairing with the muskier oud. Once the fragrance settles on the skin, we detected the strong rose and leather scent that smells dark and sensual.
Great for special occasions and going 'out out', we received several compliments while wearing this fragrance during testing, making it one of the most complimented fragrances on our list. When it comes to the cons of this perfume, there weren't many—but while the cherry gives it a unique twist, we would love more cherry in there so that it sticks around for longer. We also found that the fruity opening quickly subsides (after 30 minutes or so), turning into a classic rose and oud concoction that's not entirely original. With that said, it is still a beautiful blend that smells luxurious and makes you feel good while wearing it (if you can justify the juicy price-tag).
7. Miller Harris Oud Éclat Eau de Parfum
Best oud perfume for winter
Specifications
RRP: $195/£170 for 100ml
Top notes: Oud, cashmere wood and tagetes
Heart notes: Balsam fir, floral notes, nutmeg and amber
Base notes: Sugar, moss, leather and musk
Longevity: Long-lasting
Reasons to buy
+
Multifaceted fragrance
+
Sweet and spicy
+
Great staying power
Reasons to avoid
-
May be too sweet for some
There's so much to love about this Miller Harris fragrance. A hidden gem, we're amazed this scent isn't talked about more—which is why it's firmly on our list of the best oud perfumes. It has the same toasted marshmallow aroma as the beloved Baccarat Rouge 540 from Maison Francis Kurkdijan but with a more masculine edge (thanks to the leather, oud and musk notes). So if you have a sweet tooth when it comes to fragrance, this could very well be your new signature scent.
One of our favorite Miller Harris' fragrances (and we've tried a few), this blend is grown-up, sophisticated with a hint of sweetness that's not too overpowering. We love how this evolves on the skin, too. Once the initial oud and wood aroma subsides, the sweetness and spice come into its own, getting better with every sniff. Our top tip? Keep this scent to yourself!
8. Byredo Oud Immortel Eau de Parfum
Best simple oud fragrance
Specifications
RRP: $142/£130 for 50ml
Top notes: Limoncello, incense and cardamom
Middle notes: Oud, patchouli, papyrus and Brazilian rosewood
Base notes: Oak moss and tobacco
Longevity: Moderate
Reasons to buy
+
Fresh and uplifting
+
Unique scent
+
Great for night time
Reasons to avoid
-
Moderate longevity considering price point
Stockholm-based brand Byredo is behind some of our favorite fragrances—including Oud Immortel, our pick for the best simple oud fragrance. But don't be fooled—it's anything but basic. Extremely wearable and very distinctive, this masculine concoction is entirely unique with its sharp citrus opening that settles down to a woody base with a hint of oud. Simple and refreshing, this fragrance is inspired by the most traditional use of incense, and was created as a tribute to oud.
For those of us who already have a penchant for the note, give this scent a spritz. Oud is detectable from start to finish and pairs so well with the rosewood, patchouli, moss and tobacco leaves. The overall medley is smoky, woody and fresh. Our only gripe is the price point, which is a lot considering the moderate to weak silage and projection.
Freelance beauty journalist
Emma is a freelance beauty journalist who has worked in the beauty industry for six years for a number of titles—including Grazia, Stylist and Net-A-Porter. She has a particular interest in skincare, fragrance and makeup staples and has worked on producing editorial shoots with some of the industry's biggest artists—including Val Garland—and interviews with the likes of Patrick Ta, Pat McGrath, and Sam McKnight for all their insider tips and tricks.