5 best sunscreens for oily skin to protect intensely without making skin feel greasy
Our beauty expert guides you through the best sunscreens for oily skin with her in-depth reviews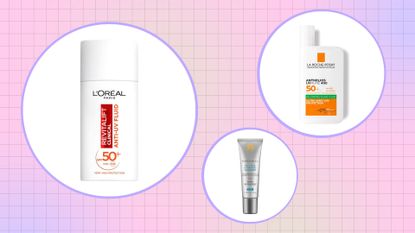 (Image credit: L'Oreal/SkinCeuticals/La-Roche-Posay)
Though it is of course the priority, the best sunscreens for oily skin have to do more than protect the skin from the sun's harmful rays. Sunscreen has a reputation for being greasy, which is the last thing you want when your skin is prone to excess oil, so these formulas must not cause skin to be excessively shiny and greasy—particularly if you wear makeup over the top.
When shopping for the best facial sunscreens for this skin type, Dr. Ifeoma Ejikeme advises: "Look for sunscreen that is labeled as 'oil-free' or 'non-comedogenic,' as this can help prevent clogging of pores and breakouts. Choose a sunscreen with a lightweight texture, that won't feel heavy or greasy on the skin; sunscreen with a matte finish can also help reduce shine.
"When it comes to factors to avoid, be cautious of sunscreens that contain heavy oils, fragrances, or other potentially irritating ingredients that can worsen oily or combination skin," she adds. Ahead, after years of trialing and testing SPFs as a beauty editor, one of our contributing beauty experts has shared detailed reviews of the best sunscreens for oily skin.
Meet the experts on sunscreen for oily skin
Dr. Ifeoma Ejikeme is an advanced cosmetic doctor and the founder of the Adonia Medical Clinic in London. Here she has explained how to choose SPF for oily skin, and how much sunscreen should be applied for adequate protection.
Dr. Alexis Granite is a board-certified consultant dermatologist and an ambassador for Garnier. She has explained the differences between mineral and chemical sunscreen, the two categories of SPF formulas.
How we tested the best sunscreens for oily skin
Before compiling this guide, we selected a range of different sunscreen options that had formulas that would likely suit oily skin types. These also covered a range of price points to ensure that all budgets were catered to, and options that are known to be recommended by experts such as dermatologists. Each formula was worn at least once and, during the testing process, our beauty expert contributor took note of all of the following factors:
Consistency of formula
How easily it rubbed in
If it left a white cast
How it felt on the skin both immediately and with wear
SPF rating(s)
Packaging
Price
Meet the tester
Meet the tester
Lucy Abbersteen
My skin would probably be classed as oily-to-combination, though it's rare that it experiences dryness, and most of the time it's rather oily. For me, a sunscreen shouldn't feel horribly greasy or sticky when first applied from a user experience POV, but it's imperative that it sits comfortably on the skin and doesn't make it feel greasy as the day progresses. I also like formulas to rub in easily, feel comfortable on the skin, and not leave a noticeable white cast. As I frequently test makeup for my job, I take note of how well a formula sits underneath makeup, too.
The best sunscreens for oily skin, as reviewed by a beauty editor
1. Avène Cleanance Very High Protection SPF 50+
Best sunscreen for oily skin overall
Specifications
RRP : $23 for 1.7fl oz (50ml)
Key ingredients : Monolaurin, blue light protection
Reasons to buy
+
Non-comedogenic
+
Monolaurin regulates sebum production
+
Excellent makeup base
+
Tinted version also available
Reasons to avoid
-
Slightly yellow formula could stain white clothing
This cream has become a real go-to for wearing under makeup when my skin is going through a particularly oily and/or spotty period. It rubs in easily and isn't visible on the skin, plays well under makeup, and doesn't cause the skin to go greasy throughout the day. But most notably this formula has been designed specifically for oily and blemish-prone skin—and it shows. The ingredients list boasts a little something called monolaurin, which works to steady sebum production and help reduce any existing blemishes, so you can trust that it won't worsen any current breakouts.
As you'd expect from an oily skin formula, it's also non-comedogenic, the technical term for non-pore clogging. It offers broad-spectrum protection at SPF 50+, with HEV blue light protection thrown in for good measure. A downside is that the formula is yellow, so, while I've not been burned by this myself, to be on the safe side I would be wary of it marking white clothing. Other than that, it's a reliable and reasonably-priced favorite.
2. L'Oréal Paris Revitalift SPF 50+ Invisible Fluid
Best sunscreen for oily skin to wear under makeup
Specifications
RRP : $25.99 for 1.7fl oz (50ml)
Key ingredients : Vitamin C, vitamin E, hyaluronic acid
Reasons to buy
+
Reasonably priced
+
Antioxidant benefits thanks to vitamin C
+
Brilliant base for makeup
+
Doesn't feel greasy to wear
+
Water-resistant
Although this formula isn't designed specifically for oily skin, it played so nicely with my complexion that I was genuinely wowed. Not only is it a dream to apply and wear, but the ingredients list has so many ticks. Firstly, there's vitamin C and vitamin E for antioxidant protection and added radiance, but the formula is also hydrating thanks to the inclusion of hyaluronic acid. It's not super rich, but is a good fit for oily skin because it sinks in with ease—no frantic rubbing here—and doesn't feel at all greasy. I personally don't have any dark spots, so can't comment on how well these were reduced, but L'Oréal's own consumer research certainly sounds impressive.
On a practical level, this sunscreen is pretty runny (as my image above shows) and so you have to be speedy if you're using the two-finger method to measure the right amount to apply to your face and neck. But in my opinion, this is easy to forgive because of how lovely the formula is to apply and use. An excellent newcomer to the market!
3. Ultra Violette Lean Screen Mineral Mattifying Skinscreen SPF 50+
Best matte sunscreen for oily skin
Specifications
RRP : $38 for 1.7fl oz (50ml)
Key ingredients : Zinc oxide, Kakadu plum, pentavitin
Reasons to buy
+
Fragrance-free; good for sensitive skin
+
Didn't leave a white cast
+
Very mattifying
+
Formulated in Australia—"the toughest place to get a sunscreen approved"
Reasons to avoid
-
Will also mattify makeup layered over the top, which won't please everyone
I'm a beauty editor, so I'm biased, but I love when a brand makes sunscreen application feel exciting for those who might not be inclined to put it on every single day. Ultra Violette is just… cool. Hailing from Australia, where they know a thing or two about the importance of wearing sunscreen, there are so many excellent SPF products within its range, but Lean Screen is the one for very oily (or sensitive, or both) skin types. It's a completely mineral formula that mattifies the skin but isn't too drying, thanks to hydrating pentavitin. There's also Kakadu plum, famous for boasting 50+ times the vitamin C as a single orange, meaning antioxidant benefits, too.
I can't speak to how this would look on all skin tones, I found that it rubbed in easily and didn't leave a white cast thanks to its slight tint. You can feel it slightly on the skin, but not to the extent that it's bothersome, heavy, or greasy. In the interest of fairness, I have to mention that I couldn't get the pump to work on two tubes that I tested, so while I doubt it's a widespread issue, I can't accurately comment on Lean Screen's dispensation (when I've tried other Ultra Violette sunscreens, the pumps have been clean and efficient). Other than that, it kept my skin nice and matte when worn alone or with makeup, which it will keep slightly matte, too.
4. SkinCeuticals Oil Shield UV Defense SPF 50
Best high-end sunscreen for oily skin
Specifications
RRP : £45 for 1fl oz (30ml) – UK only, similar products available in US
Key ingredients : Silica silicate, mineral and chemical filters
Reasons to buy
+
Mattifies, but not too much
+
Doens't become at all greasy with wear
+
Lovely underneath makeup
SkinCeuticals is a brand you can trust. Many of its products are skincare icons in their own right, such as the famous CE Ferulic Serum, but their sunscreens are equally brilliant. I should first flag that these products vary around the world due to local regulations, so this exact buy isn't available in the US, though there are options for oily skin Stateside, too (though most of these are mineral-only formulas). Oil Shield is a mineral and chemical formula and, despite being a white cream, does dissipate with rubbing and isn't visible once it's soaked into my skin. In my experience, it's also impressive how well it lives up to its mattifying claims, even in hot weather, regardless of whether you've applied makeup over the top—this is down to silica silicate, which is the sebum-reducing ingredient that also has a blurring effect on skin.
The very obvious downside here is, of course, its price tag, which is a little yikes-inducing when you consider the tube is on the small side at 1fl oz/30ml. This very much makes it one for those who set aside a big skincare budget, particularly as you can't be conservative with sunscreen application. However, if that's not an obstacle for you and you're already an SC fan with oily skin, I think you'll find a new favorite in this, too.
5. La Roche Posay Anthelios 400 UVMune 500 SPF 50+ Oil Control
Best dermatologist-recommended sunscreen for oily skin
Specifications
RRP : £20 for 1.7fll oz (50ml)—UK only, similar products available in US
Key ingredients: Airlicium
Reasons to buy
+
Isn't so matte that it makes skin look flat
+
Absorbs excess oil
+
Dermagologist-loved brand
Anthelios is one of the first names that comes to a skincare enthusiast's mind when you think of sunscreen. First things first, La Roche-Posay is another brand whose SPF offering differs around the world, so this exact iteration isn't another that's not available in the US. That said, there are similar Anthelios options for both oily and oily-to-combination skin are available—inhcluding oil-free formulas.
If ever you've found the original Anthelios to be just that little bit too moisturizing or glow-inducing, allow me to present the Oil Control edition. It offers the same great protection with the advanced UVMune 400 filter (broad spectrum protection that also shields skin from ultra-long rays) in a formula that's more appropriate for oily and combination–oily skins. The hero ingredient for oily skin is airlicium, which absorbs excess oil to keep things matte while you wear—which I can attest to. This is the runniest formula in the guide by some way, but it's so advanced and easy to rub in and apply that we can forgive it. For newbies, we have a dedicated La Roche-Posay Anthelios review for a more in-depth guide to the original.
How much sunscreen should you apply?
"To apply sunscreen to your face and neck, use between a quarter to half a teaspoon of sunscreen for the face and neck area," says Dr. Ifeoma Ejikeme. "A good way to measure this is two full fingers as a guide."
How often should you reapply sunscreen?
"Reapply every two hours, or more often if you're sweating or swimming," says Dr. Ejikeme. "It's also important to apply sunscreen at least 15-30 minutes before sun exposure, to allow it to fully absorb into the skin."
What's the difference between mineral and chemical sunscreen?
"Chemical sunscreen absorbs UV rays and then converts them to heat, then releasing that heat from the skin's surface," explains Dr. Alexis Granite. "Physical (mineral) sun creams physically block the sun's rays from reaching the skin. Examples of chemical sunscreens include avobenzone, octinoxate and oxybenzone, [while] physical sunscreens are titanium dioxide and zinc oxide."
Lucy is a beauty journalist who has written for titles including Marie Claire, Cosmopolitan, OK!, woman&home and Women's Health, as well as regularly contributing to My Imperfect Life. Her work covers everything from skin and haircare tips to trying and testing the latest beauty launches, and interviewing celebrities and experts. A certified dog person, her other interests include mental wellbeing, books, piña coladas and not getting caught in the rain.