SkinCeuticals CE Ferulic showed me results I never knew were possible from a topical serum
SkinCeuticals CE Ferulic does what no serum has ever done before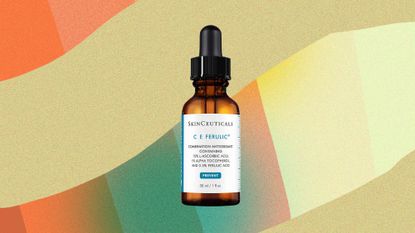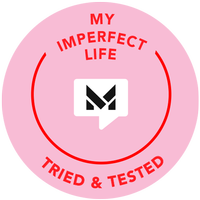 (Image credit: SkinCeuticals)
My Imperfect Life Verdict
This concoction of active ingredients blends effective doses of vitamin C, vitamin E and ferulic acid to leave skin even, plump and seriously glowy in no time
Reasons to buy
+

Absorbs quickly

+

Reduces appearance of imperfections

+

Leaves skin plump and hydrated

+

Adds a glowy, almost airbrushed look

+

Packaging protects formula
Reasons to avoid
-

Application takes some getting used to

-

Expensive
When a product has as much hype as the SkinCeuticals CE Ferulic, it's hard not to want to know more and also dare we say it, be a little skeptical. So, we decided to truly put it to the test.
Over the last 16 years, this petite, humble-looking bottle of serum has risen through the skincare ranks to earn a stellar reputation as one of the best vitamin C serums that money can buy. It's caught the attention of dermatologists, beauty editors, and skincare fans alike, despite its lack of millennial pink packaging or Insta-worthy aesthetics. This can only mean one thing of course—the product inside the bottle must mean serious business.
A concoction of active ingredients, this formula isn't one for wasting your time. It gets straight to work with effective doses of vitamin C, vitamin E, and ferulic acid to leave skin plump and glowy in no time.
SkinCeuticals CE Ferulic serum review: The need to know
Type of vitamin C: L-ascorbic acid
Strength: 15%
Additional ingredients: 1% vitamin E and 0.5% ferulic acid for extra added protection against the environment
Bottle type: Dropper
The packaging—and how to store vitamin C correctly
There are no chic gold caps, monochrome designs, or holographic finishes with this one—the SkinCeuticals CE Ferulic is all about the formula inside. It screams practical with its black cap, brown bottle, and prescriptive branding, and this simple and to-the-point design is what initially instills our trust in the product. But the dark bottle is much more than just a pointer of the product's stern nature. We all know vitamin C serums aren't the most reliable when it comes to longevity, due to the ingredient's tendency to oxidize, and with its strong raw formula, SkinCeuticals CE Ferulic is definitely a candidate for oxidization.
This occurs when vitamin C—especially when it appears in high doses—is met with light and air. The exposure can reduce the effectiveness of the ingredient to the point where it can end up not working at all (you can usually tell when this has happened as the product will turn brownish in color). The darker packaging works towards keeping the sun and heat away from the serum. We'd also suggest keeping this in a darker corner of your dressing table and making sure you screw the cap back on tightly as an extra precaution.
Formula of the SkinCeuticals CE Ferulic serum
When the product description makes you feel like you need a chemistry degree to understand it, that's when you know you're in for one seriously good formula. It all starts with the 15% L-ascorbic acid, aka pure vitamin C. Widely recognized as the most powerful topical form of vitamin C, L-ascorbic acid is one of the most effective ways to tackle dark spots, even out skin tone, and address dullness, fine lines and loss of firmness.
Then comes the alpha-tocopherol, also known as vitamin E. Not only is this one of the best topical antioxidants, protecting the skin against harmful free radicals from the environment, it also supports the stability of the L-ascorbic acid in order to prevent oxidization for longer and works to tackle dry skin by stimulating natural sebum production. Now we're not talking blotting paper-worthy levels of sebum, so oily skin sufferers please don't be put off, but in tandem with the brightening vitamin C, the vitamin E adds just a touch of hydration to leave a plump and glowy look in its wake. And of course, this is all increased by the addition of powerhouse ferulic acid. A plant-based antioxidant, ferulic acid works to further stabilize both vitamin C and vitamin E for a more balanced formula that is less likely to oxidize. It also comes with all the protective antioxidant powers you would expect, as well as the capacity to tackle dark spots, redness, and signs of aging.
How easy is this serum to use?
Our one and only gripe with this SkinCeuticals vitamin C serum is that it's not the easiest to apply, because of its very runny formula. While this does speak to the quality of the ingredients, in that it doesn't need any thicker emollient additives thanks to the effectiveness of its powerful ingredients, it does mean that you have to be very careful when applying in case you waste expensive product by dripping it down your wrists every time you apply it.
The packaging does come with instructions to squeeze four or five drops into the palm of your hand and then apply using fingertips. We found the easiest (and most economical) way was to touch our palms together so that the formula was distributed evenly and then dab our palms onto our cheeks, forehead, nose, mouth area, and neck before using fingertips to softly pat it into the skin. It does take some getting used to though and our tester did once find a few drips escaped her grip and soaked into a patch on her foot. But on the bright side, the touch of glow that followed really was proof of the serum's celestial-like powers.
When to use the SkinCeuticals CE Ferulic serum
The age-old question: is vitamin C better in the morning or night? While it can be either, we always tend to go with the morning because of its antioxidant properties. In terms of what stage to use it at, it all depends on the thickness of your formula. Serums containing active ingredients are usually best layered over a first stage of hydrating serum, as this creates a nice protective base to stop actives irritating skin too much. This way also usually works well as it's always best to apply a hydrating serum to wet skin, so it makes sense to do this first while your skin is still wet from toner, cleansing or a facial mist.
However, things are a bit different when it comes to the SkinCeuticals CE Ferulic. As it is such a thin formula, we recommend applying this as your first layer after cleansing (and toning if you include this stage). Just make sure your skin is dry first. This allows the skin to get the most out of the powerful serum, with none of it going to waste trying to fight its way through other layers of skincare to the base of your skin.
When it comes to active skincare, it's always best to leave sometime after application before moving onto your subsequent layers. We'd recommend leaving at least 10 minutes (time permitting of course) to really let the ingredients work on your skin without being diluted by other elements. You can then go in with a mist to create a base for your hydrating serum before patting that in on top. If you don't have the time to spare, we'd skip the mist step when using this so that the serum isn't diluted, and always make sure to pat in your next step so that the C E Ferulic isn't wiped off at all.
What results can I expect from SkinCeuticals CE Ferulic serum?
It's a bold claim, but we would go as far as to say that we've never seen results quite like this from any other serum. In just a matter of days, dark spots and pigmentation had faded completely and there was a subtle glow to the skin that we've only ever been able to achieve with carefully considered make-up.
It even leaves an almost airbrushed look in its wake that has given us license to stop trying to scout out mattifying high-coverage non-comedogenic foundations and converted us over to more sheer, lighter coverage formulas, such as our favorite Giorgio Armani Luminous Silk foundation. We'd even go so far as to say that in the BB cream v foundation debate, we're no longer siding with the latter...
So... should you buy the SkinCeuticals vitamin C serum?
Just like it's impossible to go back to a wired bra after you've tried out the best bralettes around, the SkinCeuticals CE Ferulic has left us with a jarring sense of discontent every time we slather on an alternative vitamin C serum. We can only imagine how bereft we will feel once our dropper has squeezed its last drop, there are just so many dreamy elements to it.
Not only does this thin serum soak straight into the skin, so you're not left with pesky skincare or foundation pilling from too many layers of thick product fighting against each other, but unlike some other vitamin C and E serums we've come across, there is no greasy residue with this one. It leaves skin plump and hydrated but not oily, there's no tightness or dryness left behind and it goes above and beyond when it comes to brightening.
We can't get enough of the almost airbrushed glow it gives us and it's the only thing we can rely on when we want to nix dark spots. To get more use out of it, we've reluctantly decided to use it only two to three times a week, as this is enough of a top-up to keep the incredible results going. However, we'd be careful when doing this because of the oxidization factor. Make sure you're storing it in a cool, dark, and dry place, and only keep the lid off for a minimal amount of time so that you can put off oxidization for as long as possible. It does have a slightly off-putting salty smell that reminds us a bit of a city street hot-dog cart, but the luminosity you're met with on the other side will activate your love goggles so fast you'll be craving a frankfurter.
Deputy Editor at My Imperfect Life
Aleesha is deputy editor and beauty & fashion lead for My Imperfect Life, where she heads up the beauty, fashion and eCommerce pages. Previously she was shopping writer for woman&home and gained an AOP awards nomination after working on their news team. She earned an MA in Magazine Journalism from City, University of London in 2017 and has since worked with a number of brands including, Women's Health, Stylist and Goodto. When she's not testing new products, Aleesha spends her time soaking up the newest bestsellers and Netflix releases, learning about different wines, attempting new languages and travelling as much as she can.