SkinCeuticals CE Ferulic gets results I never thought possible with a topical serum
For our in-house beauty expert, SkinCeuticals CE Ferulic Serum does what no formula has ever done before...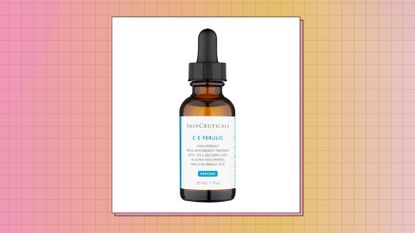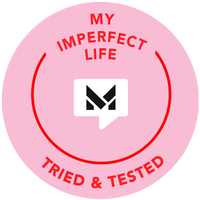 (Image credit: Future/SkinCeuticals)
My Imperfect Life Verdict
This concoction of active ingredients blends effective doses of vitamin C, vitamin E and ferulic acid to leave skin even, plump and seriously glowy in no time
Reasons to buy
+

Absorbs quickly

+

Reduces appearance of imperfections

+

Leaves skin plump and hydrated

+

Adds a glowy, almost airbrushed look

+

Packaging protects formula
Reasons to avoid
-

Application takes some getting used to

-

Expensive
When a product has as much hype around it as SkinCeuticals CE Ferulic Serum, it's hard not to be intrigued—and dare we say it, a little skeptical. So we decided to put it through its paces to see if it's worth its legendary skincare status and hefty price tag.
Over the past 17 years, this humble-looking bottle of serum has risen through the skincare ranks to earn itself a glowing reputation as one of the best vitamin C serums that money can buy. It's caught the attention of dermatologists, skin experts and beauty editors alike without any millennial pink packaging or Insta-worthy aesthetics. This can only mean one thing—the stuff inside the bottle means serious business.
With a concoction of active ingredients, this formula doesn't waste any time. It gets straight to work on your skin doses of vitamin C, vitamin E, and ferulic acid to leave it plump and glowy.
A beauty expert's honest review of SkinCeuticals CE Ferulic Serum
SkinCeuticals CE Ferulic Serum packaging and stats
Type of vitamin C: L-ascorbic acid
Strength: 15%
Additional ingredients: 1% vitamin E and 0.5% ferulic acid
Bottle type: Dropper
Sizes available: 30ml
RRP: $169/£150
There are no chic gold lids, monochrome designs, or holographic finishes here; SkinCeuticals CE Ferulic is all about the formula. It screams practical with its plain, brown bottle and prescriptive branding, and this simple, to-the-point design is what initially instills trust in the product. But the dark bottle is much more than just a pointer of the product's stern nature.
Vitamin C serums aren't the most reliable in terms of longevity, due to the ingredient's tendency to oxidize. This occurs when vitamin C—especially at higher concentrations—is exposed to light and air. The exposure can destabilize the formula, rendering it ineffective (you can usually tell when this has happened as the product will oxidize and turn brownish in color).
Although CE Ferulic, as a vitamin C product, is definitely a candidate for this, the darker packaging helps to keep light and heat out. We'd also suggest keeping this in a darker corner of your dressing table and making sure you screw the cap back on tightly as an extra precaution. Make sure you store it in a cool, dark, and dry place, keep the lid off for a minimal amount of time, and always screw the lid back on tightly to delay oxidization for as long as possible.
Ingredients—what's in the SkinCeuticals CE Ferulic Serum?
First and foremost, SkinCeuticals CE Ferulic contains a 15% concentration of L-ascorbic acid, aka pure vitamin C. Widely recognized as the most powerful topical form of vit. C, this is one of the most effective ingredients for tackling dark spots, uneven skin tone, dullness, fine lines and loss of firmness. We know, quite the skillset.
Then comes the alpha-tocopherol, more commonly known as it's named on the bottle, vitamin E. Not only is this a great topical antioxidant, protecting the skin from harmful free radicals, but it supports the stability of the L-ascorbic acid—vitamin C is a notoriously unstable ingredient and formulas have a tendency to oxidize. It also tackles dry skin by regulating sebum production.
And of course, all this is supercharged with the addition of skincare powerhouse ferulic acid. A plant-based antioxidant, ferulic acid works to further stabilize both vitamin C and vitamin E for a more balanced formula that is less likely to oxidize. It also comes with all the protective antioxidant powers you would expect, as well as the capacity to tackle dark spots, redness, and signs of aging. It does have a slightly off-putting salty smell, not unlike a city street hot-dog cart, but the luminosity it achieves is worth putting up with!
How easy is SkinCeuticals CE Ferulic to use?
One sticking point of this particular SkinCeuticals vitamin C serum is that it's not the easiest to apply because of its very runny formula. Although this speaks to the quality of the formula (there are clearly no filler ingredients), you have to be very careful while applying to avoid it dripping it down your wrists and wasting product.
That said, the instructions do stipulate squeezing 4-5 drops into the palm of your hand and then applying with your fingertips. We find the easiest (and most economical) way to apply CE Ferulic is to touch your palms together to distribute the formula evenly, then press it into your cheeks, forehead, and co, before using fingertips to softly pat it into the skin. This takes some getting used to, though, and our tester did find a the odd few drips escaped her. On the bright side, the touch of glow that follows really is proof of the serum's celestial powers.
When should you apply SkinCeuticals CE Ferulic?
The age-old question: is vitamin C better in the morning or night? There's no reason it can't be applied at either time of day but, because of its protective antioxidant benefits, we usually apply during the day. As for when to use it in your skincare routine order, a good rule is to apply your product from thinnest to thickest consistency.
As for how to use vitamin C serum, some people like to layer serums containing active ingredients over a hydrating serum, as this creates a buffer that could reduce any minimal irritation. But SkinCeuticals CE Ferulic has such a thin formula that we recommend applying this as your first layer after cleansing (and toning if this is something you do). Make sure your skin is dry first, as this allows the skin to get the most out of the powerful serum.
When it comes to active skincare, it's always best to leave sometime after application before moving onto subsequent layers. We'd recommend leaving at least 10 minutes (time permitting of course) to really let the ingredients work on your skin without being diluted by other elements. You can then go in with a mist to create a base for your hydrating serum before patting that in on top. If you don't have the time to spare, we'd skip the mist step when using this so that the serum isn't diluted, and always make sure to pat in your next step so that the C E Ferulic isn't wiped off at all.
SkinCeuticals CE Ferulic Serum results
It's a bold claim, but we would go as far as to say that we've never seen results quite like this from any other serum. In just a matter of days, dark spots and pigmentation had faded completely and there was a subtle glow to the skin that we've only ever been able to achieve with carefully considered make-up.
It even leaves an almost airbrushed look in its wake that has given us license to stop trying to scout out mattifying high-coverage non-comedogenic foundations and converted us over to more sheer, lighter coverage formulas, such as our favorite Giorgio Armani Luminous Silk foundation. We'd even go so far as to say that in the BB cream v foundation debate, we're no longer siding with the latter...
The verdict—is the SkinCeuticals CE Ferulic Serum worth it?
If you've got the budget, yes: SkinCeuticals CE Ferulic is worth every cent (if you're looking for a less expensive option, look to La Roche-Posay Pure Vitamin C10 Serum). We can only imagine how bereft we'll feel once our dropper has squeezed its last... well, drop. It just ticks the boxes for so many reasons.
Not only does its thin consistency soak straight into the skin, so you aren't left with skincare or foundation pilling, unlike some other vitamin C and E serums we've come across there's no greasy residue after you've applied it. It leaves skin plump and hydrated, with no residual tightness or dryness, and it goes above and beyond when it comes to brightening. We can't get enough of the almost airbrushed glow it gives us, and it's the only thing we can rely on when we want to nix dark spots.
To get more use out of it—a bottle will cost you a fair bit of money—we've reluctantly resigned to using it only two or three times a week, as this is enough of a top-up to keep the incredible results going. But rest assured, you won't regret adding it to your skincare regime.
Deputy Editor at My Imperfect Life
Aleesha is deputy editor and beauty & fashion lead for My Imperfect Life, where she heads up the beauty, fashion and eCommerce pages. Previously she was shopping writer for woman&home and gained an AOP awards nomination after working on their news team. She earned an MA in Magazine Journalism from City, University of London in 2017 and has since worked with a number of brands including, Women's Health, Stylist and Goodto. When she's not testing new products, Aleesha spends her time soaking up the newest bestsellers and Netflix releases, learning about different wines, attempting new languages and travelling as much as she can.