6 of the best multipurpose makeup products to save you space and money
Experts explain the benefits of multipurpose makeup—plus the tried-and-tested buys to have in your beauty kit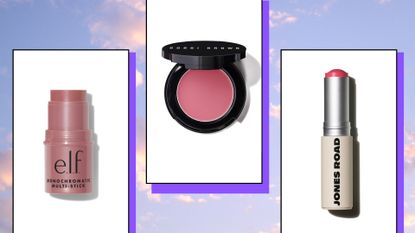 (Image credit: Future/brands pictured)
Multipurpose makeup products are great for so many reasons. For one thing, knowing that your little compact or twist-up stick is going to cover multiple areas of your makeup regime is very satisfying. And while the best eyeshadow palettes are a joy to behold (and use), others like a streamlined approach when it comes to their makeup bag—but the benefits of multipurpose makeup don't stop there.
"I'm a big believer that your makeup always looks better if you top it up a couple of times throughout the day," says makeup artist, content creator and podcaster Rose Gallagher. "We see a lot of products marketed as being super long-wear, or having however many hours of wear, and that's fine, but it will look even better if you just top it up. I think if one product is lighter and easier [with multiple uses], you're more likely to throw it in your handbag, top up, and have a great night."
Of course, many products that you already own can be multipurpose if you want them to be. "My newest find is that a highlighter can be used to create the trending 'glazed donut' look on your nails," says Ciaté London founder Charlotte Knight. By pressing highlighter onto a dry base color and sealing in place with a top coat, you have a shimmery nail. This also works really nicely to tie your whole makeup look together, as you have the exact same shades across your face."
On that note, we spoke to a few makeup experts to share their insight on why multipurpose makeup is so great, as well as tested some of the most popular buys to bring you a curated edit of the best multi-use buys to shop now.
Meet the experts on multipurpose makeup
Rose Gallagher is a makeup artist and content creator who shares super useful makeup tips (you've probably seen her on TikTok!) and practical skincare advice. Here she advises My Imperfect Life on the benefits of multipurpose makeup as well as some of her go-to buys.
Charlotte Knight is the founder and CEO of Ciaté, Lottie London and Skin Proud, who worked as a celebrity nail tech before launching her beauty brands.
How we tested the best multipurpose makeup
While testing out multipurpose makeup, our tester has worn each product out and about so as to be able to comment on things like its texture, ease of use, and longevity, as well as writing about some of her long-time go-to multipurpose makeup staples. She took all of the following factors into account.
Cost
Texture and finish
Blendability
Format
Where they can be used
Ease of use on-the-go
Number of shades available
Meet the tester
Meet the tester
Lucy Abbersteen
My skin would probably be classed as combination overall, but it's very much on the oily side. That said, it still plays well with many cream textured products with the right base and setting products. I'm also a fan of topping up blusher or tidying up an eye look a little as the day goes on if necessary, which multipurpose products lend themselves really well to.
The best multipurpose makeup as reviewed by a beauty editor
1. Nudestix Nudies
Come with a built-in brush
Specifications
RRP: $34/£28
Type : Stick
Number of shades: 15 (blush and bronzer)
What makes it multipurpose: Can be used on the eyes, cheeks and lips
Reasons to buy
+
Blush and bronze shade editions
+
Also comes in matte formulas for oilier skin types
+
Lidded brush at one end
Reasons to avoid
-
Brush does the job well enough, but isn't the best
Gallagher describes these all-over face color sticks as a "holy grail" of multipurpose makeup and honestly, we have to agree that they're up there with the best of the best. If you're going to throw one thing in your bag that you can use throughout the day for top-ups, these portable sticks come in blush, bronzer, and highlighter options and are a brilliant investment.
Not only is the formula and range of colors excellent, but there's a built-in brush at the opposite end of the stick (it's not as good as a dedicated separate brush you might use at home, but it does the job well enough). The pigment is great and the formula lasts well—plus, those with very oily complexions will be happy to hear that the sticks also come in matte editions, which our tester is a big fan of too. To use an overused phrase, they're a handbag must-have.
2. e.l.f. Monochromatic Multi Stick
Best affordable multipurpose makeup buy
Specifications
RRP : $5/£5
Type: Stick
Number of shades: 8
What makes it multipurpose: Can be used on eyes, lips, and cheeks
Reasons to buy
+
Super affordable
+
Buildable
+
Blends very easily
Reasons to avoid
-
Some shades are sparkly, which might not be your vibe for lips
These chubby sticks are adorable and the very definition of cheap and cheerful—and that's a good thing. Coming in eight different shades across pinks, browns, and reds, the Monochromatic Multi Stick formula gives a nice hit of color across the eyes, lips, and cheeks. The pigment is buildable and the formula blends out really easily to create more of a "wash" of color. If you aren't a fan of glitter, it's important to flag that these are sparkly and so could be one to avoid if you don't want to glisten in the sunlight à la a Twilight character.
The formula retains some of its creaminess on the skin even after an hour of wear, which is potentially an issue for those with oily eyelids. But the joy of easily portable makeup is that you can always reapply or touch up throughout the day and, for a mere five dollars or pounds each, they're a really accessible multipurpose makeup product.
3. Bobbi Brown Pot Rouge
Handy mirrored compacts with good color payoff
Specifications
RRP : $35/£26
Type : Cream compact
Number of shades: 5
What makes it multipurpose: Can be used on lips and cheeks
Reasons to buy
+
Good color payoff
+
Nice nourishing texture for winter
+
Iconic brand best seller
+
Mirrored compact
Reasons to avoid
-
Might not suit the oiliest skin types
One of the brand's most popular products, Pot Rouge is an iconic product that's a particular hit with wedding makeup artists. The creamy formula blends really nicely with either a brush or your fingers, both of which our tester likes the results of, and the mirrored compact makes it excellent for on-the-go application.
The pigment is great and means that it makes a lovely lip color as well as a cream blush (or could even work as one of the best eyeshadows for dark skin), and it takes a very long time to hit pan. It is at the very creamy end of the texture spectrum and so the oiliest skin types may find that they'd prefer something a bit more matte, but it's such a fan favorite we don't think that anybody would be disappointed.
4. Lottie London Mango Sorbet Sweet Lips Scrub & Balm
A nourishing lip balm and gentle exfoliant in one
Specifications
RRP : $7.97/£6.95
Type : Pot
Number of shades : N/A
What makes it multipurpose: Doubles as a scrub and a balm
Reasons to buy
+
Exfoliates and nourishes in one
+
Balm leaves lips super soft
+
Delicious mango scent
Reasons to avoid
-
Scrub particles can linger
Who doesn't love a good lip balm? It's an essential product in anybody's skincare routine even if they aren't an avid makeup wearer. This happy yellow pot from Lottie London is an excellent nourishing lip balm that'll leave your lips feeling super soft. But what makes it a great multipurpose buy in particular is that it also doubles as a lip scrub.
Apply the same amount as you would with regular lip balm and the sugar substitute crystals will provide a little gentle exfoliation before dissolving completely—although you may find that odd few crystals do hang around for a while after you applied. It's worth it for a really excellent lip balm, though, and the mango scent is delicious. Just don't be tricked into actually eating it.
5. Jones Road Lip and Cheek Stick
Great for dewy winter skin
Specifications
RRP : $34/£30.50
Type: Stick
Number of shades : 8
What makes it multipurpose: Can be used on the lips and cheeks
Reasons to buy
+
Nourishing
+
Buildable color
+
Gives a lovely glowy flush
+
Chic packaging
Reasons to avoid
-
Not the best for very oily skin types
Bobbi Brown the person actually left her eponymous brand several years ago and has since launched a brand new makeup brand, Jones Road, which is all about high quality products that are, at their heart, really easy to use. One of the more recent launches are these beautiful lip and cheek sticks, which provide nourishing, glowy, and sheer-yet-buildable colour for both your lips and cheeks.
The results are super pretty, but this is a very nourishing and quite oily-feeling formula, it's definitely a product that lends itself better to the winter months. They are so many universally flattering shades on offer here, though, and although the price point is a bit higher their size is decent, so expect for one to last you ages.
6. MAC Cream Colour Base
A healthy glow on face and body
Specifications
RRP : $28/£24
Type: Cream compact
Number of shades: 5
What makes it multipurpose: Doubles as a glowing base and highlight
Reasons to buy
+
Gives a hint of a healthy glow in several different shades
+
Creamy but not at all greasy
+
Designed for use on both the face and body
Reasons to avoid
-
Not for those who want punchy colors
These MAC pots come in a range of flattering, kind of understated shades but can be used as a radiant base, dabbed on the cheek bones for a bit of extra sheen and even on the body for a healthy glow and our tester has found that they're excellent for a glowy-not-shiny finish without any trace of glitter. This is another of Rose's go-to products.
"Because they're shimmery and come in various shades to suit all skin tones, I feel like they're a glow in a pot," she says. "It isn't a shimmery, glittery glow, it's a kind of well-lit, well-rested "zjhush" that just makes you look great and your skin look really, really healthy."
What are the benefits of multipurpose makeup?
Space-saving—If you're carrying makeup on the move, an easy win is that having one product in your bag that can be used on multiple areas of the face is going to save you space in your bag. "If you're a frequent traveller, or like me and likes to have makeup in your bag for when you're out and about, it saves a lot of room having one product that can be used for different needs and in multiple areas," Knight says.
Removes the guesswork—Much like the best eyeliners for beginners, multipurpose makeup is often even easier to use. "Not everyone is confident in pairing colours," Gallagher explains. "Some people love to have all of these pops of colour, and that's great, but if you just want your makeup to match and look quite nice together, then using the same colour in several areas means that the whole look will always be pulled together. It takes all the guesswork out of it for you."
More affordable—As Knight says, "One benefit of multipurpose makeup that's most important right now is that it saves money. If you have a product that performs more than one function, it's cost-effective and makes it more likely that you'll use the product to the end."
Speeds up your routine—"Let's say you're busy getting ready for work in the morning, a busy school mom, whatever it might be—having one product that you're potentially going to put on your eyelids, cheeks and lips to add a bit of colour is much quicker and more useful," Gallagher confirms. "I also think you're more likely to do a bit of a glam look if you can use one product for different steps."
Lucy is a beauty journalist who has written for titles including Marie Claire, Cosmopolitan, OK!, woman&home and Women's Health, as well as regularly contributing to My Imperfect Life. Her work covers everything from skin and haircare tips to trying and testing the latest beauty launches, and interviewing celebrities and experts. A certified dog person, her other interests include mental wellbeing, books, piña coladas and not getting caught in the rain.