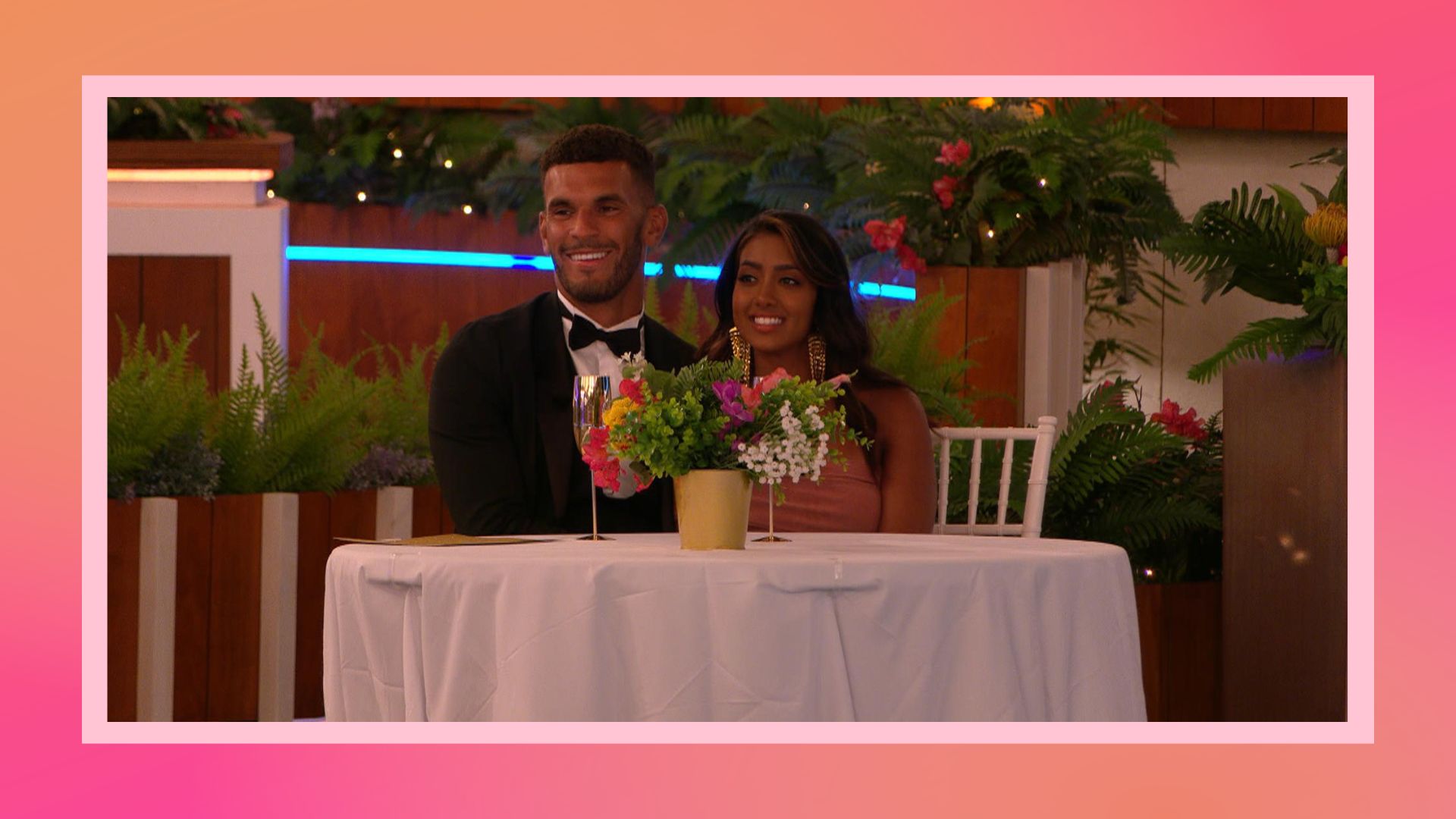 Happy Love Island final day to those who celebrate! The winter edition of Love Island UK has officially come to an end but if you've missed it, don't worry—we've got all the updates for you.
It's been a long and very dramatic road getting here but we finally have our winners—Kai and Sanam! The teacher and social worker duo took the crown (and the £50K prize) home, after beating OG islanders Ron and Lana. Catch up on all the Love Island final updates below...
Key points:
Refresh
With just a few hours to go, it's time for a refresher on everything our islanders have been up to in the past eight weeks...
When did 'Love Island' 2023 start and how long has it been on for?
The second-ever winter Love Island series returned to our screens on January 16, 2023, and since then, we've seen 35 contestants walk through those villa doors—with eight islanders making up the final four couples still remaining! We've also seen the return of all the most iconic challenges, from Mad Movies, the Baby Challenge, and of course, the biggest test of them all—Casa Amor.
What's happened on winter 'Love Island' 2023 so far?
It's safe to say winter Love Island has not been stingy with the drama over the last eight weeks. After returning to our screens on January 16, we've seen it all—from mad moves to whole villa fall-outs. So, for anyone in need of a recap before the big finale, here's everything that's gone down in the villa so far...
The winter series pretty much follows the timeline of the summer series 'to a T' (a Love Island phrase for you there!), so the first episode saw the first 11 islanders arrive in the villa for the first coupling up.
The first 11 islanders arrive...
The first girls to arrive in the villa included the likes of Tanya Manhenga, Lana Jenkins, Olivia Hawkins, Tanyel Revan and Anna-May Robey. For the boys, Ron Hall, Kai Fagan, Will Young, Harris Namani and Shaq Muhammad made up the lineup, before the first bombshell, Tom Clare entered as the show's first shake-up!
The first, starting couples were:
Lana and Ron
Tanyel and Kai
Tanya and Shaq
Anna-May and Haris
Olivia and Will
As of the final, only Ron and Lana and Tanya and Shaq are still a couple from the first ever coupling up—much like Tasha and Andrew from Love Island 2022.
Once the islanders were all paired off, host Maya Jama then announced the arrival of the first bombshell Tom, who was, for the first time ever, selected by viewers through the Love Island voting app. He then chose Olivia in the first recoupling, leaving Will single.
The first week saw all the couples getting to know each other, with Ron and Lana, Shaq and Tanya and Kai and Tanyel seemingly clicking straight away. Anna-May however cooled things off with Haris, who was interested in getting to know Olivia.
Anna-May then started to get to know Kai, but things quickly fizzled out in that department too, meanwhile, Olivia was still torn between Haris and Tom.
Bombshells Zara and David arrive to stir up trouble...
Then in the third episode, bombshells Zara and David joined the fold, with Zara instantly catching the eye of Ron and Tom. David also threatened to turn Tanya's head—resulting in some beef between Haris and Shaq as tensions soared in the evening.
Zara's entrance, acted as the first (of many) tests for Ron as he decided to get to know her, though ultimately she chose to recouple with Tom—thus sparking all the Zara, Olivia and Tom drama. In the same recoupling, Tanya decided to stick with Shaq, sending David packing—making him the first islander to be dumped from the 2023 winter series.
'Love Island Australia' stars, Jessie and Aaron head into the villa...
Then in episode 7, we were treated to another twist, as two Love Island Australia alums, Aaron and Jessie entered the villa—with Jessie striking up a connection with Will (who had been single for the first week).
In episode 10, bombshells Spencer (who owns a vibrator company!) and Ellie then entered, with the latter making her interest in both Tom and Ron clear. Ellie's arrival sparked a bit of drama between OG couple Ron and Lana, as she chose him in the recoupling before Aaron then chose Lana. Then things got even messier as Ron told Lana that he planned to 'dead' things with Ellie, only to do a full 180 a few hours later.
Tom's 'secret' terrace kiss sparks drama...
The pair then went on a date to the treehouse, with Ron then deciding to end things with Ellie after all. Tom also had his fair share of drama that week, as he cooled things off with Zara after being caught in a love triangle between her and Olivia, only to then lock lips with Ellie on the Terrace—which they kept a secret.
Zara and Tanya then told Olivia of the 'secret' kiss after Will spilled the beans, before heading out on his first date with Jessie.
Samie turns both Ron and Tom's head....
New girl Samie then entered, again turning Tom's head, as well as Kai's and Ron's—who said he wanted to get to know her. This left Lana reeling as she told Ron she was going to take a step back if he was going to get to know someone else.
In the tense recoupling, Aaron again chose Lana, leaving Ron to recouple with Tanyel, after Kai chose the new bombshell Samie. Tom was then left to make the final recoupling decision, between Ellie and Zara—he picked Ellie, meaning Zara was dumped from the island, which did not go down well with fans.
Lana recouples with Casey...
Then came Casey and Jordan—Casey made his interest in Lana very clear from the off, with the pair quickly becoming close, despite Ron's efforts to get back in her good books. She then chose Casey in the next recoupling, but after a day, ended things with him to rekindle her romance with Ron.
Casey didn't have long to miss Lana though, as Claudia soon arrived to turn his head before Casa Amor 2023 made its anticipated return in week three.
Casa Amor 2023 returns...
This installment of Casa Amor was one of the most dramatic yet, with Will—who nobody expected to have his head turned—kissing Layla on the terrace during the very first night, while both Tom and Casey locked lips with Lydia and Cynthia. Kai also struck up a connection with Sanam (both of whom have now made it to the final week together!)
In Casa, Tanya also had her head turned by Martin with the pair sharing a kiss in bed, while Olivia grew close to Maxwell.
The ensuing recoupling was quite the rollercoaster, with Kai choosing to recouple with Sanam, which did not go down well with Olivia—despite her also recoupling with Maxwell. Then Tom, Will and Casey decided to stick with their OG couples but were forced to come clean with their antics as they reunited with Samie, Jessie and Claudia - with the Casa girls once again getting to spill the tea on the boys.
Lana and Ron chose to remain faithful, as did Shaq but the recoupling only went from bad to worse as Tanya brought Martin back to the main villa, despite her and Shaq dropping the 'I love yous' ahead of Casa.
Jessie found Will's behavior very difficult to forgive, with the Mad Movie Challenge only fueling the drama between them. Similarly, the dramatic clips did no favors for Tom and Samie's relationship, nor Shaq and Tanya's.
The final week begins...
Now, as we enter the final week the remaining couples; Samie and Tom, Shaq and Tanya, Jessie and Will, Ron and Lana and Kai and Sanam are all going strong. Though the friendships have taken a hit.
Ahead of Casey and Rosie's departure, there was drama between Rosie, Ron and Casey—as Rosie claimed Ron had told her they wouldn't work on the outside because he spends too much time with the no boys and not enough getting to know her.
Ron and Lana denied this, but this only seemed to fuel more talk amongst the islanders that Ron was playing a game, after he also let slip that the couples who get their drama out of the way at the beginning, often soar through to the final (referring to himself and Lana). Though since then, the islanders have seemingly patched things up.
The islanders didn't have long to enter the calm after the storm, however, as the Baby Challenge made its return in episode 52—with Samie and Tom getting crowned as best parents of the villa!
Which 'Love Island' 2023 couples are in the final?
Kai and Sanam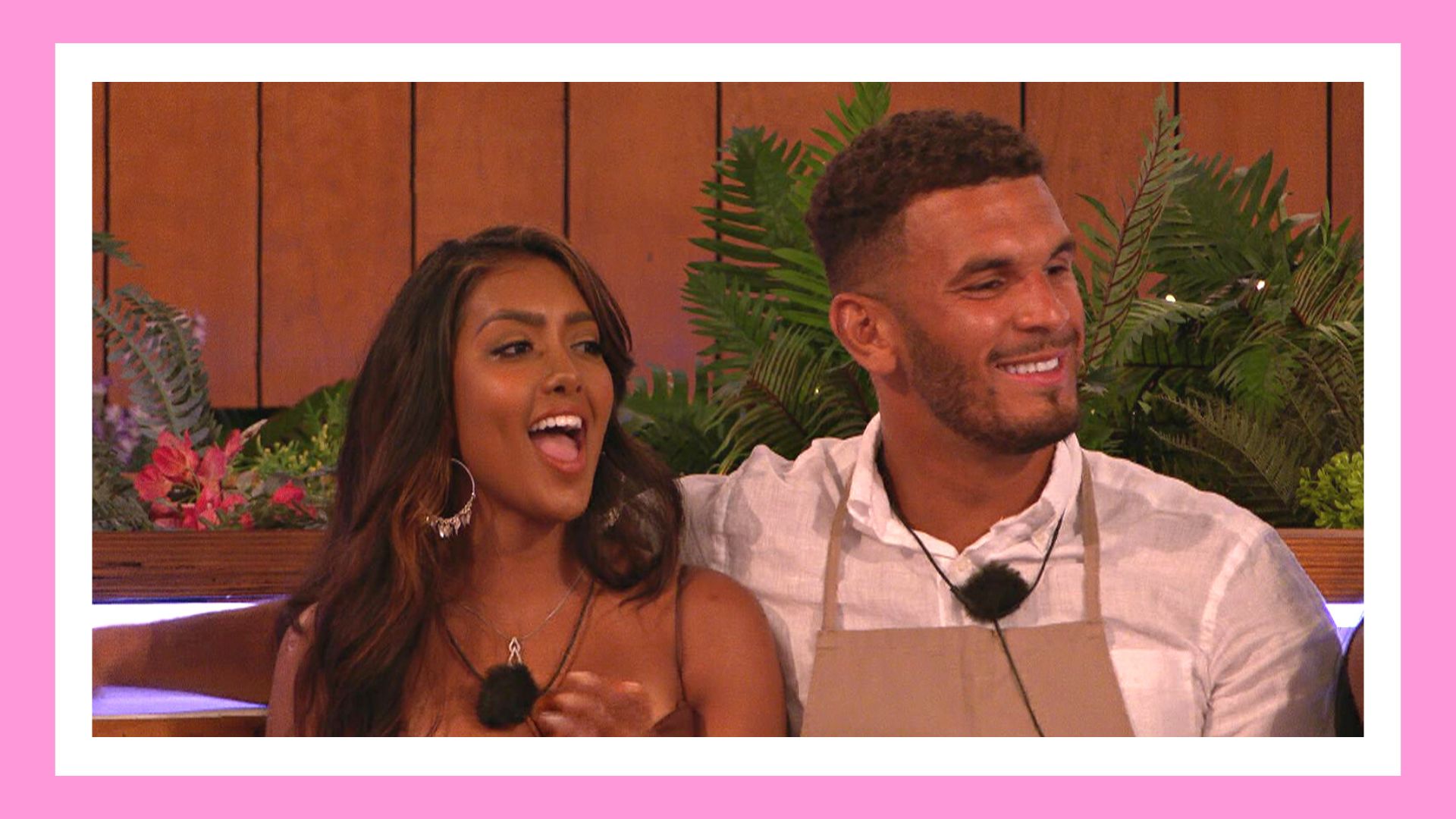 Kai and Sanam are the last couple remaining from Casa Amor. Kai chose to recouple with her, instead of staying loyal to Olivia, who also brought back Maxwell from the Casa villa.
Sanam was actually the only Casa girl to be chosen and now the pair have made it all the way to the final!
Shaq and Tanya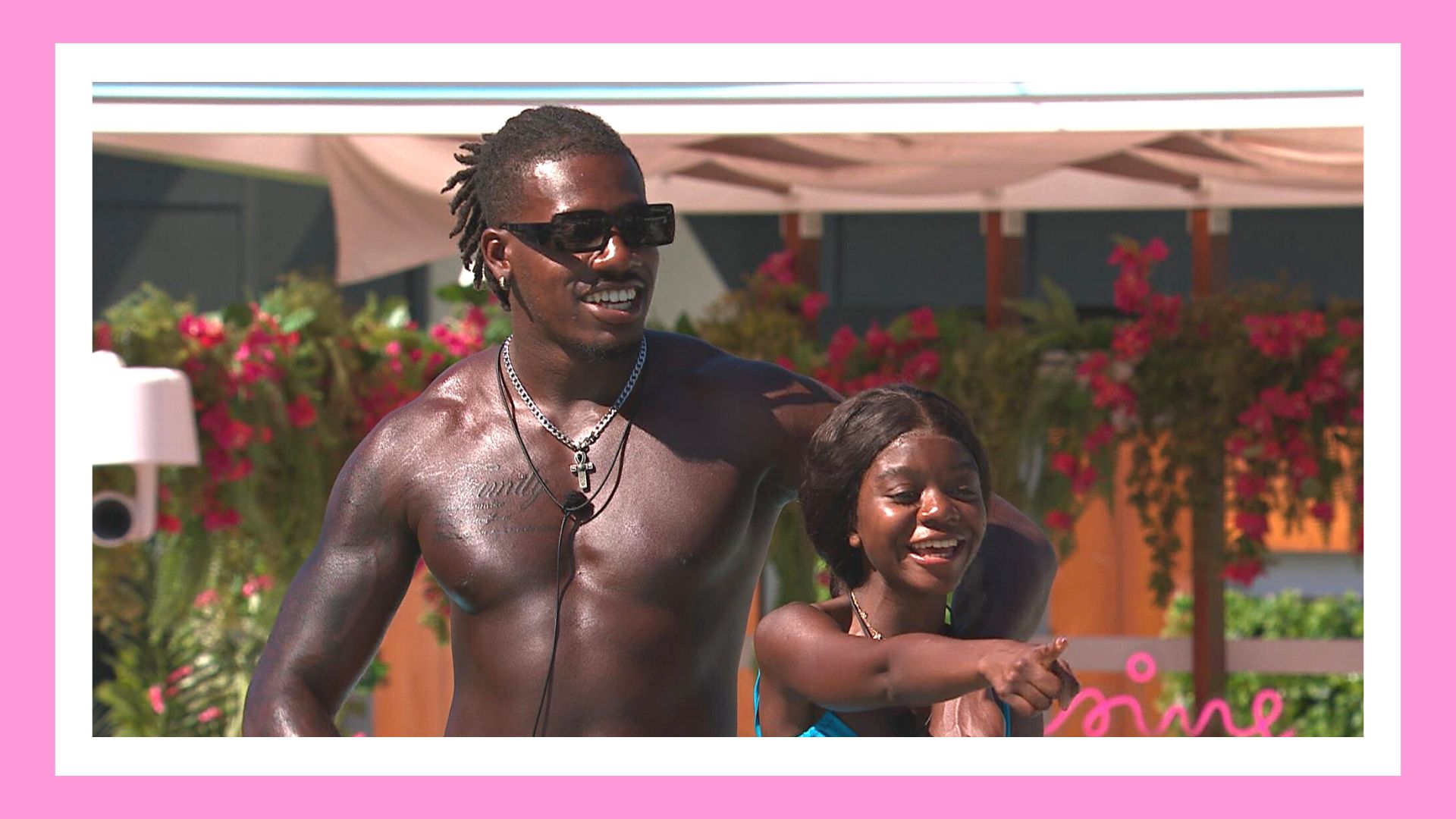 Shaq and Tanya have been on quite the journey together. They have been coupled up (on and off) from day one, with the pair even dropping 'I love yous' in the second week!
Things weren't exactly plain sailing after their declarations of love, however, with Tanya kissing and bringing Martin back from Casa Amor. Ultimately, she and Shaq did make up though, before making their relationship official during their final date.
Tom and Samie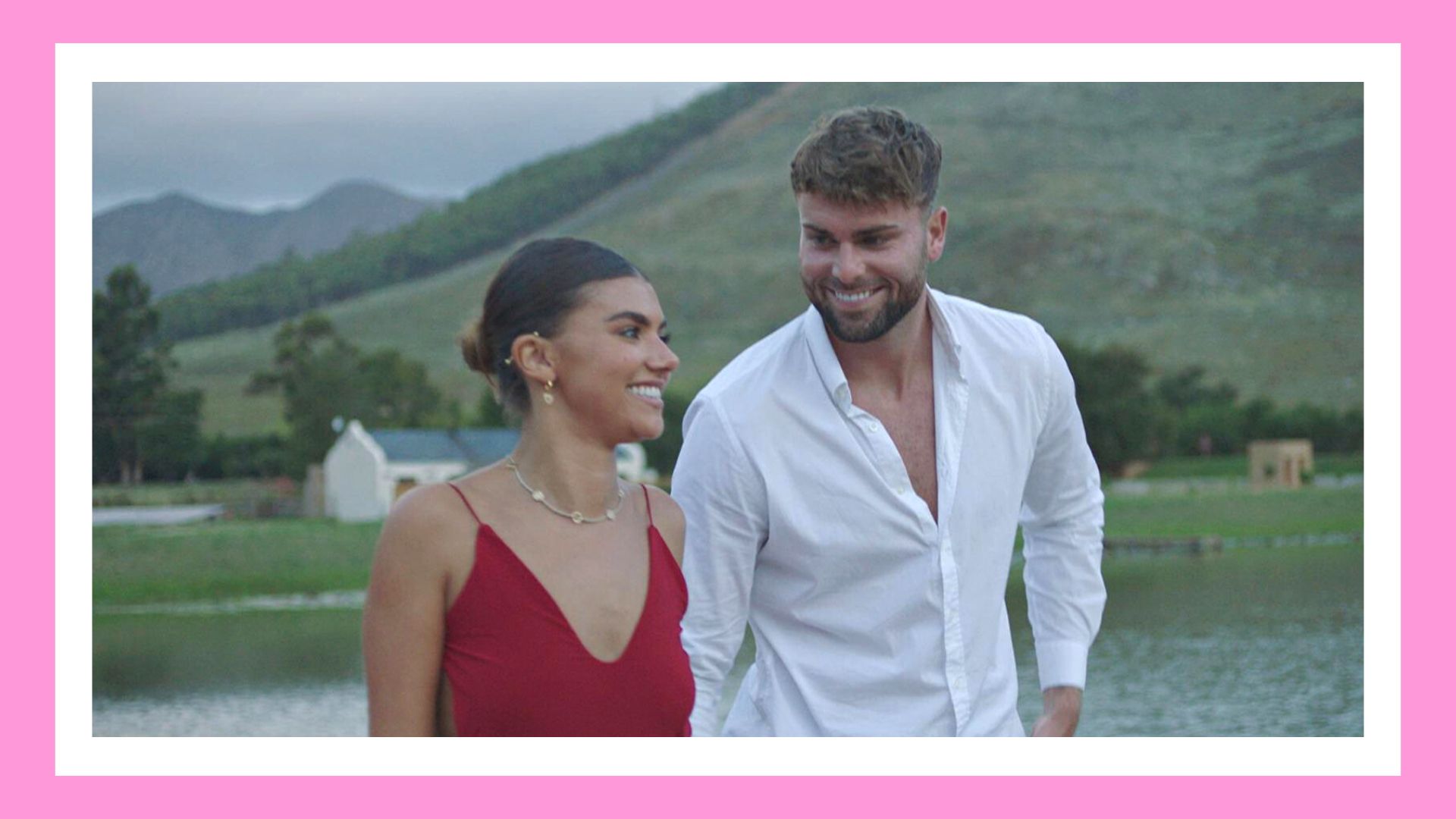 Samie and Tom have also had a slightly rocky journey, with Tom also kissing Lydia during Casa Amor—with his antics sparking some major drama when they were premiered during Movie Night.
However, the pair now seems to be going strong—even winning the baby challenge...
Lana and Ron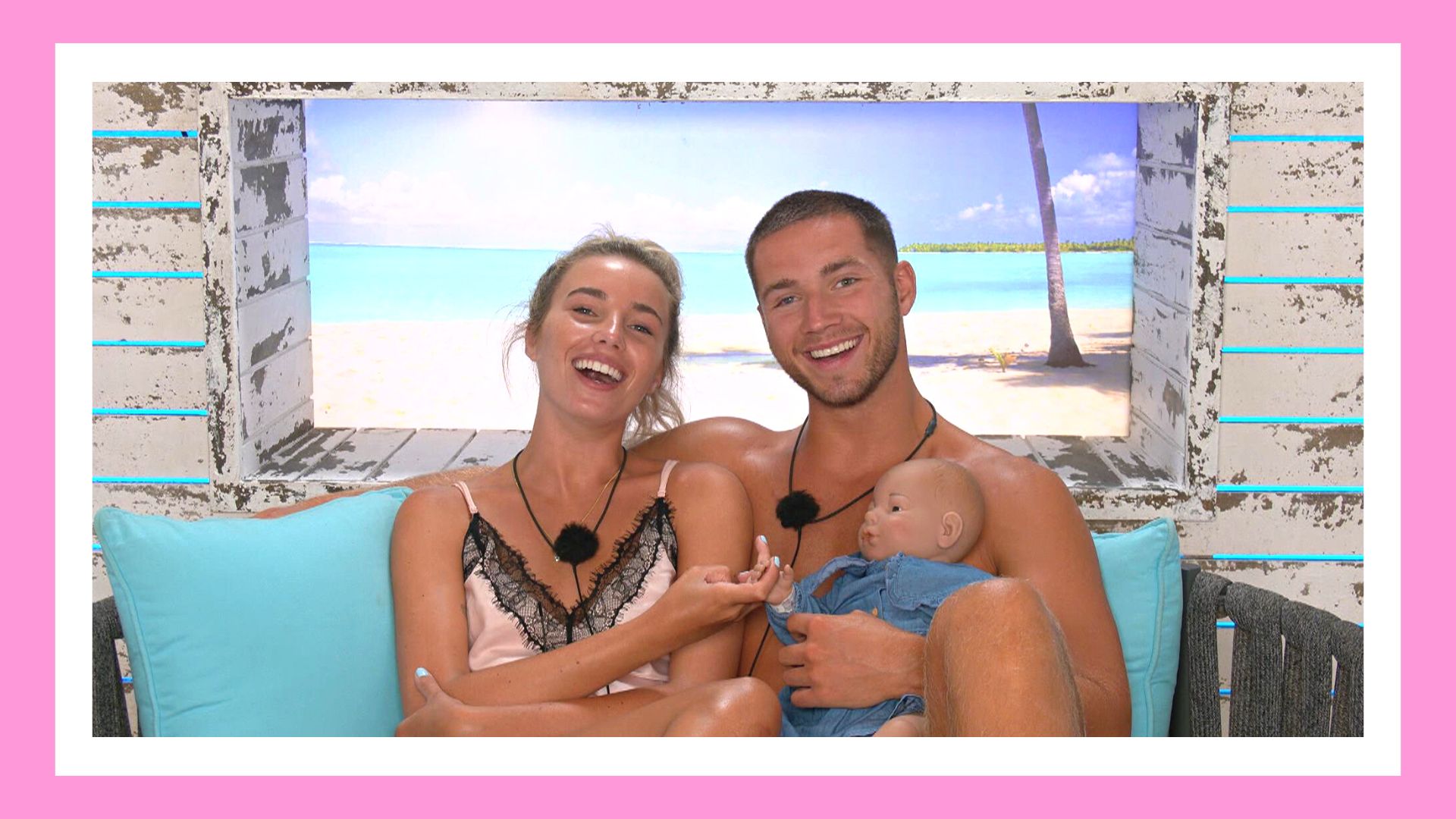 Ron and Lana were the first couple of season nine to become boyfriend and girlfriend!
The pair faced their fair share of tests, with Ron wanting to get to know Ellie, Zara and Samie before Lana then decided to recouple with bombshell Casey, after cooling things off with Ron. After the recoupling though, they rekindled things and both stayed loyal during Casa Amor. Now, for many viewers, they're the favorite couple to win the show...
What new memes has this Love Island season brought with it?
While this year has given us a number of tense scenes to add to the list of most memorable Love Island moments, what we were really all here for was the meme content—here's a roundup of our faves from this season!
1. Martin being a constant mood...
Martin was just giving us all the best reaction faces, especially during Movie Night, where he dug into the popcorn and watched-on as all hell broke loose.
2. The competitors for Love Island 2023's best dressed...
Watching Martin, Tom, Casey and Will breaking into the girls' dressing room and trying out all their makeup products and clothes has got to be one of the highlights from this season.
3. Ron's head turning left and right
It seems we all lost count of the amount of times Ron said someone was his "type"...
4. Tom and his handcuffs
Just Tom, living his best life while handcuffed to a fluorescent light fixture...
5. The Love Island band is really coming together
Casey threw his musical talent in with the likes of Indiyah Polack and Millie Court, perhaps one day we'll get a group performance...
A recap of all the dumped 'Love Island' 2023 cast members
As we head into the final, what better time to take a look back at all the previous season nine castmembers...
Tom Clare (Finalists)
Samie Elishi (Finalists)
Tanya Manhenga (Finalists)
Shaq Muhammad (Finalists)
Sanam Harrinanan (Finalists)
Kai Fagan (Finalists)
Lana Jenkins (Finalists)
Ron Hall (Finalists)
Jessie Wynter
Will Young
Rosie Seabrook
Casey O'Gorman
Keanan Brand
Claudia Fogarty
Maxwell Samuda
Olivia Hawkins
Martin Akinola
Bayley Mummery (Casa Amor islander)
Lydia Karakyriakou (Casa Amor islander)
Lynda Flix (Casa Amor islander)
Kain Reed (Casa Amor islander)
Layla Al-Momani (Casa Amor islander)
Ryan Weekley (Casa Amor islander)
Sammy James (Casa Amor islander)
Frankie Davey (Casa Amor islander)
Cynthia Otseh-Taiwo (Casa Amor islander)
Jordan Odofin (Casa Amor islander)
Ellie Spence
Tanyel Revan
Aaron Water
Spencer Wilks
Zara Deniz Lackenby-Brown
Haris Namani
Anna-May Robey
David Salako
Will Maya Jama be back for next season?
If you've been loving Maya as Love Island UK's host, we have some good news! Maya is indeed set to return for the summer series (which is filmed in Mallorca), which usually airs at the end of June through to August.
Her predecessor, Laura Whitmore was the host for two seasons until she announced her departure, so fingers crossed Maya will remain the show's host for the foreseeable future.
Get to know 'Love Island's host, Maya Jama...
TV presenter Maya Jama, whose TV shows include the likes of Glow Up and The Circle, was announced as Love Island's new host in October 2022, following Laura Whitmore's exit.
She then made her debut in the villa in the very first episode (on January 16, 2023) and it's safe to say, all of Maya's outfits have well and truly stolen the show.
Much like that of the islanders though, Maya Jama's own love life has also been somewhat in the public eye—in particular, Maya's relationship with Stormzy. The pair dated for four years before calling it quits in 2019, but since then there has been a ton of reconciliation rumors, especially after Maya split from her fiance Ben Simmons. Alas, though, Maya has since confirmed that she is in fact single, debunking those Stormzy romance rumors once and for all.
Alongside her visits to the villa, as the host of the dating show, Maya also presents Love Island: Aftersun, alongside panelists Indiyah Polack and Sam Thompson. The show, which airs on Sunday, sees the panel dish on the events of the week and interviews the dumped islanders on their time in the villa. The episode on Sunday 12 was the last ahead of the final—that is until the summer season returns!
Is the winter 'Love Island' 2023 final live?
Yes, parts of the winter Love Island 2023 final are indeed live—unlike the other Love Island episodes, which are not live. The final four couples will be joined by host Maya Jama in the villa plus a live audience but the episode will also feature prerecorded scenes, showing the islanders enjoying their final day, and their Ball—plus snippets from their whole Love Island journey.
The live portions will see the fourth and third-place couples announced before the runner-ups and winners are then revealed. So viewers will actually get to see the very moment the winning couple is crowned and awarded their 50k prize money as it happens IRL, all the way in South Africa.
What will happen in the Winter 'Love Island' 2023 final?
The final sees the four remaining couples reunited with Maya Jama, in front of a small audience in the villa, with Maya announcing who the fourth placing couple is. She will then interview them and share a montage of their best villa moments before she repeats this with the couple in third place.
Then she will speak to the two final pairs, again discussing their highs and lows, before they all stand on the main stage area together for Maya to announce the official winner of Love Island 2023.
In previous years, the couple, upon winning the prize money, has then been given the choice to split it or steal it. It's unclear if this option will make a return, as no islander has actually even opted to steal (though we would live for the drama that would spark).
How to vote in the Love Island final
On Friday night's episode, we saw the last remaining couples gather around the firepit after each couple cast their vote for the least compatible pairing during their final dates. This vote determined our final four couples, who then spent their remaining day in the villa meeting each other's parents and making their romantic speeches during the annual Love Island ball!
At the end of Sunday's episode, the vote officially opened, finally giving viewers the chance to pick their winners. This vote is the last of the series and will not only decide the victorious pair but also all of the runners-up, who will be announced throughout the grand finale by Maya.
The vote is still open and will remain so until tonight's episode. So, if you haven't already, get over to the voting app STAT!
How to vote for your winning 'Love Island' 2023 couple?
To make your final vote for the winning couple during the show's live final, simply head to the Love Island voting app when the final vote opens (you'll likely be prompted by our host, Maya). Then select your favorite couple and press 'vote now'—just making sure you're watching the episode Live!
Then once you've made your choice, just keep your fingers crossed and manifest your season nine winners!
It's go time! The Love Island UK final is underway at the very windy South African villa (at least there's no rain this time). After a prerecorded intro of the islanders getting ready, Maya Jama joined the party in a red wet-look dress. It's her first-ever time presenting the live final, so good luck Maya!
Keeping up with tradition, part of the getting ready for the final day includes a dance lesson...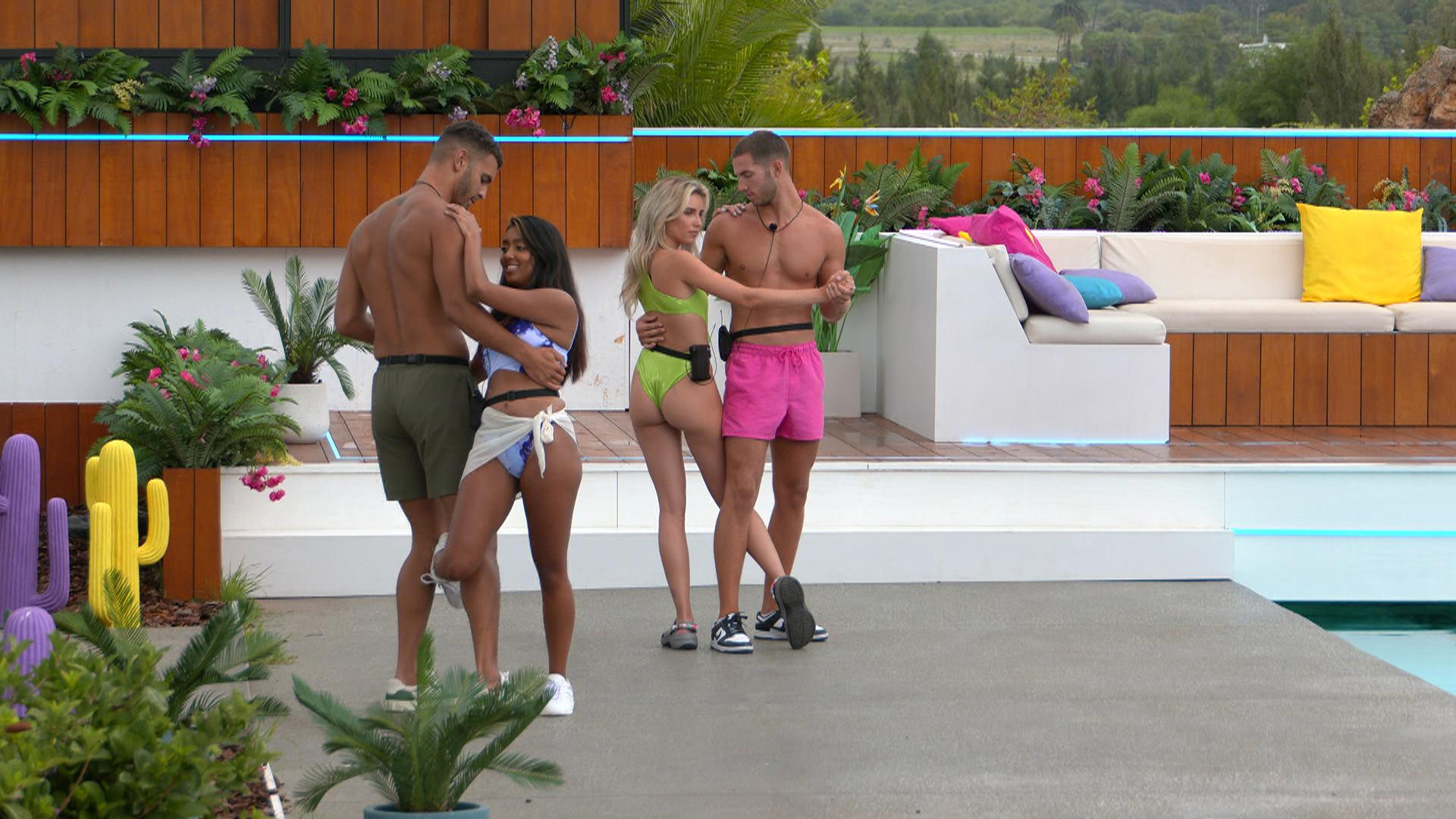 Followed by the usual girls' spa day...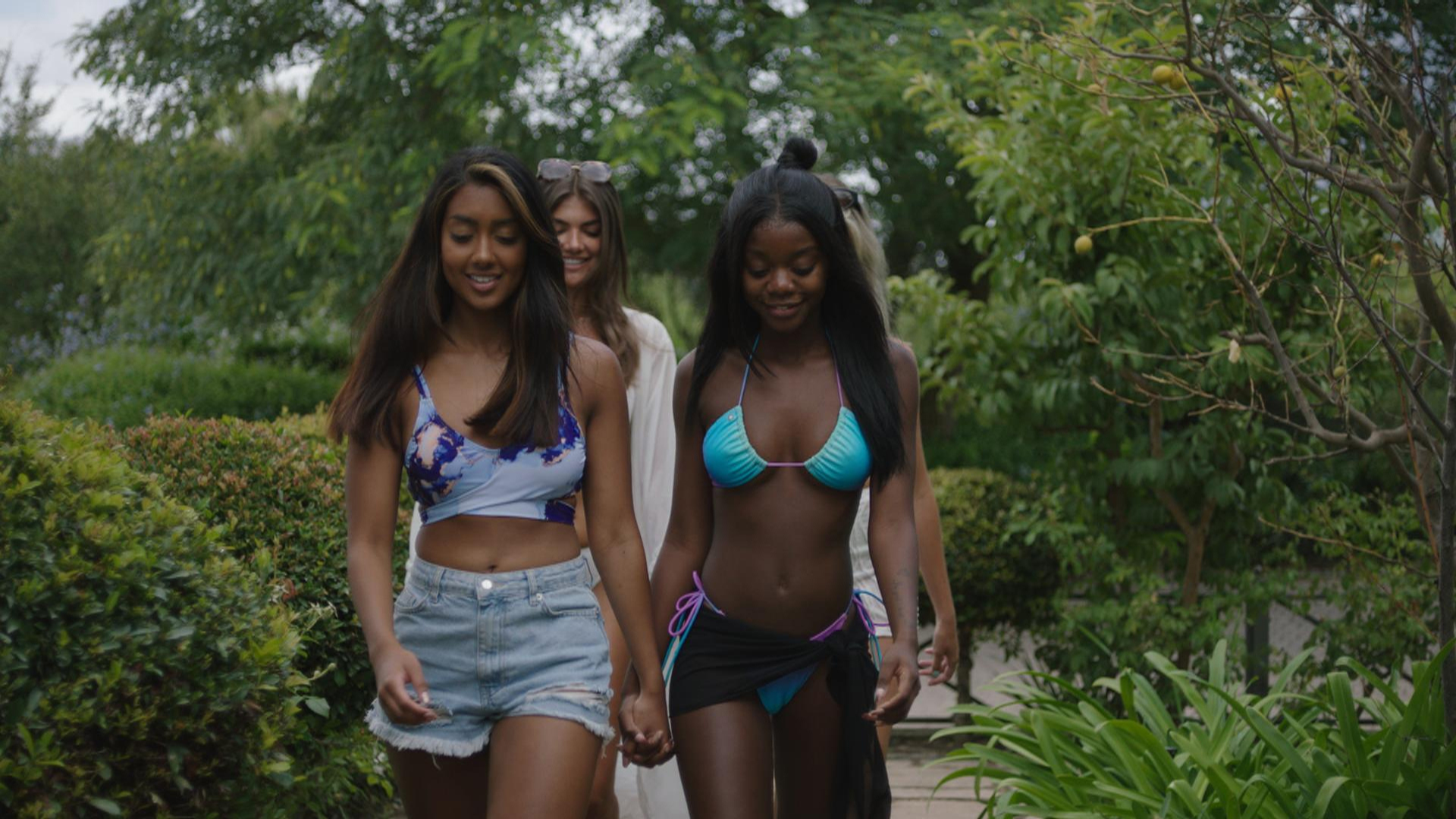 Who will take the crown at the Love Island final?
While the islanders continue to get ready for their Love Island ball, we're counting down the minutes until we find out who the winners are. But who will take the crown?
According to BetVictor [via Grazia] Kai and Sanam are the leading couple, followed by Tom and Sammie. Third were Will and Jessie, who were dumped on Sunday (following a blunder that saw their dumping being accidentally revealed ahead of time), so maybe not the most accurate of predictions...
However, Kai and Sanam have been very popular with the viewers recently due to their undeniable chemistry. Even former winner Millie Court (who won the show with Liam Reardon in 2021) tipped them to win when she appeared on Love Island Aftersun on Sunday (March 12).
You can now vote for your winning couple
Don't forget you can now vote for your winning couple! Head to the app and pick who you would like to be crowned the winners of the winter edition of Love Island UK 2023.
Tom & Sammie and Ron & Lana declare their love for each other
The declarations at the ball continue, with two couples—Tom and Sammie and Ron and Lana—revealing that they are in love with each other. Cute!
The vote is closed!
We will be finding out which couple came fourth right after a short break so... stay tuned!
Shaq and Tanya come fourth
Maya Jama just revealed that Shaq and Tanya finished Love Island UK 2023 in fourth place.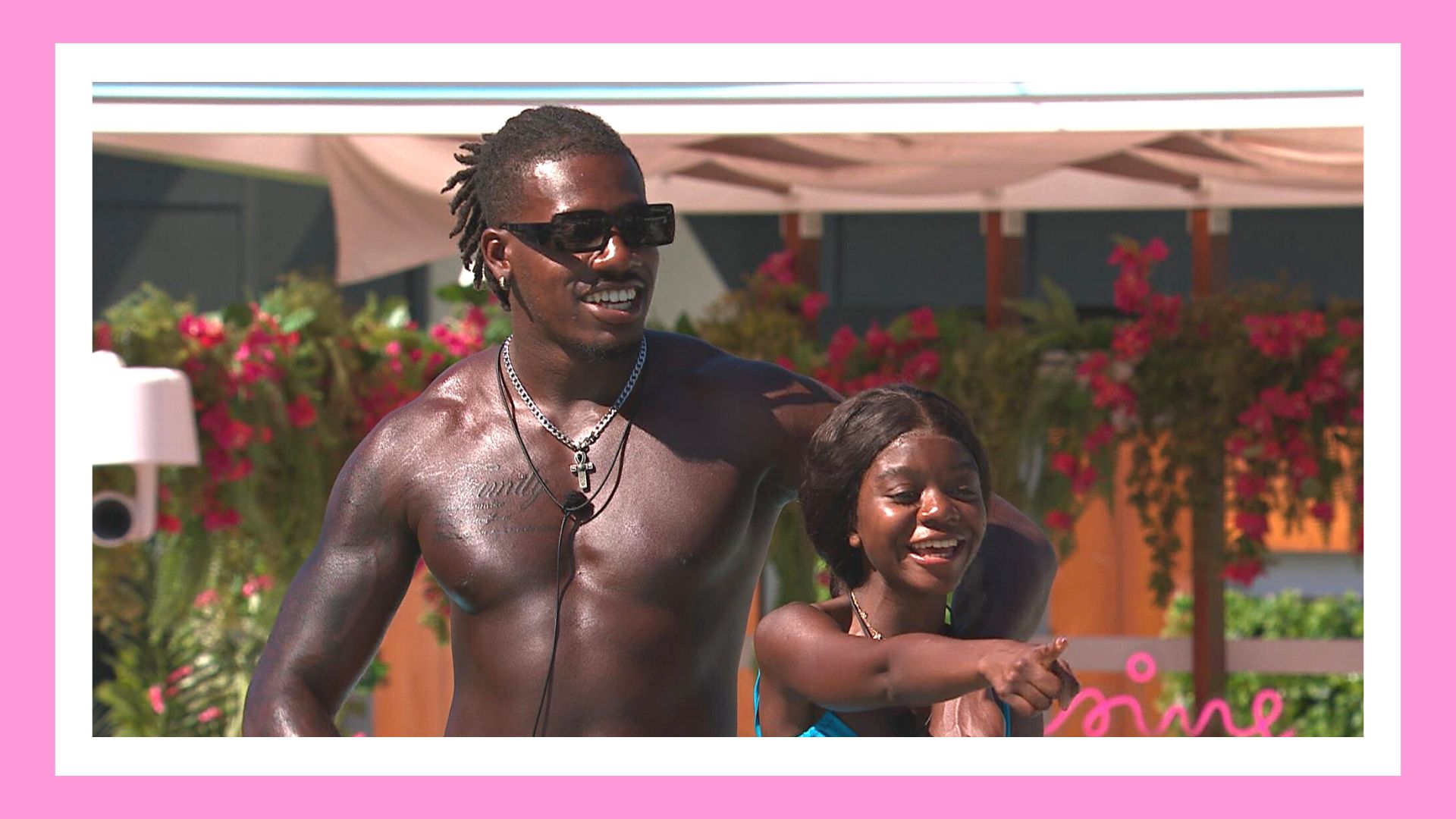 The OG couple (they've been together since day one!) finished in fourth place, after becoming official in the villa. It wasn't all smooth sailing, as they broke up after Casa Amor, when Tanya brought back Martin. But they eventually found their way back to each other and we can't wait to see what's next for them.
Third place: Tom and Sammie!
Maya Jama announces the couple in third place and it's Tom and Sammie—despite being favorites since getting back together after Casa Amor.
Sanam accidentally reveals she's in love with Kai
Reflecting on their journey while being interviewed by Maya, Sanam accidentally said she's in love with Kai! Okay, these guys are SO cute.
Did Sanam just say she's in love with Kai? 😭 #loveisland pic.twitter.com/nC3NFtQtssMarch 13, 2023
See more
We have details on Maya Jama's Love Island final dress
Over the course of the show's eight-week run, viewers have been blessed with many appearances from our new host, Maya Jama—with every one of Maya Jama's Love Island outfits leaving our jaws on the floor.
This burgundy wet look is courtesy DI PETSA, a London fashion brand by Greek designer Dimitra Petsa.
And the winners are... Kai and Sanam!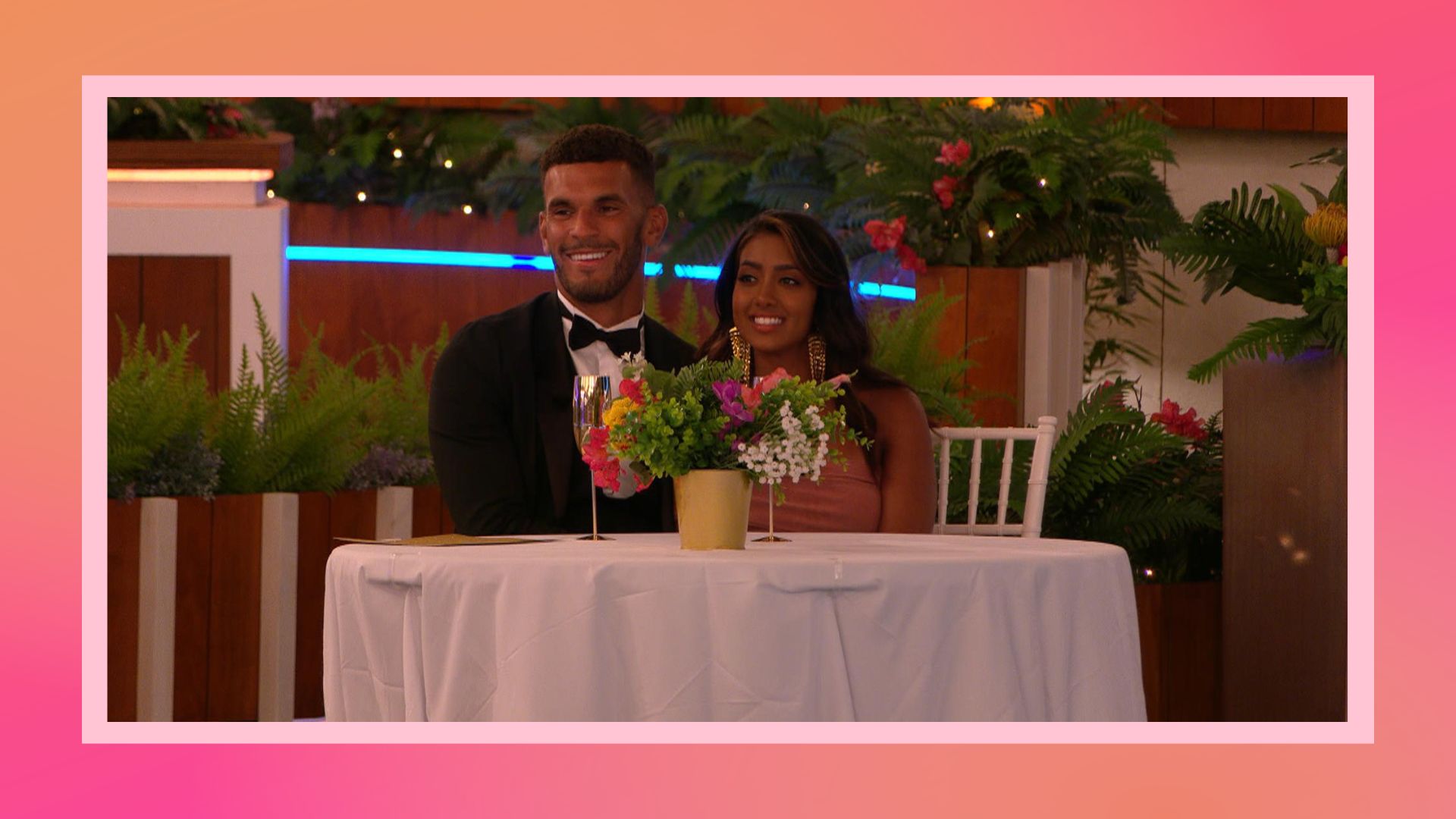 Kai and Sanam are the winners of the winter edition of Love Island UK! The teacher and social worker unexpectedly won over the public after meeting during Casa Amor and ended up taking the £50K prize home. Congrats!
They managed to beat Ron and Lana, two original islanders, which is not an easy feat!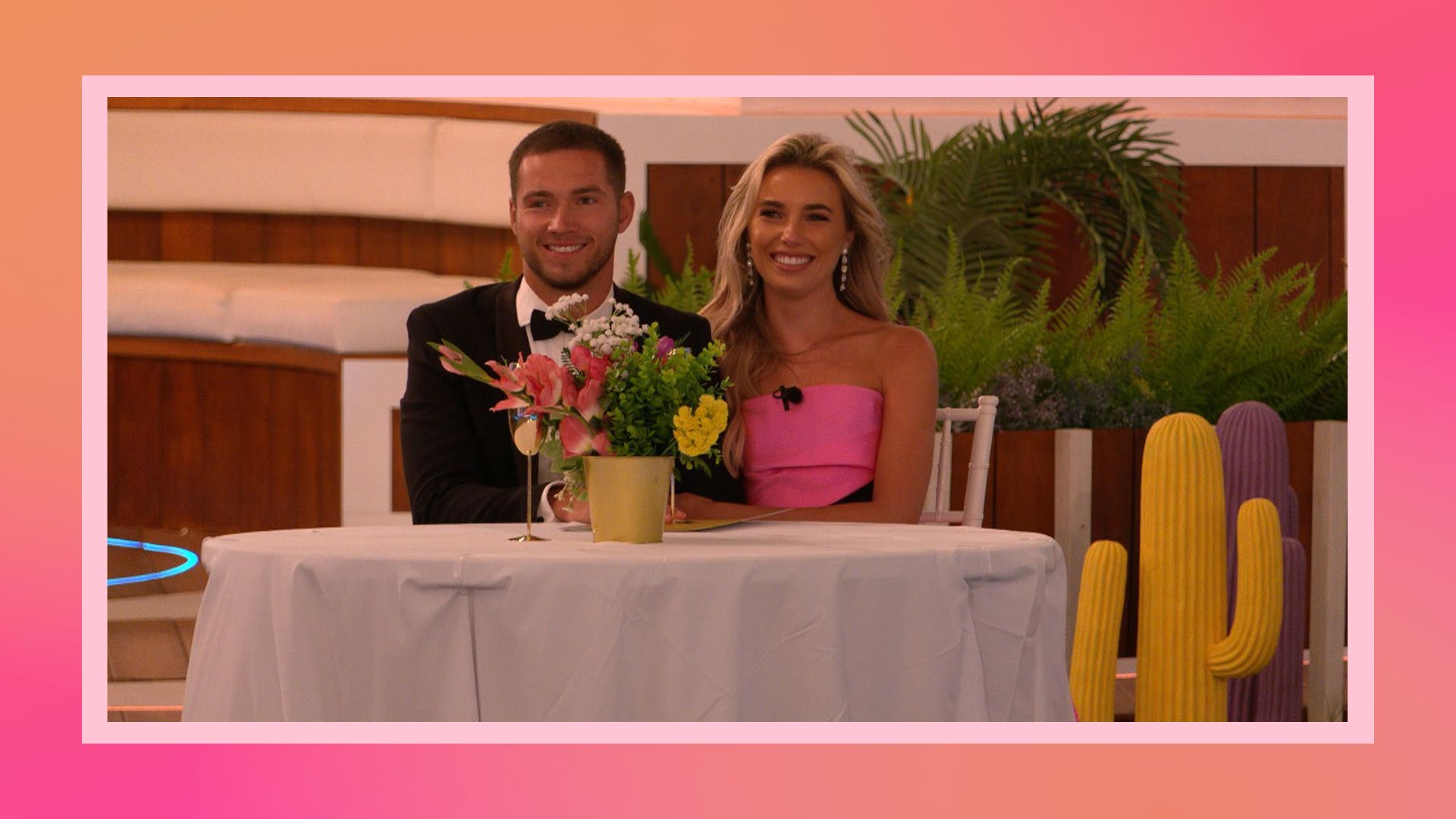 The 'stealing the money' twist has officially been scrapped
Kai and Sanam were crowned the winners and got the £50K prize, but unlike previous editions, they didn't have to decide whether to keep and steal the money.
Reactions to Kai and Sanam winning
Reactions on social media to Kai and Sanam's win are overwhelmingly positive—the public has really gotten behind them, which of course led to their win.
One fan wrote on Twitter: "Sanam and Kai really reunited the nation for this win"; while another added: "They deserved it more than any other couple. Well done Sanam and kai".
A third wrote: "Oh my word! My favourites won I absolutely adore Sanam and Kai Sanam's parents have raised such and amazing woman Congratulations guys".
The moment Kai and Sanam find out they won
Our hearts... we can't.