We have an update from Kevin Kreider on the Kevin and Kim saga on 'Bling Empire'
Kim and Kevin's will-they-won't-they is the big question of season two of 'Bling Empire'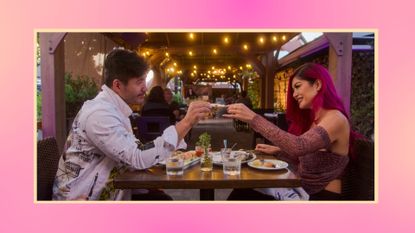 (Image credit: Netflix)
Bling Empire season two is finally here, and Kim Lee and Kevin Kreider's will-they-won't-they relationship is a big storyline throughout the eight episodes (alongside Chèrie and Jessey's relationship). The two started off as friends in season one, but after going through some dramatic stuff together while Kim was trying to find her biological father, Kevin started to entertain the possibility of there being more between the two. But how did that go in season two and are Kevin and Kim still together now?
Are Kim Lee and Kevin Kreider together now?
Not only are they not together, they actually live on opposite sides of the country. In an interview with Today, Kevin revealed he moved to NYC (just like our pal Dorothy Wang). He said: "I'm in New York now, and Kim's in Los Angeles."
He added: "All of us needed space and distance. We didn't know whether to laugh or cry ... and I think the audience will feel the same."
While it seems that the romantic part of their journey is well and truly over (if it even ever started), Kim and Kevin seem to still be a big part of each other's lives and can be seen on each other's Instagram feeds. Who knows if we'll see them try again but for now, romance seems to be off the cards. Bring on Bling Empire season 3 for more dating drama...
Do Kevin and Kim get together in 'Bling Empire' season 2?
Well… No. Despite good intentions from both sides (we think?), Bling Empire's Kevin and Kim didn't seem meant to be. Let's give you a play-by-play of what happens between them throughout season two.
Kevin lays it on thick
When Kim finds out that she got the DJ residency at the Wynn Hotel in Las Vegas, she kisses Kevin on the cheek. Clearly touched by the moment, he flirts with her while they're grabbing matcha.
Kim stands him up
Kevin organizes a very special date with a private chef he hired to cook dinner for them and she simply never shows up or calls to say she's not coming. He planned to tell her how he felt that night but no luck… Not cool, Kim!
Kevin tries again
The next time they see each other is at Guy Tang's house, with Kim telling Kevin that she's not sure she wants to go there with him and that she would be worried she would lose him as a friend if things don't work out. Kevin insists they could try and remain friends if it doesn't work out.
Kim get jealous
At Kane's vegan Dim Sum party, Kelly Mi Li's friend Yasmine starts flirting with Kevin and Kim seems a bit jealous. When Yasmine asks Kevin if he and Kim had something going on, he says 'it's complicated'. We'll say!
Road trip!
Not happy with being stood up once, Kevin invites Kim on a road trip to Solvang. Kim makes it this time and they actually have a great time together.
Kane steps in
While it seemed to be going well for K&K, Kane steps in and tells Kim that Kevin is actually not ready for a relationship because just last week he had a one-night stand with a woman he met at a yoga event. Kim is not happy about this and confronts him at Kane's Diamond Truffle party (who doesn't like truffles and diamonds?!).
Kevin tells Kim that it happened before the two had their special date and that he hasn't done anything since the two started becoming more of a thing. Things get ugly when Kevin finds out what Kane said and they have a big fight (smashed glasses involved). Cue Kane and Kevin's 'epic' fight (Kane's words, not ours).
The lie detector test
Kim decides she can't trust Kevin and asks him to take part in a lie detector test. He agrees (despite Anna Shay's advice against it) and phew—it's not pretty. While Kevin was being truthful, he asks Kim if she still has feelings for her ex. While she says no, the expert says she's lying. As if that wasn't enough, he asks her 'Do you even want to be with me?' and she replies with a straight 'No'. Ouch!
After the lie detector test, Kevin speaks to his friend Peter who helps him see that maybe things are meant to be together. He says that he still thinks there is still something there but it's not good for him—especially because he's a recovering alcoholic and her job as a DJ means she's out in nightclubs a lot. Peter tells him: "Everytime you talk about Kim, it's either with goofy eyes or with angst. There's no middle ground. For me, love grows in a stable environment. Otherwise it's just passion and emotion. They fade." Great advice, Peter!
Mariana is Editor of My Imperfect Life. She has previously worked for titles including woman&home and Goodto, covering all aspects of women's lifestyle — from beauty and fashion to wellness and travel. She was nominated for AOP Digital Journalist of the Year in 2020, and for New Digital Talent of the Year at the 2016 PPA Digital Awards. She's mildly obsessed with reality TV (Love Island memes included) and spends far too much time checking her horoscope and figuring out the perfect curly hair routine.