How old are the Bridgerton siblings?
With eight kids, there's a lot to keep track of but how old are the Bridgerton siblings? Plus, the ages of the Sharmas and Featheringtons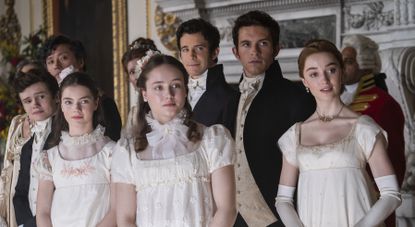 (Image credit: Liam Daniel/Netflix)
The Bridgerton family tree is an extensive one, with eight siblings under one roof: four sisters and four brothers.
With each season focused on a given sibling—the first is centered on the romantic entanglements of Daphne (Phoebe Dynevor), while Bridgerton season 2 shifts to her older brother Anthony (Jonathan Bailey)—fans will have the opportunity to get to know each sibling intimately. That is, if Bridgerton executive producer Shonda Rhimes has her way.
"There are eight Bridgerton siblings, and as far as I'm concerned, there are eight Bridgerton season. And maybe more," Rhimes told Variety (opens in new tab). (Bridgerton seasons 3 and 4 have already been picked up, much to our joy.)
But exactly how old are the Bridgerton siblings supposed to be, and what are the ages of the Bridgerton cast members who portray them onscreen?
---
---
How old are the Bridgerton siblings?
So far, the five oldest Bridgerton children have gotten the lion's worth of screen time, so we'll focus on them in more depth. Of the youngins, however, Hyacinth Bridgerton is the baby of the bunch at 11 years old. She is played by 15-year-old actress Florence Hunt. Next up is 13-year-old Gregory, portrayed by Will Tilston, also 15.
The second youngest daughter is 17-year-old Francesca Bridgerton, portrayed by 21-year-old Ruby Stokes, whose role in Bridgerton season 2 had to be diminished due to scheduling conflicts, as Stokes was simultaneously filming the lead part in the upcoming Netflix thriller Lockwood & Co.
1. How old is Anthony Bridgerton?
Portrayed by 33-year-old actor Jonathan Bailey, Anthony Bridgerton is the oldest of the Bridgerton brood at 31 years of age.
The second Bridgerton book by Julia Quinn, The Viscount Who Loved Me, as well as the second season of the Netflix series, focuses on Anthony's struggles as the patriarchal head of the family and his quest to find a suitable bride.
2. How old is Benedict Bridgerton?
The second oldest is 28-year-old Benedict, who is played by 33-year-old actor Luke Thompson. The Cinderella-esque third book of the series, An Offer From A Gentleman, delves into Benedict Bridgerton's love life and it is rumored that the third season of the show will follow his journey.
3. How old is Colin Bridgerton?
Next up is Colin, aged 22. The actor behind him is 24-year-old Luke Newton.
Colin Bridgerton is the object of friend Penelope Featherington's affection throughout the first two seasons of Bridgerton, and the twosome's relationship takes center stage in the fourth Bridgerton book, Romancing Mister Bridgerton.
4. How old is Daphne Bridgerton?
The eldest Bridgerton daughter, 21-year-old Daphne Bridgerton serves as the protagonist of both the show's first season and the first book, The Duke and I, which tells the story of her passionate, tumultuous relationship with the Duke of Hastings (Regé-Jean Page). Daphne is portrayed onscreen by 26-year-old actress Phoebe Dynevor.
5. How old is Eloise Bridgerton?
The bookish Eloise Bridgerton is 18-years old, having just been formally presented to society at the beginning of Bridgerton season 2. However, actress Claudia Jessie is age 32.
Book five of the series, To Sir Phillip, With Love, focuses on the fan-favorite character.
What about the Sharmas and the Featheringtons?
1. How old is Kate Sharma in 'Bridgerton'?
Newcomer Kate in Bridgerton, the enemies-to-lovers romantic interest of Anthony in season two, is "six and twenty," a.k.a. 26-years old. This is considered an "old maid" in the Bridgerton universe, especially in the marriage mart, and Kate has already denounced that she would ever marry.
Simone Ashley, the actress portraying our new leading lady this season, is the same age as her character.
2. How old is Edwina Sharma in 'Bridgerton'?
Though a specific age for Kate's younger half-sister, Edwina, is never officially given, it is safe to expect that she's around 21-years old, the same age that Daphne Bridgerton was formally introduced to society and the marriage mart.
Charithra Chandran, who portrays Edwina Sharma in Bridgerton, is 25-years old. She is one-third of a love triangle that includes Anthony Bridgerton and her sister Kate.
3. How old is Penelope in 'Bridgerton'?
Penelope Featherington, BFF to Eloise Bridgerton and the brain behind gossip queen Lady Whisledown, is 18-years old. However, the performer playing her has the cast's biggest gap between their own age and that of their character, as actress Nicola Coughlan is 35-years old.
Christina Izzo is the Deputy Editor of My Imperfect Life.
More generally, she is a writer-editor covering food and drink, travel, lifestyle and culture in New York City. She was previously the Features Editor at Rachael Ray In Season and Reveal, as well as the Food & Drink Editor and chief restaurant critic at Time Out New York.
When she's not doing all that, she can probably be found eating cheese somewhere.