Can they drink on 'Love Island'? This is the show's booze rule
If you're wondering can they drink on Love Island, then here's what the Islanders can and can't sip on...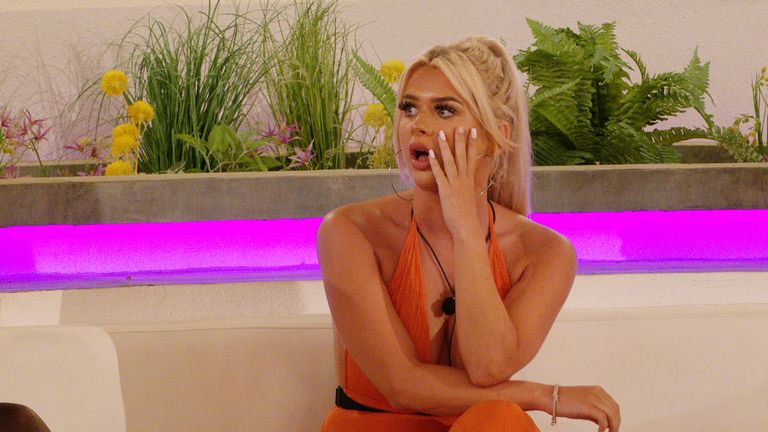 (Image credit: ITV Pictures)
From hidden cameras to secret beauty treatments—there's a lot that's mysterious about the hit reality TV show. But a very common question among many fans is can they drink on Love Island? There may be plenty of flirting and fights taking place on screen between the Islanders each evening, but it's unclear whether these juicy interactions have been fuelled by an alcoholic beverage or two (need to catch up? Here's how to watch Love Island UK).
Very soon we'll be celebrating the arrival of a fresh group of Islanders to the sunny Spanish villa for Love Island 2022—and perhaps you're planning to get in the spirit by partaking from time to time in a drinking game based on the most frequently used Love Island quotes. However, as you'll soon discover, the singletons have to mingle with one another while following particular rules when it comes to alcohol.
While it might seem like one big party—from group challenges to dates and more—it's not always free-flowing fun for the love-hungry villa residents.
Can they drink on Love Island?
In short: yes, they can drink, but not too much! It's true that things can get a little heated on the show—and that was certainly true among Islanders of the line-up 2021—but producers have long had rules in place that mean excessive alcohol isn't to blame.
In fact, there has been some kind of booze limit in place since at least season two, which ran in 2016. Speaking to The Sun (opens in new tab), contestant Liana Isadora Van-Riel, who starred in that series, said: "You're allowed one or two drinks a night, either wine or beer, no spirits." She noted that many of the Islanders often only had one drink, or simply a cup of tea. On a "big night"—such as if there was an eviction—they may enjoy their full allowance.
These guidelines have continued as the years have gone by—even on dates when we do often see Islanders sipping on a cocktail or glass of bubbly. Laura Anderson, of the 2017 cohort, revealed to The Mirror (opens in new tab) that occasionally the cast could share one or two bottles of prosecco between them, "but you'd be lucky to get half a glass of that", and that producer would pre-pour drinks and ensure no one drank anyone else's allowance. Additionally, Eyal Booker, who appeared on the show in 2018, noted to Closer (opens in new tab) that "it was very, very limited" adding "max two glasses of wine a night and that's max".
However, some contestants can still find themselves quite tipsy. "You can have two glasses of wine a night which some people still manage to get drunk off because they're actually quite big glasses," pointed out Molly-Mae Hague, who starred in 2019, also to Closer. "One night Maura [Higgins] actually took my glass, downed it in the larder, filled it up with water and then put it back. She had three glasses of wine and was so drunk. It was so funny."
This might explain why Amber Gill, also a 2019 Islander, suggested the rule had been scrapped for last year. Posting on Twitter (opens in new tab), she wrote: "They are giving these islanders more than two drinks I swear!" It prompted a show source to tell The Sun (opens in new tab) in response: "There have been no changes to how much alcohol Islanders can consume this series, and the amount of booze remains limited." They have previously said: "We provide our Islanders with all of the necessary precautionary measures and all alcohol consumption is strictly monitored by our production team." In the US, official guidelines (opens in new tab) state that men should have no more than two drinks per day while women should stick to one.
Does the show have any other rules?
How much the Islanders can drink in the villa isn't the only rule in place. Because while the show's creators will want to add to the list of the most memorable Love Island moments with some entertaining episodes for viewers at home, they'll also be keen to keep things as classy as possible.
The show has also got strict on smoking. Liana revealed in the same conversation with The Sun that her season of Islanders were allowed a pack of 20 cigarettes a day. "I only social smoked before the show and when I went in I was smoking 15 a day," she said. The following year, in 2017, there was a huge wave of complaints about contestants seemingly lighting up constantly on the show. As reported by Heart (opens in new tab), the series after that have seen a smoking ban in place in the villa and gardens. An ITV spokesperson said: "We have a designated smoking area outside the villa. Islanders can only use this area alone."
Producers will likewise get the ick if contestants go nude. According to The Mirror (opens in new tab), the singletons aren't supposed to be naked in front of each other—however hot things get. They are similarly discouraged from stripping off in the shower since the villa should be considered a public place, which generally means you shouldn't walk around in your birthday suit. On top of this, masturbation is prohibited and while sex scenes will still air they have to be relevant to the storyline as well as practiced safely with condoms (and presumably, below the covers). A spokesperson said: "The show isn't about sex, it's about following the couples' journeys. We only tend to show moments of intimacy when we feel it is important to the couple's story and advances the narrative of the show."
Where can you watch the action?
The kisses and gossip will soon be returning for Love Island UK season eight, with the first episode airing on Monday, June 6. Thereafter, you can catch up on all the romantic ups and downs in one-hour installments live every evening, Sunday to Friday, on ITV2 at 9 pm BST/ 4 pm ET.
If you miss an episode—because, well, life—then you can stream the episodes online afterward on the ITV hub (opens in new tab) at a time convenient to you. If you're sat down to catch up only shortly after the program ended on TV, and are wondering when does Love Island go on ITV hub, you shouldn't have to wait long. Not in the UK? You can watch via a VPN (opens in new tab). And if you're wondering how long Love Island lasts, you'll be delighted to discover that it is thought it will run for six weeks, meaning it will most likely wrap up in mid-July. Cheers to that!
Lauren is a freelance writer and editor with more than six years of digital and magazine experience. Most recently, she has been the Acting Commissioning Editor of Women's Health—where she co-produced the Going For Goal podcast—and has previously also written news and features for titles including The Telegraph, Grazia, Stylist, Dazed, The Sun's Fabulous, Yahoo Style UK and Get The Gloss. She covers all aspects of lifestyle, specializing in health, beauty, and travel. Can't live without: oat milk lattes, new podcast episodes, long walks, and great skincare.