Can they drink on Love Island? The booze rule for contestants, explained
Can they drink on Love Island? If you've ever wondered what's really in those iconic gold glasses, here's what the Islanders are *really* allowed to sip on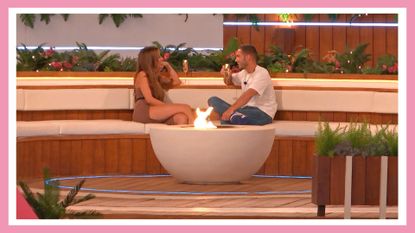 (Image credit: ITV/Love Island/Future)
One very common query among fans is, can they drink on Love Island? Now that the show has returned for its winter 2023 series, we're yet again asking that very same question, as we watch the contestants sip from their iconic gold flutes every night around the fire pit. After all, from the girls' beauty treatments to the reality of mealtimes, there are a few secrets to Love Island that keep it entertaining and somewhat mysterious.
So far, the winter season of the show has brought us fresh romance and drama direct from sunny South Africa (if you're wondering where Love Island 2023 is filmed), as well as a hot new host in the form of Maya Jama (need to catch up? Here's how to watch Love Island UK). But you may have noticed that while there's plenty of flirting and fighting taking place each evening, it's unclear whether these juicy interactions have been fuelled by an alcoholic beverage or two. The contestants are regularly seen with a drink in their hand—whether they're having a 'chat' on the terrace or 'cheers-ing' at the start of the night. Sometimes, it seems like evenings at the Love Island villa are basically one big party.
However, it appears that the drinks aren't always free-flowing for our love-hungry villa residents. There are actually some very particular rules that the Islanders have to follow when it came to alcohol. So can the winter Love Island 2023 cast enjoy a tipple or two at night? If you've ever found yourself wondering, can they drink on Love Island? These are all the deets you need to know...
Can they drink on Love Island?
In short: yes, the contestants can drink, but not too much. It's true that things can get a little heated on the show—and that was certainly true of last year's Love Island cast—but producers have long had rules in place that mean excessive alcohol can't be to blame for any *ahem* tension between the gang.
In fact, there has been some kind of booze limit in place since at least season two, which aired back in 2016. Speaking to The Sun, a contestant from that season, Liana Isadora Van-Riel, said: "You're allowed one or two drinks a night, either wine or beer, no spirits." She added that many of the Islanders actually often only had one drink, or simply a cup of tea. On a "big night"—such as a dumping—they would be more likely enjoy their full allowance.
These guidelines have stayed in place as the years have gone by—even on dates, when we tend to see Islanders sipping on a cocktail or a glass of bubbly. Laura Anderson, one of the 2017 stars, told The Mirror (opens in new tab) that occasionally the cast could share one or two bottles of prosecco between them, "but you'd be lucky to get half [of that]", and that producers would pre-pour drinks and ensure no one drank anyone else's allowance. Eyal Booker, who appeared on the show in 2018, also told Closer (opens in new tab) that "it was very, very limited" adding "max two glasses of wine a night, and that's max".
However, some contestants would still find themselves quite tipsy. "You can have two glasses of wine a night which some people still manage to get drunk off because they're actually quite big glasses," Molly-Mae Hague, who starred in series 5 in 2019, also explained to Closer. "One night Maura [Higgins] actually took my glass, downed it in the larder, filled it up with water and then put it back. She had three glasses of wine and was so drunk. It was so funny."
This might explain why 2019's Amber Gill speculated the rule had been scrapped from 2021 onwards, as she wrote on Twitter (opens in new tab): "They are giving these Islanders more than two drinks I swear!"
This then prompted a show source to tell The Sun: "There have been no changes to how much alcohol Islanders can consume this series, and the amount of booze remains limited." They have also previously said: "We provide our islanders with all of the necessary precautionary measures and all alcohol consumption is strictly monitored by our production team."
So in answer to the question, can they drink on Love Island—it seems there is alcohol around, but not very much at all.
Does Love Island have any other rules?
How much the islanders can drink in the villa isn't the only rule in place. Because, while the show's creators always want to add to the list of the most memorable Love Island moments with some entertaining episodes, they're also keen to keep things as safe and sensible as possible.
For example, the show has also been strict for a while on smoking—though this wasn't always the case. Liana revealed in the same conversation with The Sun that her season of Islanders were allowed a pack of 20 cigarettes a day. "I only social smoked before the show and when I went in I was smoking 15 a day," she said. The following year, in 2017, there was a huge wave of complaints about contestants seemingly lighting up constantly on the show. As reported by Heart (opens in new tab), the series' that have followed have had a smoking ban in place in the villa and gardens. An ITV spokesperson said: "We have a designated smoking area outside the villa. Islanders can only use this area alone," which explains why we don't often (if at all) now see the Islanders smoke.
According to The Mirror (opens in new tab), the singletons also aren't supposed to be naked in front of each other—however hot things get. They are similarly discouraged from completely stripping off in the shower (most wear swimsuits), since the villa should be considered a public place.
On top of this, masturbation is prohibited and while sex scenes do air, this is done so only when it's relevant to the storyline, as well as practiced safely with condoms (and presumably, below the covers). A spokesperson said: "The show isn't about sex, it's about following the couples' journeys. We only tend to show moments of intimacy when we feel it is important to the couple's story and advances the narrative of the show."
This year, there are also some new Love Island 2023 social media rules—although these don't actually directly apply to the contestants themselves. It has been agreed, unlike in previous years, friends and family members will not run contestants social media accounts (such as Twitter and Instagram) whilst they are inside the villa, in order to safeguard both their mental health and wellbeing, and that of their families.
And as you would expect, there are other very important Love Island rules that the Islanders must adhere to, including no violence of any kind, and no outside technology or media. This means that the contestants are not allowed their personal phones (they receive 'Island' phones instead), nor are they allowed to read magazines or books, or anything similar, during their time in the villa. The Love Island sleep routine also means that they don't often get to bed until 3 or 4am, either. Ouch!
How to watch Love Island from anywhere in the world
If you've missed an episode of this series, or any series of Love Island—because, well, life—then you can still stream them online on ITVX (opens in new tab), formerly known as the ITV hub, at a time that's more convenient to you.
While the Islanders can't, you could perhaps get in the spirit yourself by partaking in a drinking game based on frequently-used Love Island quotes?
Not in the UK? You can watch via a VPN (opens in new tab). Cheers to that!
Best Love Island gifts and merch to shop now
Brand
Colour
Price
Refine ☵
Sort By
Lauren is a freelance writer and editor with more than six years of digital and magazine experience. Most recently, she has been the Acting Commissioning Editor of Women's Health—where she co-produced the Going For Goal podcast—and has previously also written news and features for titles including The Telegraph, Grazia, Stylist, Dazed, The Sun's Fabulous, Yahoo Style UK and Get The Gloss. She covers all aspects of lifestyle, specializing in health, beauty, and travel. Can't live without: oat milk lattes, new podcast episodes, long walks, and great skincare.