Christmas Day sex: tips to ensure you get some sexy time without feeling shattered
Christmas Day sex can be easier to squeeze in than you think if you follow this expert advice...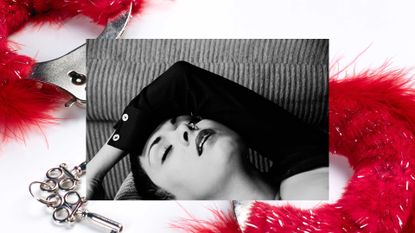 (Image credit: Getty Images / Stone / WIN-Initiative / The Image Bank / Peter Dazeley)
Christmas Day sex doesn't have to be too tiring or impossible to squeeze in during your hectic festive celebrations, with these expert tips on how to mark the 25th of December with a 'bang'.
Christmas, for many, is a time of celebration—to rejoice and relax and (perhaps even more so at the moment) we could all do with a few days to switch off and spend time with our significant other.
"Mistletoe and mulled wine can definitely put us in the mood for love, but it can be tricky to find the right time for a spot of festive fun between the sheets," says Johanna Rief (opens in new tab), head of Sexual Empowerment at We-Vibe.
"It's also important to remember that just because it's Christmas (or any significant time of year for that matter) it does not mean you must be intimate with your partner. There's no hard and fast rules around Christmas and sex and so every couple should do what feels and works best for them."
But if you do want to heat things up in the bedroom, there are a few things you can do to make sure you can be intimate without feeling too tired...
1. Sex for breakfast
Why not start Christmas day as you mean to go on? If you're in for a hectic day ahead, full of in-laws and a lot of food, why not start the day with a very merry roll around.
It's the perfect time to squeeze in a quickie, that will melt away all that Christmas stress, and leave you feeling very satisfied for the rest of the day.
2. Think outside the bedroom
Intimacy doesn't have to be exclusive to the bedroom and doesn't need to just be about sex. Gestures such as a kiss, holding hands, or cuddling can show your partner how you feel about them and also provide feelings of love and reassurance.
Think beyond the act of sex and why not excite each other with a spot of foreplay, dirty talk, or even mutual masturbation.
3. Break out of the routine
Just as there are no rules about having sex at Christmas, there are also no rules about sex happening at night only. Perhaps you're more energetic in the morning, so why not take advantage of the extra spring in your step and the early rise and have morning sex? Or why not try getting steamy in a joint shower before bed.
Don't be afraid to think outside of the bedroom and find moments of intimacy that work best for you and that won't leave you falling asleep at the breakfast table in the morning.
Relationship expert and psychotherapist Charisse Cooke (opens in new tab) also suggests spicing up the location, obviously as long as you don't have guests staying. The staircase for example, or underneath the Christmas tree to make it extra festive. Just somewhere you don't usually do it, so it feels new and exciting.
4. Add a little spice to the bedroom
If you prefer to stick to the bedroom for your moments of passion, introducing something new can be a great way to ensure you enjoy some festive fun. Sexy lingerie and app-controlled vibrators are perfect for couples wanting to spice things up and make sure you're both wide awake. If you are thinking about introducing a toy into your relationship, make sure it's one that benefits both of you.
Charisse also suggests keeping moisturized and by that we mean, lube! Having some lube especially flavoured, at hand can make for some spontaneous and very pleasurable play. There's no time for vaginal dryness on Christmas day!
5. Gift a sex toy to get things started
Oh for a friend like Cara Delevigne to give us a sex toy Christmas gift... She's certainly got the right idea—a couple's toy such as the We-Vibe Chorus is the perfect plaything to add extra buzz to the bedroom.
Worn by the woman during sex, it can stimulate both partners at the same time. With ten vibration patterns, in addition to the app control, the product also has a squeeze remote control, which guarantees intuitive control by a simple squeeze of your hand. Built-in sensors (the Touch-Sense modes) enable the toy to react to body movement if desired—and to intensify the stimulation without having to press a single button. Alternatively, browse these best-reviewed sex toys.
6. Use the festive food
Christmas is everyone's favorite foodie holiday which means there's no better excuse to lick chocolate off your partner or some whipped cream for that matter. Besides, with all those leftovers, it would be almost wasteful not to!
7. Share the festive workload
No one wants to have sex when they're tired and Christmas, as enjoyable as it is, can be the most tiring time of all. From buying food and presents, wrapping late into the evening, and trying to squeeze as much joy out of the day as possible, sometimes when our head hits the pillow, all we can think about is sleep.

In this instance, it's important to share the festive workload between you. Stress is a passion-killer, so help each other with the household chores and Christmas tasks, and not only will they be done in half the time, leaving you more time for each other, but you'll feel less tired when it comes to enjoying a spot of alone time.
8. Sex and then shut eye
If you've not been able to fit in a sex sesh before the festive day is through, there's always just before bedtime. It might not be your most energetic round to date, but it will make for a relaxed and restful night of sleep. Plus it's quiet, private, and cozy!
So what are you waiting for? Ho, Ho, Ho let's go...