Does 'Love Is Blind's' Shayne Jansen leave 'Perfect Match' early?
Shayne Jansen always manages to hog the spotlight, regardless of the reality TV series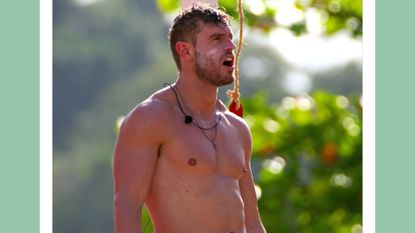 (Image credit: Netflix)
Shayne Jansen always seems to get our attention, regardless if he's on Love Is Blind or Perfect Match.
Netflix's latest reality dating show has viewers hooked. The Bachelor-style series brings together some of viewers' favorite reality stars trying to find their other half. But it's not as simple as it seems, especially when you throw in emotions and old relationships.
The contestants compete in challenges with their chosen partner to be deemed the most compatible couple and win the power to play matchmaker. For each challenge a couple wins, they get a private date and a visit to the board, where they can break up other couples and bring in new singles to the villa.
Some suspect that Shayne Jansen says goodbye to Perfect Match early, judging from the experiences he encounters, but is it so?
All about Shayne's 'Perfect Match' journey
*WARNING: SPOILERS AHEAD*
Shayne Jansen initially couples up with Ines Tazi on Perfect Match, mostly down to the fact they have spoken in the past. Shayne revealed that after Love Is Blind season 2, he and Ines talked a little bit through DMs on Instagram. She offered advice to him, having gone through a Netflix dating show herself, namely The Circle.
Shayne says in the show that he likes her for her physical appearance but also finds her intriguing, which leads him to convince her to match up as he says he's willing to do whatever Ines wants him to do to make her happy, including learning French.
However, their partnership doesn't end up lasting and he later couples up with Izzy Fairthorne, with Ines moving on with Nick Uhlenhuth. This initially seems like the best partnership deal for all four of them, as it means that all the people they're interested in get to stay in the house, but it ends up backfiring when Nick reveals he doesn't feel any sort of spark with Ines and instead wants Izzy.
Shayne's pairing with Izzy also ends up spiraling after she kisses Nick during a game. Shayne gets very upset at the length of the kiss, claiming it disrespectful and annoying because he also knows Nick wants to pursue Izzy.
So, does Shayne Jansen leave 'Perfect Match' early?
In short, no, Shayne does not leave Perfect Match early. In fact, things take a turn for the positive...though it takes quite awhile to get there, if we're being honest.
After Nick and Izzy's kiss in a game, Shayne ends up ranting to Nick and goes up to his and Izzy's room in the villa. He tells Izzy how he feels like he's wasting his time and that seeing her making out with Nick was uncomfortable and he's not there to play games, so he feels it's better to leave.
However, the following morning, we see Shayne still at the villa, sitting on Chase DeMoor's back the latter does push-ups, which suggests the issues are resolved. But in the teaser for the next batch of episodes, which are out on Tuesday, February 21, we see Shayne once again announce he's leaving as he walks into Georgia and Dom's bedroom.
But, as luck would have it, Shayne eventually matched with Chloe...who temporarily left him when her ex, Mitchell, came back into the equation. This made him particularly uneasy, as it should have. When we spoke to astrologers about the Perfect Match cast zodiac signs and compatibility, the pros were particularly drawn to Chloe and Mitchell.
"The two mirror one another in strong ways," astrologer Kyle Thomas previously told My Imperfect Life. "For instance, Virgo and Pisces dance on the same axis of the zodiac, which means that they can relate to one another, complement each other naturally and play to one another's strengths while also pushing one another to grow."
Ultimately, Chloe made her way back to Shayne by the end of the debut season, but they gravitated away from one another once the show ended. This is why we need a Perfect Match reunion—we have to catch up with everyone, especially the infamous Shayne.
Were Shayne and Natalie together when he applied for 'Perfect Match'?
According to Natalie's most recent Instagram Story, yes. (And if you want more intel on when was Perfect Match filmed, we've got you!)
Per her Story, Shayne and Natalie mutually agreed not to apply for the show when they were asked to, as they were together and exploring where their relationship could go. On a January 2023 Instagram Story, she wrote: "I knew about the new dating show back in Sept 2021 because Shayne and I were both approached to apply for it while we were in a relationship…we told each other we declined the opportunity, but I later found out he actually didn't decline and started the casting process in Nov 2021 without my knowledge at the time, while we were still together."
The couple ended up breaking up a month after, until they reunited at the Love is Blind reunion where Shayne realized he still had feelings for Natalie. Natalie stated that Shayne's feelings were so strong that during the filming of Perfect Match, "[Shayne] texted me numerous times he wanted to leave midway through filming because he still had feelings for me." Natalie said that she encouraged Shayne to continue filming the show because she knew there was little hope for their relationship and after filming concluded, they met up and she told him as such in person.
Shayne has denied what Natalie said in his own Instagram post: "Obviously, with the new show coming out, I figured 'someone' would try to once again destroy my character for personal gain," he wrote. "I have tried to move on numerous times, but this keeps resurfacing, and I have boundaries."
He went on to discuss how, after the show ended, he left Chicago to look after his mother, who has since passed away. He said: "For someone to talk about me negatively shortly after my mom passed. I'm just done." The pair's conflicting stories on when Shayne applied for the show add to the ever-changing versions of Natalie and Shayne's relationship timeline.
Catch Shayne Jansen on Perfect Match, with new episodes airing February 21 and 28 on Netflix.
Liv is a freelance journalist currently studying English at university. She loves covering everything from entertainment and politics to lifestyle and travel. As well as writing for My Imperfect Life, Liv has bylines in The Times, HuffPost, Den of Geek, Bustle The Metro and The Bookseller.