Does Tanya die in 'White Lotus' season 2?
Fans worried about Jennifer Coolidge's character going into the finale—but does Tanya die in 'White Lotus'?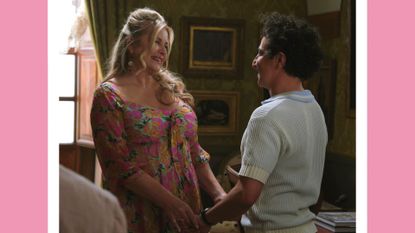 (Image credit: Fabio Lovino/HBO)
It's been a concern of fans of the HBO hit for weeks: does Tanya die in White Lotus?
In the first episode of The White Lotus season 2, which premiered on Sunday, October 30, Meghann Fahy's character Daphne discovers a body floating in the ocean off the beach of the titular luxury resort in Sicily.
And throughout the seven-episode stretch, fans have been fervently speculating who dies in White Lotus this season. Which member of the cast of The White Lotus season 2 would perish, and how? Would it be a familiar face like Aubrey Plaza or Theo James, a newcomer like Adam DiMarco or Leo Woodall, or, worse, returning queen Jennifer Coolidge, who plays socialite Tanya McQuoid?
Now that the season 2 finale aired on Sunday, December 11, here's what we know about Tanya's fate.
*Warning: spoilers ahead*
Does Tanya die in 'White Lotus'?
Yes, unfortunately for all of us Jennifer Coolidge stans, Tanya McQuoid does die during The White Lotus season 2 finale.
After finally realizing that her new friend Quentin (Tom Hollander) and his crew of "high-end gays" are in on a scheme with Tanya's husband Greg to kill her for her fortunes (yes, those White Lotus cowboy theories were right, folks), Tanya steals a duffle bag from hunky hitman Niccoló (Stefano Gianino) and locks herself in a guest cabin on Quentin's yacht. Inside the bag, she finds rope, duct tape and a handgun, confirming her fears that they're planning to murder her.
As the men try to bust into the guest cabin, Tanya wildly shoots and kills them, fans breathing easy that our hilarious heroine made it out of that dangerous situation alive. But as she's trying to climb down the side of the boat into a dinghy below to escape (why she didn't take the stairs at the back of the yacht is beyond us), she hits her head and plummets into the sea below, drowning.
So yes, sadly, it is Tanya who Daphne discovers in the ocean the next day. As for her assistant Portia (Haley Lu Richardson), she only finds out about the deaths when she runs into Albie at the Falcone-Borsellino airport. Will she return in The White Lotus season 3 to avenge her old boss and take down Greg? Time will tell!
Jennifer Coolidge on Tanya McQuoid's death
Tanya McQuoid's death was actually foreshadowed all the way back in the first season of The White Lotus, creator-writer-director Mike White recently explained to The New York Times: "In the first season, Tanya's last line is, like, 'I've had so many treatments in my life. Death is the last immersive experience I haven't tried.' I was like, maybe that's where to take her story. In Italian opera, the women are supposed to cry and die, and I just imagined that that could be an appropriate story for the site of Sicily and this battle of the sexes, and Tanya is a victim of that."
That's not to say that Jennifer Coolidge didn't fight to keep her character alive. "You can't talk Mike White out of anything, really. But whenever Mike was in a really good mood, and laughing about something, I'd go, like, 'I don't have to die, right?'" the actress told the publication, with White adding: "Even when we were shooting the scene in the ocean where Daphne finds her body. She was like, 'Should we just do one take where I pull myself up on the shore? Just one?'"
"That's an actress fighting for another season! I wanted to be practical in case Mike had a change of heart. I just wanted to leave the possibilities open," Coolidge said.
Fans are already calling for Tanya's separated-at-birth twin sister to travel to a White Lotus property next season to spread her ashes. Anything to keep Coolidge on the show!
when jennifer coolidge plays tanya's twin sister in #WhiteLotus season 3 and she travels to the maldives to spread tanya's ashes the ocean... pic.twitter.com/xxGJ2I221lDecember 12, 2022
See more
The White Lotus season 2 is available for streaming on HBO and HBO Max.
Christina Izzo is the Deputy Editor of My Imperfect Life.
More generally, she is a writer-editor covering food and drink, travel, lifestyle and culture in New York City. She was previously the Features Editor at Rachael Ray In Season and Reveal, as well as the Food & Drink Editor and chief restaurant critic at Time Out New York.
When she's not doing all that, she can probably be found eating cheese somewhere.