Dua Lipa workout routine: how the singer gets herself stage-ready
The Dua Lipa workout routine will leave you levitating...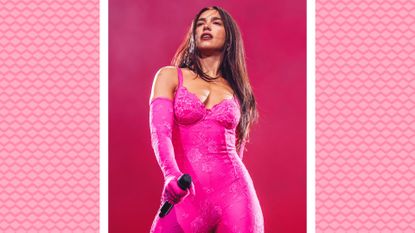 (Image credit: Javier Bragado/Redferns/Getty)
Looking for some fresh fitness motivation? The Dua Lipa workout routine is a great place to start. After all, the 27-year-old singer is an energetic force to be reckoned with on stage and—from the red carpet to her Instagram feed—frequently shows off her toned figure in an array of dazzling outfits.
But how exactly does the "Physical" songstress stay in shape? Just like with Selena Gomez's workout routine, performing her upbeat hits would certainly count as some serious cardio. However, over the years, Dua has also revealed the core components of her perfect workout schedule—such as hill sprints, HIIT and yoga.
The best bit is that much of the pop icon's exercise regime can be recreated for free, from anywhere you choose. As such, we've rounded up some home workout tips inspired by the singe's sweat sessions—including the time of day she prefers to train and how she stays driven with exercise. You'll be hotter than hell in more ways than one!
Dua Lipa workout routine: Here are 8 new rules
1. Warm-ups
First thing's first: Dua makes sure she preps her body before a workout by warming it up—and you should too. This will not only help you to avoid injury, but it can also improve your mobility.
How long for? "We'd spend 10 minutes before every session to make sure her joints and muscles were ready," explains her former trainer Peter MacIver, better known as "PMAC," to Women's Health.
2. Hill sprints
The star does one-hour workouts as many as three to four times per week, according to Women's Health. The sessions might include a mixture of resistance training (if you're following suit, these are the best dumbbells for women to lift) and cardio. However, always a feature are the 20-minute hill sprints to get her heart rate up.
These can, of course, be done on a treadmill—but Dua prefers to complete them outdoors on trendy Primrose Hill, in north London. "We overcame it by tackling one hill at a time," noted PMAC, of how the star made the physical challenge less daunting for herself. "So instead of saying we're running up five—which is typical with all of my clients—we'd do one at a time, and she managed it."
If you're following in her footsteps, these are the best leggings with pockets to store your phone, keys and so on!
3. Friendly motivation
Dua, says PMAC, is very motivated when it comes to fitness—particularly since her workout goal is having the strength and energy to give her all on music tours.
However, this is something she's had to train her mind to do. "I would always be that person who made a New Year's resolution, get a gym membership and then show up twice in the first week of January and then never go again," she admitted to Urban List. "Now I love workout classes or working with a trainer. I feel like I'm pretty useless on my own, so I prefer being around other people working out with me."
Indeed, one of the things that keeps Dua regularly lacing up her sneakers is training with friends. "Whether it's on Zoom, doing a workout with my friend Ella in LA who leads a kickass workout class called Sculpt With Ella, or with my best friend Bunny who comes over to train me on days when I'm feeling super lazy and need someone to get me motivated," she told Refinery29. No word yet on whether she likes doing partner workouts with her significant other (speaking of which, who is Dua Lipa dating right now?).
4. HIIT workouts
It's fair to say that Dua manages a rather busy schedule—whether she's creating new music or promoting it on tour. As such, she's partial to short, sharp workouts from time to time, and they don't get much more time-efficient than HIIT. Properly known as high-intensity interval training, it revolves around explosive anaerobic exercise with brief recovery.
Speaking to Urban List, the star said: "I try and work out as much as I can. It's such a busy lifestyle I feel like I need to try and do something for myself every day. I love doing something that's really fast and quick, like a 15-minute HIIT session." Similarly, she told Vogue that she loves HIIT because it's "over before it's even started". Her go-to moves include jumping jacks, mountain climbers and burpees.
5. Morning sessions
Lipa is partial to an a.m. workout. "Getting physical really starts my day off right," she told Refinery29, and PMAC revealed that they'd usually train at 7 am. The singer told Urban List that HIIT neatly aligns with her preference for an early sweat session. "If I've got a really early call time I don't want to be waking up hours before I need to, to go and do a workout," she adds. "So a high-intensity workout, shower, breakfast, and I'm on my way."
Struggle to get out of bed at dawn? Investing in the best workout clothes—and having them ready to slip on—can be just the encouragement that you need to entice you out between the sheets. You'll reap the benefits of improved mood and boosted focus throughout the rest of the day!
6. Core work
You've probably seen Dua in a crop top or bikini and marveled at her killer abs. (Guilty!) Well, that impressive definition is sculpted in the gym thanks to a variety of surprisingly simple exercise moves—just be sure to mix things up.
"I think different variations of crunches like bicycle crunches are good," she told Urban List. "Leg raises are also great unless my back hurts. Planks are good although almost certainly my least favorite!"
7. Variety aplenty
You'll never get bored following Dua's workout routine—although you better have one of the best yoga mats at hand. "When I have a tiny bit more time on my side I love mixing up lots of different training, finding different workouts in whatever city I'm in, whether it's yoga, Pilates, boxing or spinning," she told Urban List. "Whatever it is, I try to change it up every day to keep things interesting."
The star also told Refinery29 that she likes to "leave my cardio workout to dancing"—which, whether she's performing "Cold Heart" or "One Kiss," is likely to get her heart rate soaring. Even within her strength-training sessions, things look different every time. PMAC noted to Women's Health that her first workout of the week might be bodyweight only, with her second using equipment (like the best resistance bands for women) and her third focusing on balance and agility.
8. Daily walks
Finally, Dua ensures she gets her steps in every day with the help of her dog Dexter. "I got really lucky that he and I have the same sleep schedule," she shared with Refinery29. "If I need to catch a couple extra hours of sleep he's right there with me, but on days when I'm up bright and early, he's ready for his morning walk. Our walks are the perfect way to get my mind right for the day ahead."
Walking is also one of the more accessible forms of LISS—or low-intensity steady-state cardio. It is an activity, which can also include cycling and swimming, that requires exercising for longer periods, typically 45 to 60 minutes. It is a great way to burn fat and improve heart function, but without straining your joints, so do it like Dua and add it to your daily routine!
Lauren is a freelance writer and editor with more than six years of digital and magazine experience. Most recently, she has been the Acting Commissioning Editor of Women's Health—where she co-produced the Going For Goal podcast—and has previously also written news and features for titles including The Telegraph, Grazia, Stylist, Dazed, The Sun's Fabulous, Yahoo Style UK and Get The Gloss. She covers all aspects of lifestyle, specializing in health, beauty, and travel. Can't live without: oat milk lattes, new podcast episodes, long walks, and great skincare.