Hailey Bieber workout routine: this is how the model stays strong and lean
In a gym rut? Get inspired with these Hailey Bieber workout tips...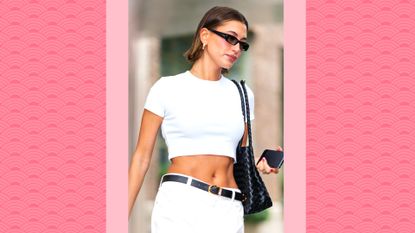 (Image credit: Gotham/GC Images/Getty)
Want to try the Hailey Bieber workout routine? Get in line!
From fashion (those Hailey Bieber cargo outfits though) to skincare to her viral Erewhon smoothie, the 26-year-old model is a certified trend-setter—and how she tones up is definitely no different, not least because the stylish star looks to be catwalk- and campaign-ready at all times.
Just like Kendall Jenner's workout, the foundations of Hailey B's exercise routine involve her getting strong—and seem to be less about aesthetics than how it keeps her feeling positive and well. "Exercise...keeps my mind and my body really healthy," she told Women's Health's Going For Goal podcast.
So, while you may be curious about Hailey's nails of the moment (she's been sporting a pink French manicure lately, FYI), let's also take a look at how she stays strong and lean. From lifting heavy weights to regular Pilates sessions and using boxing as her cardio, be inspired by how Justin's wife keeps her fittest...
Hailey's workout routine essentials
Hailey Bieber workout routine: 6 ways she tones up
1. Gym sessions
Hailey is a regular at the Dogpound, a personal training facility that opened in New York in 2016. According to the Evening Standard, the gym—which is also frequented by fellow celebs like Kaia Gerber, Sofia Richie and Ashley Graham—charges between $200 and $500 per PT session.
The model told the Women's Health podcast: "I'll do a couple of sessions a week in the gym, weight training and cardio." On Dogpound's Instagram, she can be seen doing a variety of movements—including sled pushes, underhand grip pull-ups, weighted sumo squats, inverted 'V' planks with TRX straps, barbell squats and mountain climbers.
"When a client trains with us, they don't only have one trainer, they work with a team of trainers to ensure they are receiving diversity in their program," founder Kirk Myers told the Evening Standard of how sessions are tailored to A-listers like Hailey. "Our methods are unique, too. Battle ropes, sledgehammers and oversized tires are only some of the things we have that you might not see at your neighborhood gym."
There's also a focus on movements involving balance, like using the bosu ball, because it "activates more core muscles". If you want to follow in Hailey's footsteps you better pick up one of the best resistance bands, which are a "go-to" at the gym because they're "so versatile."
2. Ankle weights
As well as dusting off your resistance band, there's another key piece of equipment that we know Hailey enlists during sessions. She helps tone her legs using ankle weights, which will make more challenging even the most simple beginner workout exercises.
In a post on Dogpound's Instagram, the star can be seen wearing a pair while being guided through bottom-toning donkey kicks by a PT. The gym captioned the video "manual resistance kickbacks for the win" and recommended doing ten reps on each leg for four sets. Now, that's going to burn!
3. Enhanced lunges
In another post on the gym's Instagram, Hailey can be seen performing an intense lower-body exercise alongside fellow model Camila Morrone. Captioning the post, Myers described the pair as "legends" as well as "two of the sweetest and best people I know".
But what exactly was the thigh-toning exercise? Well, it involves four parts: a single-leg balance into a single-leg deadlift, proceeding with a forward lunge and then a stationary lunge with a weighted element. Talking of which, you'll need one of your best dumbbells for this one.
3. Pilates classes
With her pulse always up on what's cool, it's unsurprising that Hailey has been engaging in the workout of the moment: Pilates. "I used to be a dancer, so I love Pilates because it really elongates and strengthens my muscles," she told Harper's Bazaar. "That's probably my favorite workout."
The star frequently heads to sessions at Forma Pilates in Los Angeles, where Kendall and Sofia are also believed to be regulars. It's a mega-exclusive studio, which is referral only, and costs $100 per person for semi-private sessions or $300 for totally private classes. However, you can tune into their online sessions at home for $49.99 (£42.99) per month—just grab one of the best yoga mats to stay comfy.
4. Boxing sessions
Another A-list favorite workout of the moment is boxing—and Hailey has said that she has turned to the exercise to raise her heart rate. "I also recently started to box for some cardio," she told Harper's Bazaar.
However, boxing for her isn't just about maintaining her fitness but also caring for her mind too. "I found that remembering the combinations and learning how to move your body in boxing has been good for mental health," she added.
5. Pretty kit
If you're struggling to learn how to motivate yourself to workout then a good place to start could be investing in the best workout clothes. Slipping on some stylish gym wear to feel good is something that we're pretty sure Hailey knows a thing or two about.
The star is frequently photographed arriving and leaving gym sessions in an array of cool crop tops, leggings, shorts and sweaters. One of her go-to athleisure brands is Alo Yoga, but she has also been seen in Lululemon.
6. Train wherever
Finally, Hailey stays consistent with her training sessions—and that includes working out while traveling too, which she does plenty of. One of her PTs, Rhys Athayde, told Well + Good how to get yourself in the right mindset to stick with a workout routine even when away. "It starts with how you view working out," he explains. "If you see it as a chore, you're going to dread it every day and take an entire [vacation] off. I see working out as a way to feel good, and it's something I really enjoy."
Athayde also shared with them a 15-minute, no-equipment workout which you can do from a hotel room. You should perform each circuit twice, doing each move for 30 seconds without rest, with a one-minute break between circuits.
Circuit A:
Reverse lunge to front kick (right leg)
Reverse lunge to front kick (left leg)
Alternating curtsy lunges
Walkouts with shoulder taps
Jump squat
Circuit B:
Reverse lunge with twist (right leg)
Reverse lunge with twist (left leg)
Burpee with push-up
Mountain climbers
Jump squat to alternating jump lunge
Skaters
Circuit C:
Leg lifts
Bicycle crunches
Push-ups
Forearm plank with alternating hip dips
Lauren is a freelance writer and editor with more than six years of digital and magazine experience. Most recently, she has been the Acting Commissioning Editor of Women's Health—where she co-produced the Going For Goal podcast—and has previously also written news and features for titles including The Telegraph, Grazia, Stylist, Dazed, The Sun's Fabulous, Yahoo Style UK and Get The Gloss. She covers all aspects of lifestyle, specializing in health, beauty, and travel. Can't live without: oat milk lattes, new podcast episodes, long walks, and great skincare.