This is what a healthy morning routine can look like
Combat those night-before scaries with a healthy morning routine that will kick your day off on the right foot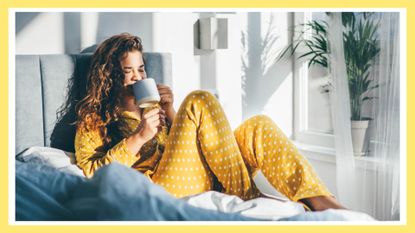 (Image credit: Getty)
Having a healthy morning routine isn't just a way to maintain good habits—it's also a great way to practice self-care and increase your confidence before you officially start your day. Many experts believe that a good morning routine also improves productivity and supports a positive mindset.
To get the most out of your morning, you'll need to start with a good night's sleep. Ideally, shoot for a bedtime between 8–10 pm, and if you have trouble falling asleep, these best sleep aids will help you get that much-needed beauty rest. Once you've got your bedtime routine down, try this morning schedule and take on the day!
A healthy morning routine to add to your day:
1. Wake up early
Waking up early can be a challenge, but it really does help you start your day off right, particularly if you start work in the earlier hours of the day. If you can get out of bed by 5 or 6 am, you'll have a few hours to dedicate to working out, showering, eating a healthy breakfast, and maybe even sneaking in a five-minute meditation!
2. Brush your teeth and floss
It's obviously super important to maintain oral hygiene: beyond the health benefits, your smile represents a part of who you are and it can increase your confidence exponentially. It's essential to floss at least once per day and if you can't remember to do it in the evening, getting it checked off your to-do list in the morning is a great idea. And your favorite mouthwash can help your breath smell fresh, especially after that a.m. latte.
3. Get an exercise in
Planning your perfect workout schedule? Morning exercise is beneficial for your body, your mood and your mind. If you have time before work, you may want to sneak in a run or a bicycle ride—this will help you energize yourself for the day ahead. If you don't have thirty minutes to spare, that's fine. Even jogging for 15 minutes can help you feel better and get pumped up for work.
4. Quick morning meditation
Five minutes is all it takes to do a quick morning meditation. (Our picks of the best meditation apps will help you get started.) When performed regularly, this practice will help you remain cool, calm and collected during the day, minimizing stress and inviting a much-welcome sense of peace and calm into your morning.
5. Take an energizing shower
One of the easiest ways to start off the day with a clean slate? Get clean, literally. Hop in the shower and lather up with your favorite soaps and shampoos—products with mint, eucalyptus and citrus help wake up your senses, leaving you refreshed and energized. For a little extra pep, make a morning playlist and bring your wireless speaking into the bathroom with you. (Yes, ours is basically all of Renaissance, obviously.)
6. Show your skin some love
Having a dedicated skincare routine is a great way to love and care for yourself. It can be easy to skip this step if you're in a hurry, but making the time in the morning will benefit your skin and your overall health in the long run. All you need is a cleanser, a toner, and a moisturizer. (And if you're unsure of the correct skincare product order, we've got you covered.) It takes about five to ten minutes to do a simple morning routine and you'll leave the bathroom feeling refreshed and ready to face the day.
7. Choose a stellar outfit
Remember that scene from Clueless when Cher Horowitz goes through her digital wardrobe to choose that day's ensemble? Okay, sure, we don't have a high-tech closet like hers, but whether you're going to the office or working from home, choosing an outfit you love will boost your mood and help you feel confident tackling the day. Show off your business-casual fashion, or throw on your favorite tee and jeans—simply pull whatever you feel best in from your capsule wardrobe!
8. Whip up some breakfast
No matter what you do, you'll want to have something in your stomach before you leave the house or sit down at your desk. This could be anything something simply yummy like a bowl of oatmeal or a quick smoothie, or something more involved, like French toast or pesto eggs. Many studies have linked eating breakfast to bettering your memory and concentration—both helpful for that busy 9-to-5 ahead—so ensure that you are full before you head out the door. After all, there's nothing cute about hanger.
9. Get inspired with a motivational speech
Need an inspirational boost? Listening to some wise words at the beginning of your day can improve your motivation, confidence and willpower. Whether you're having a rough week or need a little push here and there, inspirational messages are a great tool for facing everyday life with a healthy, positive perspective. Tune in to your favorite motivational speaker or check out some of our favorite celebrity quotes—think of them as daily affirmations!
Having a healthy morning routine is a great way to start your day off happy, healthy, and in a great mood. With a good mental and physical foundation, it's so much easier to deal with any challenges that may occur over the course of your day.
Christina Izzo is the Deputy Editor of My Imperfect Life.
More generally, she is a writer-editor covering food and drink, travel, lifestyle and culture in New York City. She was previously the Features Editor at Rachael Ray In Season and Reveal, as well as the Food & Drink Editor and chief restaurant critic at Time Out New York.
When she's not doing all that, she can probably be found eating cheese somewhere.