How many times has JLo been married? Here's her exact relationship timeline
The star has had several high-profile relationships but how many times has JLo been married now that she's settled with Ben Affleck?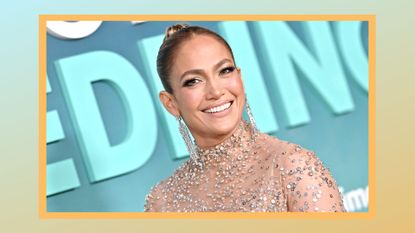 (Image credit: Axelle/Bauer-Griffin/FilmMagic)
How many times has JLo been married? The singer, actress and dancer is now happily married and settled with long-term love Ben Affleck, but who has she been married to in the past?
As you may know, Jennifer Lopez has been involved in several highly-publicized romances over her career, most recently her on-again relationship with Ben Affleck, to who the star was previously engaged from 2002 to 2004 and which kicked off the celebrity portmanteau trend with the "Bennifer" tabloid craze. The famous Bostonian even made a brief appearance in the JLo Netflix documentary to comment on the pair's famous noughties relationship!
Of course, Jennifer Lopez and Ben Affleck are now officially married (happily so it seems, despite that awkward Grammys moment!). But who else from her high-profile relationships in the past did JLo actually say "I do" to? From Sean "Diddy" Combs to Alex "A-Rod" Rodriguez, who has JLo been married to?
How many times has JLo been married?
After saying 'I do' to Ben Affleck in July 2022, Jennifer Lopez has now been officially married four times.
Of her marital track record, Lopez said in a past Youtube video, before her most recent nuptials to Ben Affleck: "I've been married three times and once was nine months and once was 11 months so I don't really count those."
"I was married to Marc for 10 years with the kids," she said. "I was very young the first two times I tried to get married. I'm saying tried to!"
"It seems like in this life, like you're always surrounded by people, you're never lonely," she added. "But it's very lonely. And so you always want somebody with you. Somebody. And so I felt like if I got married, I felt like I would always have somebody. But that's not how life works. That's not how it goes. It's a bad reason to get married! Not the right one. The wrong one! The right one is when you find somebody who really makes you better."
So who has JLo been married to to make up her three former marriages?
1. Ojani Noa
Her first marriage was to Cuban then-waiter Ojani Noa, and lasted from February 1997 to January 1998. In 2007, she successfully sued her former hubby for breach of contract, after he tried to publish a tell-all memoir of their short marriage, per MTV News.
She also won a permanent injunction against Noa, who is now an actor and producer, in 2009 after Noa tried to sell home videos from their honeymoon (this has Pam & Tommy written all over it!). And, after Ben and Jen's marriage, he awkwardly commented on their previous union, stating to the Daily Mail, "Ben is husband number four. I was husband number one and she told me I was the love of her life. When we lay in bed on our wedding night, she said we would be together forever."
Umm...okay?
2. Cris Judd
Following a high-profile romance with record producer and rapper Sean "Diddy" Combs—who JLo dated from 1999 to early 2001—her second marriage was to former backup dancer Cris Judd, who appeared in her music video for "Love Don't Cost a Thing."
They married in September 2001, but split eight months later in June 2002.
It appears that the pair have remained on great terms since their marriage ended though, with Jennifer telling Vibe in 2003, "I meet this sweet person who's so refreshing. But marriage is not just about love...I loved Cris, still love him, he's one of the best people. This wasn't an easy thing to walk away from, but we didn't have what it takes to make a marriage work … Cris knows the last thing I ever wanted in this f****** world was to hurt him."
Speaking about his famous former wife, Cris has also said to TooFab in 2019, "I have, gosh, you know, I just wish her the best," and, speaking of her 2019 film Hustlers, "I hope the movie does really well."
3. Marc Anthony
Her marriage to Grammy-winning singer Marc Anthony was Lopez's longest, spanning 2004 to 2014 and resulting in their two children, Emme and Max. The pair still appear to have a good friendship, co-parenting their children and publicly supporting each other.
"They're still extremely close; he's one of her biggest cheerleaders," a source told HollywoodLife. "All he wants is for her to be happy."
Speaking on The View in 2017, JLo also divulged, "Marc and I are good how we are right now. There's a reason we're not together, but we're great friends and we're parents together."
4. Ben Affleck
If you're wondering, who has JLo been married to, one man you (obvs) can't miss off the list is Ben Affleck! The pair officially tied the knot in July 2022, 20 years after they first got engaged—so it's safe to say they have had a whirlwind love story.
The pair got married in Las Vegas surrounded by friends and family, with Jennifer confirming the news and sharing a photo dump on her website OnTheJLo. Along with her announcement, she also wrote: "We did it. Love is beautiful. Love is kind. And it turns out love is patient. Twenty years patient."
"Exactly what we wanted," she added. "Last night we flew to Vegas, stood in line for a license with four other couples, all making the same journey to the wedding capital of the world. Behind us two men held hands and held each other. In front of us, a young couple who made the three hour drive from Victorville on their daughter's second birthday—all of us wanting the same thing— for the world to recognize us as partners and to declare our love to the world through the ancient and nearly universal symbol of marriage."
After sharing more details of their "dream wedding," she finished: "Stick around long enough and maybe you'll find the best moment of your life in a drive through in Las Vegas at twelve thirty in the morning in the tunnel of love drive through, with your kids and the one you'll spend forever with. Love is a great thing, maybe the best of things—and worth waiting for."
How many times has JLo been engaged?
Lopez has been engaged five times (though married four). Including her three ex-spouses and her current husband, actor-director Ben Affleck, the 53-year-old superstar has previously accepted a proposal from her former fiancé and New York Yankees baseball player Alex Rodriguez—who she was in a relationship with from February 2017 to January 2021, becoming engaged in March 2019.
The pair had become hugely famous as a couple, but let out a statement in January 2021 revealing that they had gone their separate ways. They said, "We have realized we are better as friends and look forward to remaining so. We will continue to work together and support each other on our shared businesses and projects. We wish the best for each other and one another's children.
"Out of respect for them, the only other comment we have to say is thank you to everyone who has sent kind words and support."
Did Jennifer Lopez get married to Ben Affleck?
Yes—as mentioned, the star is now married to Ben Affleck, tying the knot in July 2022—two decades after first becoming engaged, and after spending 17 years away from each other with other people.
The power couple first met on the set of the 2003 movie Gigli and were together from 2002 to 2004, becoming engaged in November '02. However, they broke up in 2004, and the excessive media scrutiny of their relationship was reportedly one of the reasons the pair broke off the engagement. "We didn't try to have a public relationship," Lopez told People. "We just happened to be together at the birth of the tabloids, and it was like 'Oh my God.' It was just a lot of pressure."
Speaking to Zane Lowe on Apple Music 1, she confessed that her split from Ben was the 'biggest heartbreak of her life'. She said, "It was so painful after we broke up. Once we called off that wedding 20 years ago, it was the biggest heartbreak of my life, and I honestly felt like I was going to die."
Lopez went on to marry Marc Anthony shortly after the break-up, and Affleck famously moved on with actress Jennifer Garner, with whom he was married from 2005 to 2018 and shares three children.
But, she told People of her relationship with Ben at the time, "I think different time, different thing, who knows what could've happened, but there was a genuine love there."
And that "different time" did eventually come around: in April 2021, the "are JLo and Ben Affleck dating?" rumors were back in full force, nearly twenty years after the couple's first entanglement. In July of that year, the talented twosome made it Instagram official and on April 8, 2022, they announced their second engagement. (Now, if you're wondering, "Is getting back with an ex ever a good idea?" our relationship expert has news for you.)
There were rumors in early 2022 that the couple had already tied the knot, but it turns out, they waited until the summer, as both confirmed the happy news and shared pictures with their fans after their 17 July nuptials in Las Vegas. What an inspiring love story! So in answer to the question, how many times has JLo been married? It seems there's only one marriage that matters most to her.
Christina Izzo is the Deputy Editor of My Imperfect Life.
More generally, she is a writer-editor covering food and drink, travel, lifestyle and culture in New York City. She was previously the Features Editor at Rachael Ray In Season and Reveal, as well as the Food & Drink Editor and chief restaurant critic at Time Out New York.
When she's not doing all that, she can probably be found eating cheese somewhere.