Where is 'Emily in Paris' filmed? Your guide to the show's chic French filming locations
Curious about where is 'Emily in Paris' filmed? You might want to book a ticket and make sure your passport is up to date!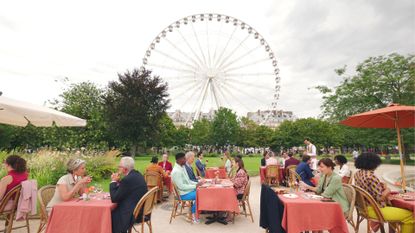 (Image credit: Netflix)
Where is Emily in Paris filmed? Does it all really happen in France, or is the Netflix rom-com the product of a very believable set?
Now that Emily in Paris season 3 has hit the streamer as of Wednesday, December 21, we have plenty of questions for Emily (Lily Collins) regarding her whereabouts: Does Emily stay in Paris or go home to Chicago for work? Who does Emily end up with...and does she, in fact, remain in the City of Lights with her fella?
Although there are only 10 episodes in the new season, it feels like we've walked miles in Miss Cooper's designer shoes. Here's where she's journeyed throughout the series—and where you can venture to in real life. (Do be warned, though: that Emily in Paris lifestyle costs a pretty penny!)
Where is 'Emily in Paris' filmed? A locations guide
Oui oui! Emily in Paris is, indeed, filmed in France. Along with the titular city, the cast also made its way to other gorgeous locations throughout the country, including the Loire Valley and the French Riviera.
"For me, the luckiest thing about shooting there [in Paris] was the access to the incredible locations we got," Collins revealed on Live with Kelly and Ryan. "We shut down bridges and cafés, like Café de Flore and Ralph's, and we got to shoot all night in the Paris Opera House, which is so absurd!"
However, there is a downside to gallivanting through Paris, believe it or not. "Because wearing heels, I mean, you wouldn't think how painful that can be in Paris," she revealed on The Tonight Show with Jimmy Fallon.
(Word to the wise: invest in practical shoes before heading to the French capital and its many, many cobblestone streets!)
'Emily in Paris' season 1 filming locations
In the debut season, Emily Cooper is seen jaunting throughout the French city and its many recognizable attractions while attempting to find her footing in a new place. (A bit touristy, but we're here for it!)
1. Palais Garnier
The opera house that Emily visits in the first season, Palais Garnier, was inaugurated in 1875 at the request of Napoleon III.
2. Le Grand Véfour
After her night at the opera, Emily indulges in a delicious dinner at this iconic restaurant. The Michelin-starred outpost has been described as "the finest gourmet rendezvous of the Parisian political, artistic and literary society for more than 200 years." Can we get a reservation?!
3. Pont Alexandre III
Pont Alexandre III is a bridge that stretches across the Seine and is where Antonie shoots the commercial for his new perfume.
4. Musée des Arts Forains
The Musée des Arts Forains offers a collection of artifacts from "the performing arts of the 19th and 20th centuries." It's normally only used for special events, making it the perfect location for Emily's marketing firm to use for parties.
5. Place de L'Estrapade
Place de L'Estrapade is where Emily's Parisian apartment is located in the show. The square is also home to the café that Emily often visits in the series, as well as the Italian restaurant where Gabriel works.
6. Place de Valois
Place de Valois plays home to the offices of the marketing firm Savior and later Agence Grateau, where Emily works in season 3.
7. Jardin du Palais Royal
This is a key location for Emily at the beginning of the first series, as we see her eating lunch alone on a bench. It's also the location where she meets Mindy (Ashley Park) for the first time—and where Mindy does an impromptu singing performance.
8. Rue de l'Abreuvoir
Rue de l'Abreuvoir is dubbed the "prettiest street in Paris," so of course it's the place where Emily and Mindy spend a night out on the town. The pair goes to dinner at La Maison Rose, which is located on the corner of Rue de l'Abreuvoir and Rue des Saules.
'Emily in Paris' season 2 filming locations
Filming for Emily in Paris season 2 took place in Paris and St. Tropez, a stunning coastal town sitting on the French Riviera. However, we see Emily not in the Côte d'Azur but, in fact, in a little fishing village about an hour and a half out of St. Tropez, called Villefranche-sur-Mer.
1. Gare du Nord
Feeling guilty about her romance with Gabriel, Emily takes a weekend trip away. She travels from the large, central train station Gare du Nord, an iconic stop for many travelers to Paris.
2. Grand-Hotel du Cap-Ferrat
Grand-Hotel du Cap-Ferrat is Emily's hotel of choice while staying in the French Rivera, which is based more in the Saint-Jean-Cap-Ferrat region rather than in Saint Tropez.
3. Père Lachaise cemetery
Emily goes for lunch in the largest cemetery in the French capital with her colleague, Luc. The cemetery is the resting place of many famous people such as Édith Piaf, Oscar Wilde, Jim Morrison and French novelist-playwright Honoré de Balzac, whose grave Emily and Luc visit.
4. Galeries Lafayette
Galeries Lafayette is the biggest department store in Europe, so of course Emily eventually makes her way there on the show. Where else do those famous Emily in Paris fashion moments come from?!
5. Le Raidd
Le Raidd is a gay bar that Emily goes to with Julien. Fun fact: the venue was once included in Time Out magazine's top 100 best bars in Paris!
6. Palace of Versailles
In the final episode of season two, we see a fashion show take place in the Palace of Versailles. The palace used to be a royal residence and now holds over 60,000 pieces of art.
'Emily in Paris' season 3 filming locations
Emily's back and starting to assimilate to French life—so much so that she dreads the thought of potentially leaving the City of Love behind to return home to Chicago. Here's where we find Miss Cooper throughout the third installment.
1. The Eiffel Tower
The third season kicks off with Emily atop of the Eiffel Tower at night, taking in the glowing Parisian skyline below. It's just too bad her bosses Madeline and Sylvie join her and cause her to fall off! (Relax—it was just a nightmare.)
2. Musée des Arts Décoratifs
The iconic Musée des Arts Décoratifs is home to the Pierre Cadault Retrospective on the show, but in reality, it houses thousands of pieces of art, jewelry and other gorgeous artifacts. Unsurprisingly, it makes for the perfect locale when a little bit of work drama unfolds. (Hey, if you're going to be stressed on the job, at least you're in a beautiful location!)
3. Provence
While we won't say how or why Emily makes her way to Provence, do know that the area is as beautiful and serene as you've imagined. (Unless you're Sylvie and you get attacked by bees in a lavender field.)
4. La Nouvelle Eve
At the foot of the Montmartre hill rests the late 1800s La Nouvelle Eve, a cabaret hall that screams "old-school Paris" thanks to its colorful stage surrounded by blue velvet and shining lights. (It's the perfect place for Mindy to belt one out!)
5. Hôtel Molitor Paris
Even while poolside at the grand, luxurious Hôtel Molitor Paris, Emily can't help but talk about work. Good thing Mindy is there to keep her occupied. But when it comes to Nicolas (Paul Forman) scoring the accommodations...well, we'll just let you figure out their dynamic.
Emily in Paris season 3 is now available to stream on Netflix
Liv is a freelance journalist currently studying English at university. She loves covering everything from entertainment and politics to lifestyle and travel. As well as writing for My Imperfect Life, Liv has bylines in The Times, HuffPost, Den of Geek, Bustle The Metro and The Bookseller.