Khloé Kardashian workout routine—how the star built the ultimate 'revenge bod'
The Khloé Kardashian workout routine sounds intense, but many moves in her impressive regimen can be tailored to any fitness level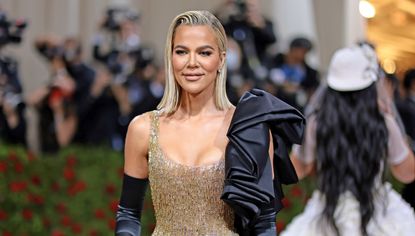 (Image credit: Dimitrios Kambouris/Getty)
Without a doubt, the Khloé Kardashian workout routine works. The reality star is arguably in the best shape of her life, having famously struggled with her body and weight ever since the beginning of her family's rise to fame.
As such, it's no secret that Khloé Kardashian has worked hard for her "revenge body." Even with her busy schedule, Khloé has said that she still exercises five to six times a week, usually in the morning while her daughter, True Thompson, is still sleeping.
So what exactly does her workout routine look like? As it turns out, you can actually mimic many of her favorite exercises from the comfort of home with a few simple accessories, including the best resistance bands for women.
Khloé herself has admitted that her workouts are intense, but if you're looking for something that's more of a beginner-level workout, there are also lots of easier moves that will help get you motivated. When you're ready to take things up a notch, jump into Khloe's heart-pumping routine.
All about the Khloé Kardashian workout routine:
1. Alternating cardio exercises
Khloé's least-favorite exercise is cardio, but she alternates between different exercises to keep her sanity. Her cardio routine includes a mix of:
running
boxing
RiseNation with a VersaClimber (a type of workout machine that looks like a ladder, which you climb as it moves)
Mixing things up keeps her workouts interesting, but it also helps prevent those dreaded plateaus that can slow your progress.
But if you are considering incorporating cardio into your workout routine for the first time, be sure to stretch on one of the best yoga mats both before and after—cardio can be tough on your joints, so it's important to take care of them.
2. An upper body resistance band workout
To keep her upper body in shape, Khloé uses resistance or strength training—and she has stepped up her routine recently, as evidenced above! Here are some moves from her five-minute resistance band routine:
Tone your arms and your glutes at the same time with this exercise:
place both feet on the resistance band
perform a bicep curl and squat at the same time
make sure that you're squeezing your glutes
bend at the knees while curling
repeat for 30 seconds
To take things up a notch, try alternating kicking your legs out to the side after each squat, but do this slowly, so as not to lose your balance.
Rows are a great way to work your back and biceps. You can do this exercise with a partner, or you can secure your resistance bands onto something when rowing. Here's what you do:
grab the opposite ends of your band
lower down into a slight squat
pull back, squeezing your shoulder blades together
return to the starting position
To make this exercise a little more challenging, try jumping back before grabbing the bands and rowing, or row with one hand at a time.
Your triceps can be tricky to work, but Khloé uses this compound movement to get these tiny muscles burning:
place one foot on your resistance band
lunge forward slightly with the opposite leg
bend your knees slightly while pulling the band up behind your back
straighten your knees and return your arm to the starting position
repeat this movement for 30 seconds
switch to the other side
Resistance bands are an effective, easy and affordable way to make your workouts more difficult, and many of these moves from the Khloé Kardashian workout routine also incorporate squats and lunges to give your booty a little extra attention.
3. Kettlebell deadlifts
On Khloé's legs and booty day, her trainer Lyzabeth Lopez really puts her to the test. One of her favorite moves for the lower body is the kettlebell deadlift. For this exercise, you'll need a pair of kettlebells. Beginners should use two 15lb kettlebells, while those who are more advanced can use up to 70lb kettlebells.
Here's how to do this exercise:
place the kettlebells down on the floor in front of you and stand with your feet shoulder-width apart
with your core engaged, bend down into a slight squat and grab the kettlebell handles
drive your weight into your heels
hinge from your hips and lift while engaging your glutes and hamstring
once you get to the top of your lift and your knees are straight, thrust your pelvis slightly forward
repeat this set and aim for four sets of 8-12 reps
Remember to never lift from your chest, especially if you're using kettlebells or one of the best dumbbells for women, or you'll likely end up hurting your back.
Deadlifts are multi-functional and will work your hamstrings, glutes, lower back, and even your shoulders; no wonder it's a staple in Khloe Kardashian's workout routine.
4. Weekly circuit training
Khloé's trainers also incorporate circuits into her weekly workouts to keep her heart rate up and her muscles guessing. Her trainer's circuit workout is a no-joke routine that will leave you sore for days. Here's what it looks like:
20-25 jumping jacks
15 bent-over raises
25 split jacks
ten deadlifts with kettlebells
jog in place for 60 seconds
ten push-ups
ten lateral walks in each direction
eight supermans
eight Bulgarian split squats
15 bicep curls
Perform one set of each exercise, and repeat the whole sequence after completing the last one. You can do two to three circuit rounds if you're doing cardio that day, or bump it up to four or five rounds if it's your only workout for the day.
5. A full body workout with battle ropes
One of Khloé's favorite full-body workouts is the battle ropes, but don't let these unassuming ropes fool you—they offer a really intense exercise. They're not typically a home workout purchase, but you may have a set of battle ropes at your gym.
Battle ropes work multiple muscles at once, allowing you to maximize your time and energy. Just ten minutes is enough to work your whole body—and trust us, you'll feel it!
Here's what Khloé recommends:
start your workout in a squat position
keep your back flat and lean forward
pick up the pace to increase the intensity
stand in a lunge to work your thighs
stand on balance cushions to challenge your balance
Khloé Kardashian incorporates all of these exercises into her workout routine, but for her, the most important thing is consistency.
She told Byrdie recently that while her workouts have obviously resulted in a physical change, the mental benefits she sees are what really keeps her motivated. Khloé explained: "I've realized that I have to work out at least five days a week for my mental health. Of course, a byproduct is losing weight or seeing this great muscle here or there. But I've realized it's more about the stress relief that I get."
"It's more about the accomplished feeling that I get—I set my mind to do something, I woke up, I did it, and now I feel great," she added.
Khloé's admission that she works out at least five days a week may have left you wondering, how many days a week should I work out? Never fear—though five is a great number to aim for, you can still see great results working out just two or three days a week, especially if you are a beginner.
So, when you're ready for a real workout challenge, jump into your best workout clothes and give Khloé's workout a try, to kickstart your fitness journey. And while you're at it, check out sisters Kim Kardashian and Kendall Jenner's workout routines for even more sweat inspo.
Amy Hunt is a lifestyle writer and editor, and was previously Lifestyle Channel Editor at womanandhome.com, having been with the brand since 2015. She is passionate about everything from entertainment to books, to homes, food and wellness. When she isn't editing, researching or writing articles, he's busy burying her nose in a gripping thriller, practising yoga, or buying new homeware.