Kylie Jenner's workout routine is the most achievable of the whole Kardashian clan
This Kylie Jenner workout plan shows all of the realistic ways the mom-of-two maintains her figure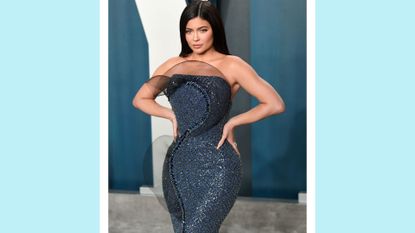 (Image credit: Karwai Tang/Getty)
Kylie Jenner always looks amazing—be it during a relaxing weekend break away with her kiddos, or during a glamorous shoot for Kylie Cosmetics. So you can only imagine that the secrets of Kylie's workout routine are highly sought after—and we've shared all the details of how she maintains her impressive figure below.
The youngest member of the Kardashian-Jenner family has a thriving business, several brand deals, and around 130 registered trademarks and counting. She may have started as a reality TV star, but she's made quite the name for herself as an entrepreneur, style icon and beauty guru—so she's undeniably busy. That means that her workouts need to fit in with both her professional and personal commitments.
So just how does she do it? Arguably, Kylie isn't the most religious Kardashian when it comes to working out (have you seen Kim Kardashian, Kendall Jenner or Kourtney Kardashian's workout routines?!), but she still prioritizes her health and fitness. Find out all the ways Kylie uses her workout sessions and diet to stay in the best, healthiest shape for her.
All about the Kylie Jenner workout routine:
1. Working out 3x a week
A source revealed to E! late last year that Kylie was focusing on working out three times a week—either in her home gym with a personal trainer, or outside in the California sunshine.
While some of the Kar-Jenner bunch work out five to six times a week, Kylie's three times a week feels far more manageable and achievable. You'll likely see great results getting in some movement three times a week, and you won't burn yourself out in the process.
Wondering how many days a week you should work out? See our guide, which explains the perfect number based on your fitness goals.
2. HIIT training twice a week
According to reports, 25-year-old Jenner enjoys high-intensity interval training (HIIT) and prefers a lot of variety in her fitness regimen. For this sort of HIIT workout, you'll need one of the best yoga mats to support your knees and lower body.
Her lower body workout—which she does a minimum of twice a week—consists of three sets of:
15 dumbbell squats
15 single-leg lunges
15 skater lunges
15 side lunges
15 stability leg all curls
15 cable lat pulldowns
15 dumbbell rows
15 dumbbell bicep curls
25 crunches
25 reverse crunches
25 ball throws
60 seconds of mountain climbers
90-second plank
15 minutes of HIIT cardio
Her upper body workout looks just as intense. Once or twice a week, she'll do three sets of:
15 dumbbell chest presses
15 dumbbell flys
15 wood chops
15 shoulder presses
15 lateral dumbbell raises
15 dumbbell curls
15 tricep extensions
25 ball throws
25 bicycle crunches
25 reverse crunches
90 seconds of plank with leg lift
15 side bends
60 seconds of mountain climbers
15 minutes of HIIT cardio
If you're thinking of trying her workout, you'd be wise to look into the best dumbbells for women, since they play a major role in her routine.
And while this HIIT session looks pretty grinding, Kylie also loves incorporating more gentle forms of exercise into her lifestyle, too.
3. Regular outdoor workouts—and hikes
According to E! News, Kylie "prefers doing outdoor workouts because it's more distracting, and feels nice to be in nature. She will go on long walks with Stormi on the trails by her house, or go for a hike nearby."
We all know the many benefits of exercising outdoors, so it's no surprise that Kylie also likes to enjoy the feel-good factor that nature and the sun on your face can bring!
4. She follows a healthy but realistic diet
Kylie has a focus on eating well in general, favoring lean, whole and organic foods, rather than sticking to a specific diet. In fact, she doesn't believe in fad diets and tends to totally avoid them.
The Kylie Cosmetics CEO prefers organic meats and vegetables and tries to cook with healthy ingredients at home. In the morning, she likes to have a green juice smoothie about a half hour before eating breakfast. Then she'll make something simple like scrambled eggs with bacon and mashed avocados. The mom-of-two will often have things like pasta or chicken tacos for dinner, too. She has also cut dairy from her diet, after finding out that she was lactose intolerant.
Finally, while Kylie mostly tries to stick to good-for-you foods, she absolutely honors her cravings for junk food or treats every now and then. She's often spoken of her love for In-N-Out burgers, sushi, cookies and pizza—sharing pictures of her delicious meals on Instagram.
5. She eats lots of smaller meals
Jenner knows that it isn't all about what you eat—when and how much you eat can often be just as important, too. Reportedly, she tries to eat small meals and healthy snacks more often, instead of three bigger meals, to keep her metabolism from slowing down. She also reportedly practices intermittent fasting, which often sees people fast until around midday, when they'll have their first meal after an early dinner the night before.
Now that you know what Kylie Jenner does to keep herself in shape, feel free to try some of her techniques and see what might work for you!
Amy Hunt is a lifestyle writer and editor, and was previously Lifestyle Channel Editor at womanandhome.com, having been with the brand since 2015. She is passionate about everything from entertainment to books, to homes, food and wellness. When she isn't editing, researching or writing articles, he's busy burying her nose in a gripping thriller, practising yoga, or buying new homeware.