Kourtney Kardashian workout routine—the plan the wellness-minded newlywed swears by
The Kourtney Kardashian workout routine is intensive but clearly effective—the star has never looked better!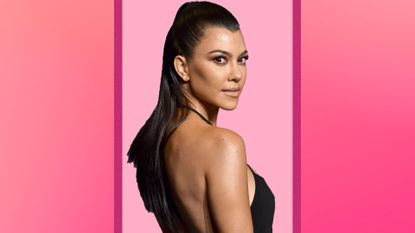 (Image credit: Gregg DeGuire/WireImage/Getty)
As the eldest sibling in the large Kardashian-Jenner clan, Kourtney Kardashian is known for her serious commitment to health and wellness. As longtime fans of KUWTK will know, the reality star loves to get after it in the gym, regularly filming workout sessions with her sister Khloe.
In recent years, Kardashian has gone on an intense wellness journey. Following the birth of her children, she started following a strict fitness regime, eliminating most vices from her daily meal plan and working out regularly. These days, at 43 years old, the now-Mrs. Kardashian-Barker looks better than ever, and there's little doubt that she has her dedication to wellness to thank for it.
Over the years, Kourtney has shared a few of her favorite exercises with her fans, for anyone who wants to recreate her toned physique. Owning a set of the best resistance bands and a collection of the best dumbbells for women is essential if you want to copy any of Kardashians' bod regiments (check out the Kim Kardashian and Kendall Jenner workout routines for proof)—so be sure you have all the right equipment to hand before you get started.
The Kourtney Kardashian workout plan:
1. High-intensity workouts involving cardio and full-body toning
Kardashian is known to work out daily and, like her sister Khloé Kardashian's workout routine, is a cardio and HIIT enthusiast. She likes to incorporate moves like burpees and mountain climbers into her workouts to get her heart rate pumping.
One of her trainers Amanda Lee explained to E! News that Kourtney's workouts are "mostly geared towards toning, lifting, tightening and fat-burning, even though that's not a main goal."
Kardashian herself has revealed that she likes to train her glutes whenever possible by doing leg lifts and kickbacks. As the star described on her website, the move can be accomplished by "using a resistance band around your thighs with slightly bent knees, keep one foot stationary and kick the other foot straight out to the side of your body, then come back to center. Next, kick your foot directly behind while lifting off the ground, then come back to center."
She also loves weighted squat cleans, keeping her movements full and controlled to engage every muscle group.
2. Resistance band full-body workouts when she can
The Poosh founder prefers to do full-body routines rather than isolating specific muscle groups, primarily because it isn't possible to spot-reduce fat.
While most of Kardashian's workouts can be done with minimal equipment, she does like to use resistance bands in her routines from time to time, raving about how effective they are for adding extra tension to the muscles.
3. She exercises outdoors where possible
Kourtney is committed to her workout regimen—even when she doesn't have time to devote 30 minutes to a hardcore workout, she stays active by getting outside and going on walks or hikes with her kids. In fact, she's often spotted on hikes around her LA neighborhood of Calabasas.
The mom-of-three's dedication is such that she even finds time to exercise when she's out of the country. "Exercising is a part of my daily routine. So, even though I like to relax on vacation, getting a workout in is still important to me," she posted in a blog on her app.
4. She's does reformer pilates for her abs
Over the last few years, Kourtney has found one of her favorite workouts in reformer pilates, which is a popular workout that takes place on a pilates machine. Essentially. you perform all your Pilates workouts as you would on one of the best yoga mats—but the machine adds a higher level of resistance, with moveable parts on which to work your body.
One of Kourtney's instructors, Lindsey Kohon, explained on KKB's lifestyle site, Poosh: "Pilates is known for being a super-effective way to get killer abs and a strong core. The exercises target all the muscles of the core, including your deep abs to tighten your belly and create a flat tummy. So be sure to scoop and pull your stomach to the spine throughout the workout to create rock-hard abs."
5. She's recently got into jump rope
Finally, of all the workouts Kourtney favors, we think this is the one we're most excited about.
The Kardashians star loves jumping rope to stay fit, claiming that "not only is it a really easy way to get your heart rate going before a workout, it also engages your entire body, using everything from your core to your arms and legs," per a blog post.
She tends to do four sets of five minutes of jumping rope, with different strength-based workouts in between.
She noted: "This is a workout you can do virtually anywhere, inside or outdoors, at home or while traveling."
All about the Kourtney Kardashian diet program:
Kourtney has also shared a lot about her diet over the years, and it's well-known (and made fun of, in her family) how devout she is about her nutrition.
She has tried several diet programs over the years, including going dairy-free and gluten-free. These days, Kardashian likes to mix things up, but still mostly avoids dairy and gluten. According to a Poosh post, "she's gone (mostly, like 95%) vegan when it comes to her diet" and has "been easing into it for the past six to seven months with no meat (and the occasional butter and honey)." (Add her to the ever-growing list of vegan celebrities.)
And even though she has admitted she doesn't cook much, she enjoys lots of meals from her favorite eateries, such as:
a simple salad made of avocado, hard-boiled egg, and tomato
gluten-free pizza or pancakes
a chopped salad
vegan pasta
vegan and gluten-free oatmeal
veggies and hummus
vegan sushi
veggie tacos
Kardashian tends to steer clear of sweets and coffee, too, preferring matcha tea to an espresso. However, she's said that she's totally happy to indulge on occasion, especially if she's with her three kiddos—Mason, 12, Penelope, 10, and Reign, 7.
While Kardashian's diet might seem intense to most people, there's no doubt that it has helped her live her best life (we've never seen her happier than right now). And if you want to take inspiration from the Kourtney Kardashian workout and diet regimen, there's no need to take an all-or-nothing approach. Why not try out one of her favorite workouts, or try one vegan meal this week (our vegan for beginners guide will help), to incorporate some of her healthy habits into your life more easily?
Amy Hunt is a lifestyle writer and editor, and was previously Lifestyle Channel Editor at womanandhome.com, having been with the brand since 2015. She is passionate about everything from entertainment to books, to homes, food and wellness. When she isn't editing, researching or writing articles, he's busy burying her nose in a gripping thriller, practising yoga, or buying new homeware.