The most relaxing shows on Netflix, according to science
Netflix and chill: the most relaxing shows to snuggle up with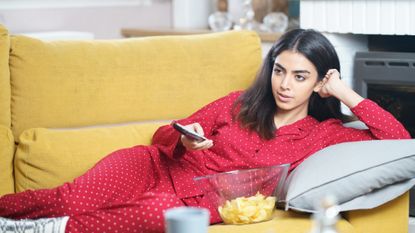 (Image credit: Getty Images)
If you've ever found yourself endlessly scrolling through Netflix's entire library in search of something to watch to match your mood, you're not alone. Much as we all love a bit of Netflix (and there really is something for everyone) sometimes the sheer choice can be overwhelming. Which is why the Netflix Play Something feature is such a genius move—can't make up your mind? Let Netflix's algorithm take the strain.
Still, even oh-so-clever AI has its limits so, if you're stressed out and looking for something relaxing—but you normally indulge in a crime thriller, like Lupin, or a period drama, like Bridgerton, with sexy scenes that get the heart-racing—the usual recommendations might not come up to scratch.
Cue MattressNextDay to the rescue. The bed store has a vested interest in understanding what makes people relax and so they've carried out some research to uncover the most relaxing shows on Netflix. They analysed 100 of the most popular shows on Netflix to find out whether what we watch can help release tension.
Martin Seeley, CEO of MattressNextDay, explains: "If you're struggling to switch off in your spare-time, you're not alone. One of the ways in which you easily unwind is by watching TV. With this in mind, we wanted to uncover which of the most-loved TV programmes proved to be the most relaxing to watch—based on the show's average beats per minute (BPM)."
In the study, the lower the average BPM was while watching a show, the more likely it was to keep viewers relaxed. In search of relaxment*, that's our kind of study.

(*not a real word, but it should be)
Top ten most relaxing shows on Netflix
The Crown (107.5 BPM)
Anne with an E (111.5 BPM)
The Queens Gambit (113.5 BPM)
Arrested Development (114.5 BPM)
Tiger King (115 BPM)
Unorthodox (115.5 BPM)
Schitt's Creek (116 BPM)
It's Always Sunny in Philadelphia (117 BPM)
Skins (117.5 BPM)
Sons of Anarchy (118 BPM)
Frothy, historical crowd-pleaser, The Crown, gets top billing with a staggering 73 million household views and the lowest BPM of 107.5. Despite covering some of the British monarchy's most turbulent events in recent years, it's comforting escapism. Perfect for switch on and tune out viewing.
Anne With An E—a modern adaptation of the classic book, Anne of Green Gables—comes in second place with an average of 111.5 BPM. The show is joyful and optimistic, even though it doesn't shy away from difficult subjects like assault and slavery. As Martin Seeley notes, "when shows are positive and upbeat [...] the body releases serotonin—a chemical which works to ease symptoms of anxiety."
Award-winning series, The Queen's Gambit, takes third place on the list, with an average of 113.5 BPM. Following the life of a young chess prodigy, played by Anya Taylor-Joy, The Queen's Gambit's popularity shows slow TV doesn't have to be dull TV.
More surprisingly, comedy-drama Skins—with its wry, but controversial focus on teen issues—and Sons of Anarchy—a drama about a criminal biker gang—also make the most relaxing shows list. Team My Imperfect Life tends to like a much quieter show to relax to—but, to each their own!
Hand-picked related articles
The My Imperfect Life team is all about helping you navigate your world. We bring you the latest on fashion, beauty, travel and wellness so you can live life on your terms.