Inside Tracee Ellis Ross' workout routine—including the star's favorite at-home exercise
In need of fitness inspo? Here's Tracee Ellis Ross' workout routine, and the simple ways she maintains a healthy lifestyle...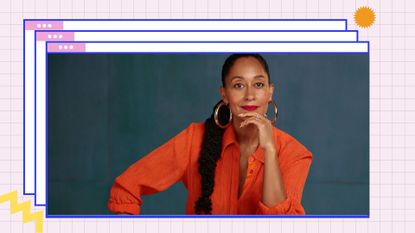 (Image credit: Kwaku Alston / Getty)
It's easy to find yourself in a fitness rut, repeating the same movements or signing up for the same classes. So it can help to get a little inspired by looking at how our favorite stars exercise—and Tracee Ellis Ross' workout routine is a perfect source of motivation. Not least because the actress and producer, aged 49, is primarily training in a way that makes her feel, not just look, good.
The daughter of legendary singer Diana Ross—who rose to fame on the show Girlfriends and currently stars in Black-ish—incorporates a lot of different forms of movement into her week. As you'd expect, there's a lot of strength work. So, if you plan to follow in her footsteps, you'd do well to get yourself one of the best resistance bands for women and the best dumbbells for women.
However, Ross also likes to wind down properly—and not just with a stretch on one of the best yoga mats. The star knows the importance of getting enough sleep, self-care and refueling with nutritious meals. Read on to find out exactly how she stays toned, including her go-to at-home workout that is very much worthy of an A-lister...
Tracee Ellis Ross' workout routine—five ways the star says fit
1. She swears by the Tracy Anderson Method
Just like us regulars, Tracee Ellis Ross isn't too Hollywood for a home workout. The star is a devoted fan of the Tracy Anderson Method, which is available online. In a post on Instagram, Ross wrote: "I love the workouts and have been doing it for years. It keeps me strong and long with a little jiggle. Just like I like!" The regime uses movements—including bodyweight resistance and light weights—that target and strengthen the small, accessory muscles to achieve a long and lean physique without bulk.
Normally though, Ross attends classes in person at one of Anderson's US studios—which include Los Angeles and New York—possibly alongside some of the A-list trainer's other clients, including Gwyneth Paltrow, Victoria Beckham and Madonna. Writing during the pandemic, the star added: "We are usually in a 98-degree studio. My makeshift home space is not nearly as hot but this is working and wonderful. I'm so grateful. Thank you Tracy for your spirit and care."
What's more, Anderson tweaks her training program every week, so there's no risk Ross will get bored whilst working out. "I love that it changes all the time," she told Vibe. "I love that she really sculpts a workout for my body. I feel lean." We're sold!
2. She also mixes up her exercise regime
That said, when it comes to Tracee Ellis Ross' workout routine, she doesn't exclusively stick to one approach to exercise. The star is known to visit the LA-based personal training studio Heart and Hustle, where she has worked out alongside Gabrielle Union and Mary J. Blige. She has also worked with celebrity trainer Jeanette Jenkins. "I love what she does and we often lift weights together," Tracee told Vibe.
Ross has likewise given more insight into her workouts on social media, frequently sharing pictures and videos of herself training with resistance bands and weighted barbells. She also appears to factor in calisthenics, dance and high-intensity step movements into her week.
"I'll do the Santa Monica stairs," she says of the famous 170-step outdoor stairway in California, which many people climb up and down for a workout. "I'll do some yoga. I also love Ballet Beautiful (a ballet fitness class). Everyone can do that online." Especially if you have some of the most helpful yoga accessories to hand...
3. She trains three times a week—when she can
While Ross is a fan of training hard, she is careful not to overdo it. "We've been working 15 hours on [Black-ish] and our call time is 6am, but I get excited if I have a 7:30am, 8am call time because I work out at 5:30am or 6am," she previously told Vibe. "I can't get it in every day because when you're over 40—I'm 42—you gotta get your sleep."
Also speaking to Health about her exact workout schedule, the star says: "It's three days a week on a regular basis, sometimes four. Sometimes I take a little break, but the truth is, I feel the best when I work out. I feel very strong."
Of her motivation to get up and sweat, Ross explains: "I didn't wake up like this. At 22, I woke up like that. At 44, I work really hard for this! I am on TV, and I don't want to lie to anybody. I'm not at my skinniest, I'm not at my fattest, but I live my life. This is my body. Health and the functionality of my body are more important than what it looks like." Yes, girl!
4. She makes sure to eat in moderation
As you'd expect, Ross has a very relatable approach to nourishing her body. "I like simple, whole foods," she told People, who reported that she avoids dairy and buys seasonal produce from an organic farmers' market.
But, she doesn't deny herself treats occasionally. She explained: "My favorite meal of the day is an early dinner or late lunch between 4pm and 6pm. I love going to one of my favorite restaurants once a week to have a glass of wine and a delicious meal."
The star adds: "I don't restrict my eating to firm meal times. I eat in the same philosophy that I live with: joyfully!" That includes sipping on four liters of water daily and having a protein shake containing almond milk, bananas, blueberries, dates and Vega protein powder as a post-workout snack.
She also lunches on a hard-boiled egg with quinoa and sautéed zucchini mixed with crushed Brazil nuts, and for dinner enjoys a broiled steak with olive oil, salt, pepper and oregano, and a side salad of arugula with apples, onions, olive oil and lemon. Yummy!
Because while she treats herself, she also told Health that her meals have to pass two tests: "Not only taste good in my mouth, but it also has to feel good in my stomach," she said. "So a lot of foods that are good in the mouth, but 10 minutes later? I'm cursing myself."
5. She practices self-love
Of course, no health journey is complete without self-love and acceptance during all parts of the process. For Ross, one of her key pillars of a healthy lifestyle is embracing aging, and loving the skin she is in now.
"I LOVE getting older and I LOVE my life," she wrote in a post on Instagram recently, which showed her exuding confidence in a bikini. She continued: "I'm so grateful to be living this life I'm in. I've worked so hard to feel good in my skin and to build a life that truly matches me and I'm in it and it feels good. I remain curious and teachable and so it will all keep getting better."
Bringing us full circle, the star has revealed that exercising is a form of self-care for her. "Exercise helps make my body strong enough to do what I set my heart and mind to, I carry myself differently when I feel strong," she explained in another Instagram post. And we're totally here for it.
Want even more celebrity fitness inspiration? Check out the Selena Gomez workout routine and the Ariana Grande workout routine to see how those stars get their sweat on.
Lauren is a freelance writer and editor with more than six years of digital and magazine experience. Most recently, she has been the Acting Commissioning Editor of Women's Health—where she co-produced the Going For Goal podcast—and has previously also written news and features for titles including The Telegraph, Grazia, Stylist, Dazed, The Sun's Fabulous, Yahoo Style UK and Get The Gloss. She covers all aspects of lifestyle, specializing in health, beauty, and travel. Can't live without: oat milk lattes, new podcast episodes, long walks, and great skincare.