Your weekly horoscope is here: December 19 - December 25
Your weekly horoscope is here—and this week is the time for strategizing, rather than putting plans into action!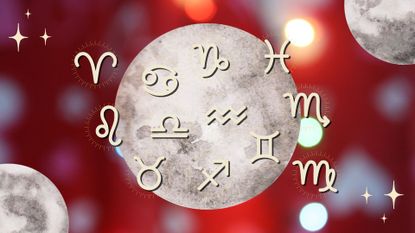 (Image credit: Future)
As we get closer and closer to wrapping up 2022 (get ready with our 2023 horoscope predictions), the winds of change blow in many different directions with your weekly horoscope! The first power move of the week is performed by Jupiter, the cosmic giver of abundance and luck. Jupiter enters fire sign Aries early in the week, a move that is expected to bring us back to the past. A theme or situation from earlier in the year (March 10 to October 27), could return for manifestation or closure between now and May 15.
Midweek, we welcome the Winter Solstice, a magical moment in time that impregnates the astrology of the next three months. This is also the official beginning of Capricorn season, the ambitious zodiac sign that is all about self-mastery. In the astrological chart of the Winter Solstice, the Sun will be activating Jupiter, which means that the Winter will bring growth for all signs. However, this growth will be intermittent, coming in waves.
Meet the expert: Narayana Montúfar
Under this combination of energies, a lot of us will feel a newfound desire to succeed. However, because of the retrograde of Mars, this ambition is best channeled towards "strategizing" other than "acting". Use the next new moon Capricorn to look back and pinpoint the insecurities or personal energetic blockages that prevented you from attaining your goals in 2022. Channel your ambitions towards putting together a plan, then see it coming to fruition by mid-January, once Mars goes direct.
Time to check your weekly horoscope for your zodiac sign—and don't forget to get ahead and check your December 2022 horoscope as well as your 2023 love horoscope and your 2023 money and career horoscope...
Weekly horoscope: what does this week have in store for you?
Aries weekly horoscope
Big news, Aries! Jupiter enters your sign, bringing back themes from March 10 to October 27. A situation from then could be resolved now, or over the next few months. What would you like to manifest for yourself? Jupiter will help you attain it, but only after Mars goes direct on January 12. Regardless of the nature of your desires, starting to put a plant together this weekend will warrantee you succeed by the time Jupiter exits your sign, on May 15.
Taurus weekly horoscope
Let's face it, Taurus. While your body is present, your mind is somewhere else! The Capricorn Sun has you hungry for knowledge and new adventures, and over the next four weeks, this feeling will only deepen. If you've been wanting to travel, you might decide to book something this week. If learning is more up your vibe now, sign up for a course or master class instead. It's time to open your mind to newer and more interesting horizons!
Gemini weekly horoscope
Networking and social interactions are on your mind, Gemini. Jupiter entering Aries will have you socializing and mingling with important people, and while you might notice this influence subtly right away, this energy won't fully kick in until mid-January. If you had the opportunity to connect with some big hitters in your industry, who would they be? Start making a list this weekend, under the lucky December 2022 new moon in Capricorn, which promises to illuminate your intuition.
Cancer weekly horoscope
What's your biggest dream in life, Cancer? Regardless of the nature of your desire, you can make it happen in 2023! From mid-January until May 15, Jupiter will magnify any efforts your make in the realm of career, but especially those that are for the greater good. If you already know what prevented you from attaining them in 2022, make a point to crush these hold-ups and insecurities at week's end, as Wounded Healer Chiron wakes up from its retrograde.
Leo weekly horoscope
A major new beginning is in store for you, Leo—can you feel it? As the Sun enters Capricorn, it's like your soul was suddenly reborn. You are feeling ambitious, and as you can probably guess, the future holds a lot of possibilities. However, if you know you need extra study, more training, or a certification to bring your dreams to reality, the moment is now. Make your move at week's end, when the moon becomes new in your work sector.
Virgo weekly horoscope
This is a week of deep reflection for you, Virgo. Love and romance have been on your mind lately, and as the Sun enters Capricorn, your focus on these subjects deepens. Whether you are single or attached, the issue remains the same: there is a deep fear that prevents you from truly reaching intimacy. At week's end, when Wounded Healer Chiron wakes up from its retrograde, you get a unique opportunity to explore an event from the past. Getting to the heart of it holds the key.
Libra weekly horoscope
Your focus has been on your home and family, Libra, and this week brings a new beginning in this area of your life. You could suddenly begin working from home or start working on a remodeling project. You could also be on the verge of a new commitment, most likely with a romantic partner. This is the area of your life that Jupiter will highlight over the next few months. A proposal or marriage could be in the stars between now and May 15!
Scorpio weekly horoscope
Your communication sector has been activated for a few weeks, Scorpio. And as the Capricorn Sun illuminates this same sector of your chart, you are being asked to record your thoughts and ideas. This week is ideal for coming up with a presentation or sheet that reflects your plan for 2023. It promises to be a good year for your workflow, so if you start getting clear on how to attain your goals now, you will be able to hit them.
Sagittarius weekly horoscope
This week, you are welcoming a new beginning, Sagittarius. As the moon renews itself, so do you, in the realm of finances. A total of five influences are requesting that you look at the numbers to come up with either a plan or a solution. So… it's time to pull out the apps or spreadsheets! Then, as Jupiter enters Aries, your creative powers are re-awakened, bringing a five-month period in which your ideas get special help from the universe.
Capricorn weekly horoscope
Physically, you're back in the game, Capricorn. As soon as the Sun enters your sign around mid-week, you're feeling reinvigorated. However, you might not feel ready to set new goals for the year ahead. You can probably feel yourself on the verge of a major transformation—and you're right! Set some time aside this week, before the Friday new moon in your sign, to record any thoughts and feelings that come to mind when you think about your future. By next week, you will be receiving powerful messages.
Aquarius weekly horoscope
It's okay to hide, Aquarius. You were already feeling the need to be alone, and as the Sun enters Capricorn, this feeling deepens. Record all the thoughts, feelings, and ideas that come to you—because with Jupiter entering Aries, your sector of communication expands in so many directions. Whether you decide to write a book or launch a podcast, this is the area of your life in which you experience more growth between now and May 15!
Pisces weekly horoscope
All things must come to an end, Pisces. Jupiter leaves your sign for good this week and won't return for over a decade! Now, the good news is that all the sweetness it brought to you this year will translate to your sector of money, honey. So, from now until May 15, you can make considerable headway in fixing your finances or expanding your investments. Use this week's new moon to pinpoint people, apps, or programs that can help you reach your financial goals!
Narayana Montúfar is an astrologer, artist, writer, and energy healer who finds inspiration in the symbolic language of astrology. She is an expert in the astrological studies of the Moon and the author of Moon Signs: Unlock Your Inner Luminary Power. She was featured as one of Medium.com's Authority Magazine 2020's Strong Female Leaders, Destig Magazine's Top Artists to Collect in 2020, and one of Vogue's 13 Astrologers to Follow in 2021.
Narayana currently serves as the Senior Astrologer of Astrology.com, is the Resident Astrologer for House of Intuition LA, and writes for My Imperfect Life, Cosmopolitan US and Wit & Delight. You can also find her astrological work featured in numerous lifestyle publications like Teen Vogue, Refinery29, InStyle, Brit+Co, Bustle, Pop Sugar, Well + Good, Women's Health, Romper, and more. In her private astrology practice, Narayana's holistic approach seeks to create a positive impact by connecting each one of her clients to the uniqueness of their chart and illuminate their path towards the ultimate state of self-empowerment and self-discovery.