Who does Chloe from 'Perfect Match' end up with? The reality star speaks out
Shayne Jansen or Mitchell Eason—which suitor does Chloe from 'Perfect Match' end up with? We talked directly with her to find out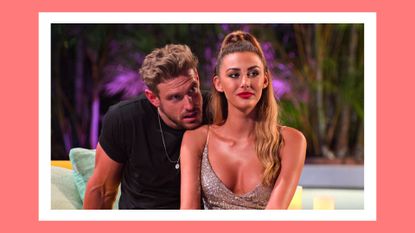 (Image credit: Netflix)
Chloe from Perfect Match is no stranger to using reality TV to find "the one," having starred in both Too Hot to Handle and The Circle season 2. But her two failed previous attempts at televised love won't stop her from trying to find her "perfect match" one last time. The third time is a charm, after all!
Chloe Veitch is one of the 23 contestants in Netflix's latest dating show Perfect Match, which has been airing on the streamer every Tuesday since Valentine's Day 2023. With only 10 singles allowed in the house at once to try and find love, Perfect Match gets super competitive and messy. That's before you even get to the fact that Perfect Match sees the return of other fan-favorite reality stars from hit Netflix series such as Too Hot to Handle, The Circle and Love is Blind, or that extra-special ingredient of Chloe's IRL ex, Mitchell Eason, being in the Perfect Match cast as well.
As you can imagine, Chloe's time on Perfect Match was far from smooth sailing. From firstly seeming to couple up with her "perfect match" Shayne Jansen, to the complicated arrival of her ex-boyfriend Mitchell, Chloe went through a lot. But who does Chloe ultimately end up choosing as her perfect match? Here's what went down.
*Warning: spoilers ahead!*
What Happened With Mitchell and Chloe from 'Perfect Match'?
Before we get into who Chloe eventually ended up picking on Perfect Match, let's do a refresher course on Chloe and Mitchell's relationship, as her end decision is based on Chloe and Mitchell's past.
After Chloe starred in Too Hot to Handle season 1, she entered The Circle in an attempt to secure the prize money. During her time on The Circle, Chloe initially had eyes for catfish Trevor, who was actually played by his wife DeLeesa St. Agathe. After discovering Trevor's true identity, Chloe focused on Mitchell, who entered the game in episode five. The two ended up having a kiss at the show's reunion after the cameras stopped rolling.
In May 2021, Chloe said to Cosmopolitan (opens in new tab) that she and Mitch had not labeled their relationship due to the distance, with Chloe being located in the UK and Mitchell being in the US: "We shared a kiss just after the cameras were turned off at the finale. Because of the distance, it hasn't got a label. But we get on really, really well and it is romantic. It's not just a friendship, but we'll see."
It was initially assumed the pair had decided not to pursue a romantic relationship and instead remained friends. But according to the conversation they had on their date on Perfect Match, it seems like they did have a romantic relationship, albeit a brief one. Mitchell reveals on the show that he and Chloe only broke up six months prior to filming Perfect Match. (If you want more intel on when was Perfect Match filmed and how did filming affect other IRL relationships, we've got you!) In Chloe's confessional she admits that there was a point at which she did love Mitchell but "because he is a virgin, he started to get quite insecure about me and him not having sex, knowing that I had previously had sex."
Even though Mitchell admits he doesn't do well with commitment, he tells Chloe he wants to give their relationship another try. Initially, it seems that Mitchell and Chloe are overcoming their past difficulties—that is until they win the daily challenge in episode eight and go on their private date where Mitchell tells Chloe: "I am not looking for a relationship right now." Yikes! That's the end of their relationship as Chloe gets to the board and chooses Shayne to go back on a date with.
Do Shayne and Chloe end up together on 'Perfect Match'?
In short, yes. Shayne Jansen does end up forgiving Chloe for the most part and they match back up together in episode nine.
However, Chloe doesn't seem to be totally forgiven by Shayne. In episode 10, after Chloe writes a lovely poem for him where she admits she's falling in love with him, it comes to blows when Shayne argues with Chloe about the night she chose Mitchell when the duo ran upstairs and jumped in the pool, which ended up overflowing onto a sad Shayne, who was sitting below it on the steps. The fight leads to Shayne saying he's leaving but being talked down by Dom and Georgia. Chloe ends up sharing a bed with Georgia all night and Shayne with Dom in order to give the pair a chance to cool off from their argument.
After reflecting on his behavior, Shayne apologizes and the pair reconcile, and they do actually make it to the final.
Chloe spoke to My Imperfect Life about how she got through the argument with Shayne, saying: "I'm very forgiving. If I mess up, I know that I'm a good person and I would hope that my partner would see the good in me and forgive me and I've been in many relationships in my past where I've been made to feel like the devil when I'm not."
She added: "Maybe being in this relationship with Shayne, and having multiple conversations with him over multiple things that happened and was said, was the best way for me to diffuse the situations that were going on. I don't know how I didn't see that as a red flag because thinking back now it is a red flag. But I mean, I guess that's just myself. And I think watching myself on TV will really teach me a lesson and show me like, 'Chloe, you need to stop doing this girl because otherwise you're never gonna find your perfect match.' And I don't know, hopefully, some bloody woman gets a lesson out of it from my doings."
On their final date, Shayne admits he has a lot to work on and he usually only thinks of himself but he wants to move forward with Chloe, saying he's willing to do whatever it takes to make their relationship work outside of the show. But does this win them the title of being a perfect match for each other? Nope, that goes to—drumroll please—Dom Gabriel and Georgia Hassarati!
How does Mitchell Eason feel about Chloe and Shayne?
Let's just say Mitchell did not hide his feelings about Chloe and Shayne's relationship. In fact, he flat-out refused to see their compatibility, telling My Imperfect Life: "Just looking out, I didn't see there was true chemistry there...I kind of call bulls***t on that."
Speaking to My Imperfect Life about the couple almost a year after filming, Mitchell said: "It's so tough because I did have genuine love for Chloe, and I think I just got a little cold feet. I know I do struggle with commitment. I know I do struggle with actually, you know, opening that last bit in the heart and really letting myself fall and I think that's a breakthrough I had on the show. And then leading down the road, you know, we went our separate ways."
"I still think she's an amazing person. We remain close throughout everything, and regardless of what happened on the show or how we thought about each other in certain moments, I know I have genuine love for Chloe. I know Chloe has genuine love for me," the reality star added.
Who else has Chloe from 'Perfect Match' dated?
On Too Hot To Handle, Chloe was very flirtatious with David Birtwistle and Bryce Hirschberg but ultimately ended up single, even though she did kiss David through a strawberry to try and avoid Lana's rules.
In June 2022, however, The Sun (opens in new tab) revealed that Shameless actor Jody Latham was dating Chloe, which, if true, means that Shayne and Chloe did not make it as a couple outside the show.
All 12 episodes of Perfect Match are now available to stream on Netflix.
Liv is a freelance journalist currently studying English at university. She loves covering everything from entertainment and politics to lifestyle and travel. As well as writing for My Imperfect Life, Liv has bylines in The Times, HuffPost, Den of Geek, Bustle The Metro and The Bookseller.