Who is Carole Prentice and why is the 'Bridgerton' season 2 finale dedicated to her?
An episode of 'Bridgerton' season 2 is dedicated to Carole Prentice. What is her connection to the show?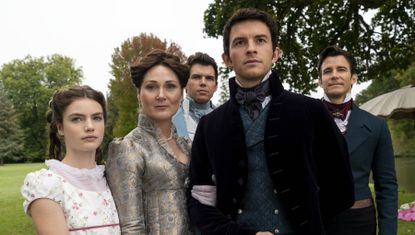 (Image credit: Liam Daniel/Netflix)
Netflix's fan-favorite period drama, Bridgerton is back for a second season and alongside a new crop of scandalous drama, fans couldn't help but notice that the season two finale was dedicated to a special someone named Carole Prentice.
Following the last scene of the Bridgerton season 2 finale and just before the official final credits rolled, a message read: "In Memory of Carole Prentice." As it did with Brian Nickels and Marc Pilcher, the show dedicated the episode to Carole Prentice, who sadly passed away before season 2 aired. But what is her connection to Bridgerton? Here's what we know.
---
---
Who is Carole Prentice and why is 'Bridgerton' season 2 dedicated to her?
You may not have heard of Carole Prentice before, as she's not a part of the main Bridgerton cast and crew, nor was she involved in season one. However, she was a huge part of the behind-the-scenes team who help put the show together.
While not a lot is known about Carole Prentice, it is understood she was the COVID-19 production manager for the Netflix series. She helped to ensure the health and safety of the cast and crew while working on season two during the pandemic.
Bridgerton had to shut down filming a few times last year due to increasing COVID cases among the crew, even at one point pausing for what was then an indefinite period of time in July 2021 due to having to have members of the cast and crew in isolation.
Carole Prentice is tragically not the first crew member to pass away before season 2 aired as Marc Pilcher, the show's Emmy Award-winning hairstylist and makeup designer, passed away from COVID in October 2021. The first episode of season two is dedicated to Pilcher.
More recently, Penelope Featherington actress Nicola Coughlan had to miss the London premiere of Bridgerton season two because she was struck down with the coronavirus. So you can only imagine how important Prentice's job was on the show.
Sadly, in January 2022, Carole Prentice's son Seb took to Instagram to announce the death of his mother and pay tribute to the "warrior spirit" she possessed.
Seb Prentice wrote: "In my eyes Carole Prentice was, in the most holistic sense of the word, a warrior. She was a warrior for what she believed in, she was a warrior for fairness, she was a warrior for constant self-improvement and she was a warrior for me. Even as she fought through the last days of her physical existence, she came through what was thought to be an almost certainly fatal operation and lived another 20 days, before she finally let go. This warrior spirit often challenged me to examine my behavior as a man and more importantly as a person."
His tribute continued: "Here's to the best Mom/Dad/Parent/Guardian/Mentor/Role-model/Granny/Grandpa/Cousin/Uncle/Aunt/Person I will ever have the privilege of knowing. Physically, you have moved on, but in my heart and mind and in the very fabric of my existence, you will live forever. I love you Mom."
Seb also posted about his mother Carole on Friday, March 25, the day of the Bridgerton season 2 premiere: "Missed you extra this week. You live on through me and through everyone whose lives you touched. 2 months since you moved on, feels like an eternity."
You can see the show's tribute to Carole Prentice in Bridgerton season 2, now available on Netflix.
Liv is a freelance journalist currently studying English at university. She loves covering everything from entertainment and politics to lifestyle and travel. As well as writing for My Imperfect Life, Liv has bylines in The Times, HuffPost, Den of Geek, Bustle The Metro and The Bookseller.