Your weekly horoscope is here: April 11 – April 17
This week is one of the most powerful of 2022, so you better get ready...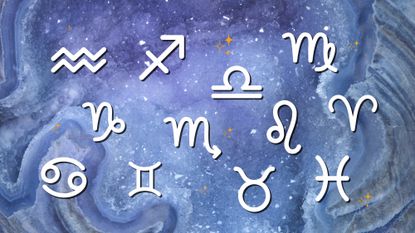 (Image credit: Future)
Welcome to your weekly horoscope and one of the most powerful weeks of 2022! Like we warned you on our April horoscope, Tuesday features the oh, so awaited conjunction of Jupiter and Neptune in Pisces, an aspect that hasn't happened since 1856!
Something in our lives is getting dissolved, so focus your energy on requesting this rare meetup to erase whatever is standing in the way of materializing your dreams. Meditation, stillness, and art are the way to channel this dreamy and creative wave of inspiration. Productivity takes a toll by Thursday, when Mars, the planet of action and drive, enters the waters of Pisces. For the next few weeks, give yourself room to rest, nap, and adopt a slower pace of life.
This month's full moon (the April Pink Moon) arrives over the weekend, and its powerful influence will have ripple effects throughout the collective. This lunation carries the intensity of Pluto, hinting that a moment of crisis might arrive to push us to end or transform something important in our lives. Relationships of all kinds are a major signature of this lunation, so expect to weigh the energy you invest in your most important bonds. If more balance is required, use this lunar event to express the changes you would like to see. By the time Sunday arrives, exchanges should flow easily as Mercury and Venus help us communicate with more compassion.
---
---
Weekly horoscope: what does this week have in store for you?
Aries
This is a week to focus on doing some deep soul-searching, Aries. The rare Jupiter-Neptune conjunction is activating your twelfth house of spirituality and subconscious mind, hinting that when you slow down, you get access to powerful insights. Later in the week, the full moon turns your attention to the imbalance you might have between your relationships, your career, and yourself. It's time to make some healthy adjustments, so use the information that comes to light to create it.
Taurus
What are your biggest hopes and dreams, Taurus? The Jupiter-Neptune conjunction invites you to go within and answer this question, so set aside some time this week to honor your deepest desires. Hint: Don't go it alone! One of the gifts the current astrology has for you lies in connecting with your community and people who can help you manifest your dreams (we're experiencing some of the best weeks to manifest after all). This week is one of the best weeks of 2022 to reach out and create lucrative and creative partnerships!
Gemini
Your career and reputation goals are under major focus this week, kicking off a period in which newfound inspiration can be downloaded in this area of your life. How can you bring more creativity into your job, business, or project? From this moment on, you are being called to do things differently, so try dissolving that which no longer serves you and focus on bringing more creativity into your processes. By the week's end, the Libra full moon invites you to have fun!
Cancer
This is a week to open your mind, Cancer. An opportunity to travel or study might show up, and if it seems attractive, take it! This is bound to expand your horizons and beliefs about life in general. On a more intense note, the Libra full moon brings an end to a home, family, or roommate situation this week. While it can be intense, it might be time to deal with an uncomfortable situation once and for all.
Leo
With your eighth and twelfth houses being activated this week, your inner world is getting flooded with insights this week, Leo, making this a week to connect with your intuition. Move slowly, notice the signs, and absorb as much information as you can! Don't be afraid of diving deeply into the unusual themes and conversations that come up for you. This is especially true in the realm of romantic partnerships (remember your love horoscope for 2022?), when discussions around money and resources could come up!
Virgo
For you, Virgo, the fortunate Jupiter-Neptune conjunction is all about creating and growing your one-on-one bonds. Make sure to reach out to people who are on your own wavelength, as they could prove to be extremely helpful over the next decade! Romance is highlighted for you this week, bringing one of the best weeks of the year to take your relationship to the next level. If you're single and looking, a destined meeting could be in the cards, so put yourself out there!
Libra
A major ending is on the horizon with this week's full moon happening in your sign, Libra. You might also suddenly feel in need of attention, and you should definitely go out and search for it. If you're in a committed partnership, finding a balance between autonomy and dependence is what this full moon is about for you, so don't be afraid of speaking your truth—regardless of how much pushback you get.
Scorpio
The Jupiter-Neptune conjunction activates your fifth house of creativity, so make sure to spend some time connecting with your creativity at the beginning of the week. Major downloads are possible when you're relaxed and having fun! Later in the week, a secret might come out under the full moon. If you've been hiding one under wraps for too long, this might also be the time to finally spill the tea, Scorpio!
Sagittarius
This is an iconic week for you as your ruler, Jupiter, meets with oceanic Neptune. At the beginning of the week, set some hours aside to focus on YOU and what makes you happy to attract good vibrations your way. The key to harnessing this conjunction is to dissolve what seems stagnant, while expanding the things and situations that are new and more resonant with who you are becoming, dear Sagittarius!
Capricorn
Speak your truth, Capricorn! You tend to be on the quieter side, but the Jupiter-Neptune conjunction is happening in your third house of communication. This means that the more you speak about your deepest desires, the more you are likely to manifest them! Are you working on a project? Post it on social media. Are you looking for a new job? Communicate it to your friends and acquaintances. The universe is listening, all you need to do is ask!
Aquarius
The rare Jupiter-Neptune conjunction is happening in your second house of money and values. This is a week to set a financial plan in motion for the next thirteen years (check back to your money horoscope for 2022). As you go about it, try doing things differently, Aquarius, as this energy inspires you to get out of your comfort zone. This influence also boosts your self-esteem, reminding you that others will value you when you truly value yourself first!
Pisces
This might be one of your best weeks yet, Pisces! The Jupiter-Neptune conjunction is happening in your sign and will never repeat again in this lifetime. Harness it by investing time and energy in a cherished dream, setting personal goals for the next decade, and restoring your faith in the world at large. Creative downloads are also in store, so make sure to spend the beginning of the week opening your intuitive channels and taking notes on the insight you receive.
Cute astrology-themed gifts
Brand
Colour
Price
Refine ☵
Sort By
---
---
Athena Antares is a traveling writer, astrologer, and mystic who believes in adding a touch of magic to everyday life. She has written horoscopes for numerous lifestyle publications and has dived deeply into astrological magic and manifestation spell work. In her spare time, Athena enjoys exploring new places, spending time in nature, and reading charts for her worldly clientele.