Your weekly horoscope is here: February 21 – February 27
Your weekly horoscope has arrived with major manifestation energy...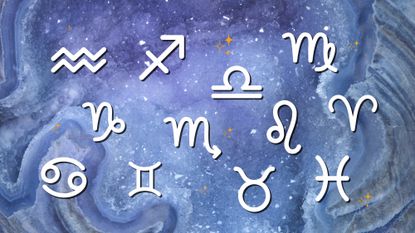 (Image credit: Future)
After last week's jam-packed skies, the week ahead is relatively mellow. We are now in Pisces season, which is expected to be one of the most positive times of the year. As the Sun illuminates the healing waters of this sign, we can all begin to feel a little lighter and more supported in reaching our dreams.
On Monday and Tuesday (time to celebrate 2/2/22 btw), the Moon will be in Scorpio, allowing us to dive deeply into our feelings, hunches, and motives. Although this journey can be intense, it holds the keys to figuring out our true desires. Go deep, and ask yourself if you truly want something, because, on Wednesday and Thursday, Venus and Mars will send shiny beams to Neptune.
This is major manifestation energy! This three-planet combination is alluring and assists in attracting love, sex, and romance (Psst: we have a full guide on how to manifest love). This is the ideal astro-weather for creating a vision. This is especially true if last week brought an ending to our lives.
If love and romance are not to your interest right now, this creative energy can help you in any area of your life, as it is the type of creative energy that can be used for anything. What's key right now, is that you communicate to the universe what you want, in the form of images—as this is how Neptune works.
---
---
Weekly horoscope: what does this week have in store for you?
Aries
For you, Aries, this is a big week when it comes to career and public visibility. It's time to envision a new way in which you can not only make more money, but also bring more creativity into your workflow. Since your ruler, Mars, will be touched by Venus' magic, receiving advice and help from women is special right now. This is a time in which receiving energy is best, instead of acting. So, slow down, open your mind, and let the universe do the rest.
Taurus
When your ruler Venus, harmonizes with Neptune, you have one of the best chances of the year for love, whether single or taken. Under this week's astrological weather, you're magnetic, so go ahead and put yourself out there! If love isn't your jam right now, this energy is amazing for crafting a new vision. What does the rest of the year look like for you? Get very specific—and the universe will help you make it a reality!
Gemini
You seem to feel quite ambitious this week, especially during the middle of the week, when the Moon will be in Sagittarius. You will be in the mood to accomplish something, however, there could be some tensions between two areas of your life. The answers on how to move forward are not outside, but inside of you. Major downloads of intuition are available to you, if you only make space to absorb them.
Cancer
Big news about a partnership could be exposed this week, dear Cancer. Perhaps a new relationship is taken to the next level—or alternatively, a project you've been working on finally gets visibility or is taken to the next stage. The Sun in Pisces is activating your ninth house, asking you to think long-term, making the next few months an incredible time to invest in your education, regardless of your age or industry.
Leo
As the Sun enters Pisces this week, it activates your eighth house of transformation, heralding a two-month period in which you will benefit from less activity and more time alone. This is a major opportunity to get in touch with your intuition by booking an astrology or Tarot reading. If you have a serious partner, this is also the house that rules your finances, making this a good time to talk about your joint finances and investments.
Virgo
The cosmic love keeps on coming, Virgo! This is a week to focus most of your energy on one-on-one relationships, whether romantic or business. Either way, it's a win-win! However, if you feel overworked, the ongoing Venus-Mars conjunction in your fifth house of fun and romance allows you to take a break from work so you can focus on enjoying life and everything it has to offer.
Libra
This is a week to act on your dreams, Libra. With your ruler, Venus, connecting with Neptune, you're being given the opportunity to create a vision, one that can plant the seed of something big. While taking notes in the form of pictures and images is key, taking a step towards your idea is also crucial in order to activate your luck. Don't miss out on this opportunity, as it will not repeat for quite some time.
Scorpio
For you, Scorpio, there's a big focus on communication this week. There could be some tension at home, or perhaps one or two surprises. Go with the flow, because behind the intensity, there seems to be a new beginning in the way you express your ideas to the world. On a more fun note, the Sun in Pisces kicks off a two-month period in which the cosmos will ask you to slow down, unwind, and have some fun!
Sagittarius
Expect a little bit of tension within an important relationship as the Moon in your sign clashes with Black Moon Lilith in Gemini. On the surface, this could manifest as someone trying to take advantage of you. But if you look deeper, what this energy is trying to do is guide you towards a new path, perhaps one of more authenticity within your most important connections.
Capricorn
You're a bit of a quiet zodiac sign, but over the week ahead, the current planetary configuration invites you to express your deepest, most cherished desires! Venus and Mars in your sign connect with Neptune in your third house of communication, which creates major magic when you talk about your plans. In fact, Pisces season is all about activating your voice, Capricorn. The more you do so, the more you will grow in 2022.
Aquarius
Mercury, asteroid Juno, and Saturn are all aligned in your sign. You seem busy working on a communication project, and for the next ten days, it's important that you focus on it. While it might be long hours and a lot of work, the result will be worth it. You might already be noticing the fruits of your labor, as the Sun began activating your second house of money when it entered Pisces. And guess what? More of that is on the way, dear Aquarius.
Pisces
This is a week to plant a seed, Pisces. Venus and Mars connect with Neptune in your sign, hinting that your community is the answer to begin manifesting your dreams. Go ahead and connect with as many people as you can this week, as they can help you unlock the vision that Neptune has for you. Then, capture the ideas you have by creating a library of images that can inform your actions for the next two months.
Cute astrology-themed gifts
Brand
Colour
Price
Refine ☵
Sort By
Athena Antares is a traveling writer, astrologer, and mystic who believes in adding a touch of magic to everyday life. She has written horoscopes for numerous lifestyle publications and has dived deeply into astrological magic and manifestation spell work. In her spare time, Athena enjoys exploring new places, spending time in nature, and reading charts for her worldly clientele.