Netflix's new game-changing feature might actually help us kick our binge-watching habit
Netflix is testing a new timer that will help curb binge-watching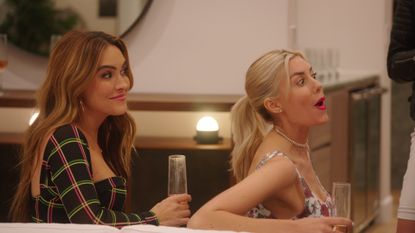 (Image credit: Netflix)
Netflix is about to introduce a timer to help kick binge-watching.
As we all had to spend more time at home this past year, binge-watching TV shows has unsurprisingly become one of our favourite pastimes. Netflix hasn't made it easy to kick the habit as they've upped their game by offering some of the best TV shows ever. There's nothing like spending your Sundays on the couch watching the Bridgerton cast and Bling Empire's Anna Shay, while we wait for old faves like Emily in Paris and Selling Sunset to finally return.
So the next time you're watching another season of your favorite show on your phone or tablet, be sure to check out the small clock feature on the top right-hand corner of your screen called 'timer'. It's super easy to use.
The new feature has been added to "give viewers more control over their day and their Netflix experience."
Viewers can select any time they want to stop watching a show by choosing 15, 20, or 45-minute timers or 'finish show'. When your time runs out, Netflix will send you a quick reminder that your day of screening is over, prompting you to get on with something else until your next binge marathon.
The streaming service has warned that the new feature is still in its test phase, which means not everyone will have access to the latest update. However, Netflix aims to have the final product out within the next few months, as they acknowledge the dangers of excessive binge-watching.
Android viewers are currently the only ones with access to the new feature before it's rolled out globally, but they'll need to have an adult account to unlock it. Netflix hopes that the rollout will help families limit their kids' screen time, particularly when schools are closed.
If the timer isn't for you, don't worry. You can still watch as much as you like, as the autoplay function will still be running as usual.
Since December 2020, Kudzai has worked as a trainee journalist at FUTURE, writing about fashion, entertainment and beauty content for My Imperfect Life.

Kudzai previously worked as a freelance fashion wardrobe stylist, directing magazine photoshoots and coordinating the fashion direction of recording artists.

A fully qualified Journalism and Media graduate from De Mont Fort University, Kudzai graduated in the summer of 2020.