Byredo Mixed Emotions: our verdict on this punchy aromatic Byredo perfume
Two editors put Byredo Mixed Emotions to the test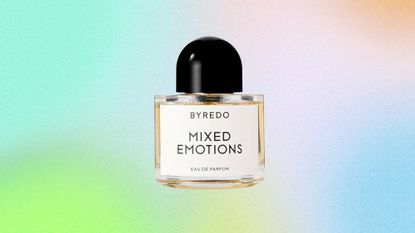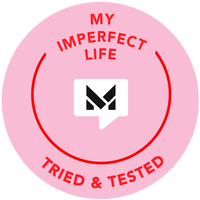 (Image credit: Byredo)
My Imperfect Life Verdict
Byredo Mixed Emotions is a real head-turner. With notes of maté and cassis, this is a sophisticated way to wear a woody aromatic fragrance.
Reasons to buy
+

Long sillage (degree to which it lingers)

+

Classic Byredo feel
Reasons to avoid
-

Can be a little strong for those that prefer a softer scent
There are few things that illicit total joy quite like the announcement of a new Byredo perfume. This is so good, it even made it onto our list of the best perfume for women. The excitement around launches from the cult fragrance brand is huge and unparalleled, as they're known for creating some of the best long-lasting perfumes. One of the latest launches, Mixed Emotions, is the 33rd in a stellar line-up of covetable and niche perfumes belonging to the house famed for said perfumes, candles, luxury handbags, and—not to forget—a magnificent make-up line in collaboration with British make-up artist Isamaya Ffrench.
We know that fragrance tends to smell different depending on who's wearing it, so to see just how wearable this new fragrance is, two self-confessed fragrance fanatics have put it to the test. Here's everything you need to know about Byredo Mixed Emotions.
Byredo Mixed Emotions review: Sunil Makan, Deputy Editor
"The projection of Mixed Emotions is undeniable, this punchy fragrance manages to captivate you from the first spritz. The first thing you'll notice is the uplifting—and slightly camphoric and bitter quality—of maté.
Next, you'll get the cassis, which is both green and candied. It would be a disservice to cassis to categorize it as sweet, there is nothing saccharine here—this rounded scent is both punchy with notes of dark red berries like blackcurrants and blackberries, but also has the smooth quality of woods, all spiked with the faintest hint of clove.
Once any initial headiness subsided, I was left with the smokiness of leather and wood that lasted for the majority of the day and so subtly on my T-shirt the next.
Is there anything that makes this fragrance distinctly Byredo? Well, yes, actually. The complex construction and choice of ingredients is intrinsically Byredo. If you're familiar with their iconic fragrances, then you'll notice similarities between Eleventh Hour and Sundazed. Arguably one is more suitable for hotter climes (Sundazed) but I like to imagine Mixed Emotions sits on the intersection of these two powerful scents.
It's the tussle between the two sides of this fragrance that results in a pleasant discord: should something cold and camphoric complement something earthy and sweet? At first glance, probably not, but after all, we live in a world of opposites. And bittersweet is nothing we are strangers to.
This warm and uplifting enveloping scent cocoons you and, for me, almost manages to mimic a sense of optimism. A gift from Byredo being bestowed upon the wearer, if you like. And let's face it, it's something we all need a bit of."
Byredo Mixed Emotions review: Fiona Embleton, Senior Beauty Editor
"Never before has a fragrance summed up the current bittersweet zeitgeist quite so accurately as Mixed Emotions. It's a heady mix of conflicting moods—a shot of optimism courtesy of bright bergamot as we head into spring, a hint of malaise via the smoky birch and tobacco elements, and a dash of nostalgia thanks to the blackcurrant notes, which smell not unlike the syrupy, berry-flavored cough sweets of my childhood. The juxtaposition shouldn't work but, much like everything else right now, it somehow does.
Formula aside, though, what I find utterly compelling about this scent is how it flips me back to my teenage years so fast it's enough to give me whiplash. I'm 19, it's summer and I've spent my Saturday night dancing in a smoky bar with my friends. We're laughing and we're squashed up so close in the throng of people that our noses are almost touching. On the bus home, I see the boy with the black curly hair and almond eyes and I spritz on some perfume. Suddenly the freshness of berries beds down with the smoke on my leather jacket. It's sexy, it's comforting, and a little witchy—exactly like Mixed Emotions. It's a scent that says I've got personality, and that's precisely what I want that boy—and any boy thereafter—to know about me.
And right now, I'll take any emotional throwback to those glorious moments spent dating, hanging out with friends, laughing, and watching the sunrise over the city knowing that it's a new day full of possibility."
---
---
Byredo Mixed Emotions: the need to know
Name: Byredo Mixed Emotions
Fragrance family: Woody aromatic
What's in it:
Top: Maté, blackcurrant
Heart: Ceylon black tea, violet leaves
Base: Birch woods, papyrus
How long does it last? 4/5
How much does it cost? $265 for 100ml / £178 for 100 ml
Are there any ancillary products? No
Byredo Mixed Emotions: is it worth the hype?
Yes, Byredo Mixed Emotions is certainly worth the hype. With notes of woods and berries too—but not in a sweet way—and a long sillage, this captivating scent is worth every penny.
Sunil Makan is the digital editor of Marie Claire UK. With over 12 years of publishing experience, working on print publications and their digital counterparts, national newspapers, and digital pure plays he is an Editor, Strategist, Content Producer, and Creative Director. In his most recent role, Sunil was deputy editor of My Imperfect Life and before that, he was the Associate Editor of British Marie Claire. Prior to that he worked at ELLE, InStyle, Shortlist Media and freelanced at titles such as Mr Porter, Saks Fifth Avenue, Floral Street fragrance, and The Times.
Sunil's specialisms include Fashion, Beauty and Grooming, Lifestyle, and Culture. He has reported and covered fashion trends at International fashion weeks in London, Milan, and Paris, smelled and tested countless fragrances, beauty treatments, slathered on more serums, moisturizers, and masks than he cares to mention plus reviewed some of the best hotels in the world—and the worst.
Sunil has appeared on and led workshops and panels like the All-Party Parliamentary Group (APPG) for Creative Diversity roundtable, the British Fashion Council's Diversity and Inclusion Board, and Fujifilm reader events. A lover of—in no particular order—fragrance, fine wine, champagne, Dior, food, and chicken wings.