Neutrogena Hydro Boost Supercharged Booster Serum review: an affordable simple formula
Our review of the Neutrogena Hydro Boost Supercharged Booster Serum reveals whether a straight-up hyaluronic acid serum can compete with more sophisticated formulas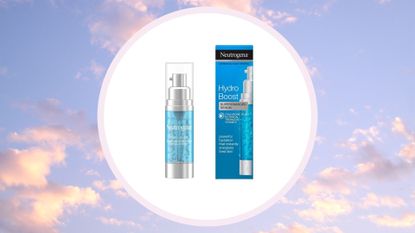 (Image credit: Neutrogena)
My Imperfect Life Verdict
An affordable serum that does the job well and nourishes skin—but it's not the most sophisticated
Reasons to buy
+

Very affordable

+

Great entry point into using HA

+

Good Vitamin E delivery
Reasons to avoid
-

Not the best for mature skin
US brand Neutrogena is known for its no frills formulas—and their Neutrogena Hydro Boost Supercharged Booster Serum is no different. Its hero ingredient is hyaluronic acid, a naturally occurring sugar that's found in the body, which holds up to 1,000 times its weight in water. Our bodies naturally carry around 15 grams of hyaluronic acid, which gets recycled every day.
Like all good things, however, our levels of hyaluronic acid deplete as we age, leaving our skin increasingly unable to retain water—cue dry skin peppered with wrinkles. As such, topping it up can be incredibly helpful for maintaining our skin's hydration and elasticity. Thankfully the best hyaluronic acid serums are your skin's best ally when that starts to happen.
Neutrogena Hydro Boost Supercharged Booster serum is one of the most affordable options around, so we just had to get our beauty expert Fiona Embleton to put it to the test, to see how well it stacks up in general, and against other popular HA's on the market. See her honest thoughts below...
The need to know
Best for: dry skin
Ingredients: Undisclosed hyaluronic acid percentage. Also contains botanical trehalose and vitamin E.
Aim of the product: To hydrate and protect against free radicals.
How long it will last: Based on twice daily use, the 30ml bottle should last anywhere between one and two months.
Texture: Gel texture with subtle sheen and pearl capsules
Is it scented? Unscented
A beauty editor's honest Neutrogena Hydro Boost Supercharged Booster serum review
Use—how do you use Neutrogena Hydro Boost Supercharged serum?
When it comes to how often you should use Neutrogena Hydro Boost, the brand's website recommends morning and night, "as per your usual moisturizing routine". When it comes to your skincare product order, HA's are typically applied after cleansing and toning, and before moisturizing.
On hot summer days, I found myself adding two to three drops to a gel moisturizer to keep my skin hydrated with a light veil of product. I followed their advice and applied it twice a day, and it worked well. At night, I like to apply it straight onto the skin and spend a bit of time massaging it in, for that extra bit of #selfcare.
Experience—how does the Neutrogena Hydro Boost Supercharged serum feel?
Like all hyaluronic acid serums, the Neutrogena Serum Hydro Boost is cool and refreshing to the touch. It has a slightly thicker gel consistency than say, the La Roche Posay's Hyalu B5 serum, so if you've got the time, I'd recommend using it in tandem with a jade roller to de-puff and contour the face too. It's a great option if you don't mind a thicker consistency, but if you're looking for a thinner, more watery option, this might not be the hyaluronic acid for you.
Results—what does Neutrogena Hydro Boost Supercharged serum do?
When writing this Neutrogena Hydro Boost Supercharged serum review, I found it frustrating that there was no information on the amount of hyaluronic acid in the formula, to justify the 24h hydration claim. However, what we do know is that the type of hyaluronic acid this serum deploys into the skin is Sodium Hyaluronate, which plumps up the surface layers of the skin. It also contains botanical trehalose, a water-binding plant sugar, which locks that hydration in. The vitamin E has antioxidant properties to further protect the skin's delicate barrier, too.
I noticed that the formula also contains a hint of the illuminating mineral mica, which explains the subtle sheen this serum leaves on the skin. Like all Neutrogena products, the Hydroboost hydrating serum Neutrogena is oil-free and non-comedogenic, so it won't clog pores.
Value—is the Neutrogena Hydro Boost Supercharged serum worth it?
For anyone dipping their toe into hyaluronic acid for the first time, the Neutrogena serum Hydro Boost is a good basic serum that won't break the bank. However, it's not one for skincare aficionados, who are used to using actives at high concentrations.
How it holds up
There are other more advanced formulations on the market that cost nearly the same, or a lot less. Perhaps my judgment was clouded by the fact that I'm a big fan of The Ordinary Hyaluronic Acid 2% + B5, which at just $7/£6.40 (less than a third of the price) still feels like a more sophisticated formula.
For a start, The Ordinary has harnessed the power of three different types of hyaluronic acid at varying molecular sizes to plump all levels of the skin. It also contains a 2% HA crosspolymer, which is basically a next-generation ingredient for hydrating skin at different depths, while its vitamin B5 additionally enhances surface hydration. All this, compared to Neutrogena's single use of Sodium Hyaluronate, means this Neutrogena serum falls a bit flat when compared with the rest of the HA market. If you're willing to spend a bit more, there's also the L'Oreal Paris Revitalift Filler serum, which has the highest concentration of hyaluronic acid on the drugstore shelf.
My Imperfect Life's verdict on the Neutrogena Hydro Boost Supercharged serum
In many ways, there's nothing exceptional about the Neutrogena Hydro Boost
Supercharged Booster Serum—it simply does the job of hydrating skin.
I first used it when I flew to New York for Fashion Week a few years ago. It was snowing heavily and my skin was struggling to adjust as a result of jet lag, freezing temperatures outside and blasts of heat indoors. The Neutrogena Hydro Boost Supercharged Booster Serum made my skin feel more hydrated and softened any lines around the eyes, but even then I couldn't help but feel that this serum was really designed to treat a 20-something's skincare concerns. I just felt like I needed something more, especially at night. Plus, if you're into your late 30s/early 40s, when it comes to the hyaluronic acid vs retinol debate, you're probably best using the latter instead.
The vitamin E delivery is probably the product's most stand out feature. It's dispensed via the pearls into the serum as you pump it out, maintaining its efficacy until the moment of use.
All in all, this is a good, afforable option if you're in your 20s—but it probably won't cut it if you love your skincare and are a little older.
Fiona Embleton is a multi-award-winning beauty editor who has tested over 10,000 products in her 10 years + of writing and shooting beauty stories. For the past four years, she was the Senior Beauty Editor at Marie Claire, having previously worked in the role of Beauty Editor at both Stylist and Cosmopolitan. She has recently gone freelance and alongside My Imperfect Life, she has written for titles including ELLE UK, ELLE Canada, Buro 247, Harper's Bazaar Arabia, Vogue Scandinavia, and ES Magazine. Beauty journalism allowed her to marry up her first-class degree in English Literature and Language (she's a stickler for grammar and a self-confessed ingredients geek) with a passion for make-up and skincare, photography, and catwalk trends. She loves jumping on the latest internet-breaking beauty news, dissecting the best red carpet looks, and having the crème de la crème of dermatologists, make-up artists, and hairstylists on speed dial so she can tap them for the best advice. She's a discerning beauty shopper and knows it can be confusing trying to navigate what's hype and what really works. So if she really likes something, you can trust that she has reached that opinion by vetting it against everything else she's ever tried. Her career highs? Interviewing Cate Blanchett and winning a Jasmine Award for the deeply personal feature Cancer Stole My Mother's Scent.