La Roche-Posay Hyalu B5 serum review: a humble serum with incredible results
Our La Roche-Posay Hyalu B5 serum review of the must-buy serum that hydrates and improves wrinkles in mature skin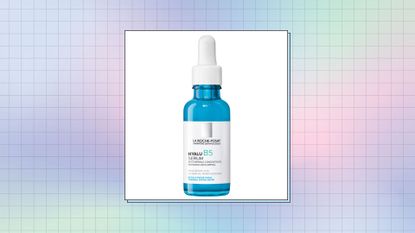 (Image credit: Future/La Roche-Posay)
My Imperfect Life Verdict
A humble hyaluronic acid serum that hydrates and improves wrinkles in mature skin
Reasons to buy
+

Has not one but two types of hyaluronic acid

+

Multi-functional—tackles volume loss, dehydration and wrinkles

+

Developed and tested by dermatologists
Reasons to avoid
-

Can be slightly sticky on first application
It's rare for a La Roche-Posay Hyalu B5 serum review not to award the product five stars. No wonder given the multi-tasking nature of this serum.
For starters, La Roche-Posay hyaluronic acid specifically targets dehydrated and mature skin, encouraging it to recover its bounce and smoothness. It does this by delivering not one but two different types of hyaluronic acid into the skin to temporarily 'fill' lines out—making it one of the best hyaluronic acid serums you can buy.
Other noteworthy ingredients include vitamin B5 to improve skin's natural repair process, madeccassoside to stimulate collagen production and the brand's proprietary thermal water to take the sting out of sensitized skin. So here's what happened when we tried this must-have skincare routine addition.
La Roche-Posay Hyalu B5—The Need to Know
Best for: Dehydrated and mature skin
Ingredients: Contains 0.3% hyaluronic acid. Also contains vitamin B5, another hydrating humectant, and madeccassoside to stimulate collagen production.
Aim of the product: To hydrate and improve skin firmness and the look of wrinkles
How long it will last: If you're applying this serum morning and night, one 30ml bottle should last you at least six weeks.
Texture: Refreshing gel texture
Is it scented? Hypoallergenic but does list 'parfum' as the last ingredient
A beauty editor's honest La Roche-Posay Hyalu B5 serum review
Use—How do you use La Roche-Posay Hyalu B5 serum?
Pollution has been shown to tear tiny holes in our delicate skin barrier, causing water to leak out and irritants to creep in. To protect against this type of damage, fill the dropper and apply three to four drops of La Roche-Posay Hyalu B5 Pure Hyaluronic Acid serum onto clean skin.
By day follow with your best vitamin C serum for an added layer of free-radical protection and SPF—you could even use the matching La Roche-Posay Pure Vitamin C10 serum for the best results. At night, apply pre moisturizer, which should contain ceramides to lock in all the hydrating goodness from the serum.
Experience—How does the La Roche-Posay Hyalu B5 serum feel?
Like most hyaluronic acid serums, it has a gel-like texture, which at first touch feels quite sticky before quickly absorbing into the skin. If you have sensitive skin, don't be put off by the blue bottle—the actual serum is clear so there's no danger of artificial colors riling your skin.
I also like to keep the La Roche-Posay Hyalu B5 Pure Hyaluronic Acid serum in mini fridge for skincare in the summer months or after a night out as the texture feels delicious when taking down puffiness.
Results—What does La Roche-Posay Hyalu B5 serum do?
In a nutshell, this La Roche-Posay hyaluronic acid has both immediate and long-term effects for dehydrated, mature skin that's losing volume. Upon application it's like a tall drink of water that floods skin with moisture, plumping and 'filling out' dehydration lines and wrinkles.
With continued use, madeccassoside and vitamin B5 encourage collagen production and aid in the skin's natural regeneration process for improved firmness, elasticity and less pronounced wrinkles.
It does so by combining two sizes of hyaluronic acid in one formula—the large sodium hyaluronate molecules plump the surface of the skin while small hydrolyzed (broken up) hyaluronic acid molecules bind water to collagen in the deeper layers of skin. The La Roche-Posay Hyalu B5 Pure Hyaluronic Acid serum also includes its proprietary soothing thermal water.
Value—Is the La Roche-Posay Hyalu B5 serum worth it?
For $36.99, this serum isn't prohibitively expensive, but it is the most pricey hyaluronic acid serum that I've tested.
That said, it has a robust formula, the science stacks up and it tackles dehydration, wrinkles and volume loss, which makes La Roche-Posay hyaluronic acid a solid skin care purchase in my books.
How it holds up
Another French skin care brand that also includes thermal water in its hyaluronic acid serum is the Vichy Mineral 89 serum. For me, this serum is better suited to sensitive skin as it only contains 11 ingredients and is unscented. Despite the rigorous dermatological testing behind the La Roche-Posay Hyalu B5, its mild hint of fragrance could still irritate sensitive although the more well-rounded formula, which includes more anti-aging ingredients than the Vichy Mineral 89 serum, is appealing to those who are looking to target hydration as well as loss of firmness.
The biggest difference between the La Roche-Posay Hyalu B5 and The Ordinary Hyaluronic Acid 2% + B5 (apart from the price) is the concentration of hyaluronic acid. The Ordinary boasts a massive 2% whereas La Roche-Posay only contains 0.3%. Given cell renewal slows down with age, the fact that Medik8 Hydr8 B5 Intense also contains gently exfoliating lactic acid gives it an edge when it comes to a hyaluronic acid serum designed for mature skin. This one will cost you around $55, though.
My Imperfect Life's verdict on the La Roche-Posay Hyalu B5 serum
I'm not going to lie, I'm a big fan of The Ordinary Hyaluronic Acid 2% + B5, which is often my benchmark for other skin care formulations. But for me La Roche Posay is the personification of everything that's amazing about French pharmacy skincare: it's developed and tested by dermatologists, deploys active ingredients and is kind to your wallet. Basically, it feels very accessible.
I regularly use several products in the line as they slot effortlessly into my routine without causing flare ups and is excellent value for money. When I travelled a lot in my previous job you'd inevitably find a bottle of La Roche-Posay Hyalu B5 serum in my hand luggage (at 30ml it's ideal) to ward off a Sharpie forehead from all that dry in-flight air. I loved how it immediately imparted a healthy glow despite the jet lag and made lines look more soft focus. But you don't have to take my word for it.
Trials by the brand are pretty impressive, too—there's a 24% improvement in elasticity and firmness after four hours and skin is 70% more hydrated. After one month of use, 87% of subjects had a more elastic and even skin tone.
Fiona Embleton is a multi-award-winning beauty editor who has tested over 10,000 products in her 10 years + of writing and shooting beauty stories. For the past four years, she was the Senior Beauty Editor at Marie Claire, having previously worked in the role of Beauty Editor at both Stylist and Cosmopolitan. She has recently gone freelance and alongside My Imperfect Life, she has written for titles including ELLE UK, ELLE Canada, Buro 247, Harper's Bazaar Arabia, Vogue Scandinavia, and ES Magazine. Beauty journalism allowed her to marry up her first-class degree in English Literature and Language (she's a stickler for grammar and a self-confessed ingredients geek) with a passion for make-up and skincare, photography, and catwalk trends. She loves jumping on the latest internet-breaking beauty news, dissecting the best red carpet looks, and having the crème de la crème of dermatologists, make-up artists, and hairstylists on speed dial so she can tap them for the best advice. She's a discerning beauty shopper and knows it can be confusing trying to navigate what's hype and what really works. So if she really likes something, you can trust that she has reached that opinion by vetting it against everything else she's ever tried. Her career highs? Interviewing Cate Blanchett and winning a Jasmine Award for the deeply personal feature Cancer Stole My Mother's Scent.