Eco-friendly Christmas gifts for a sustainable festive season
The best eco-friendly Christmas gifts to shop for your loved ones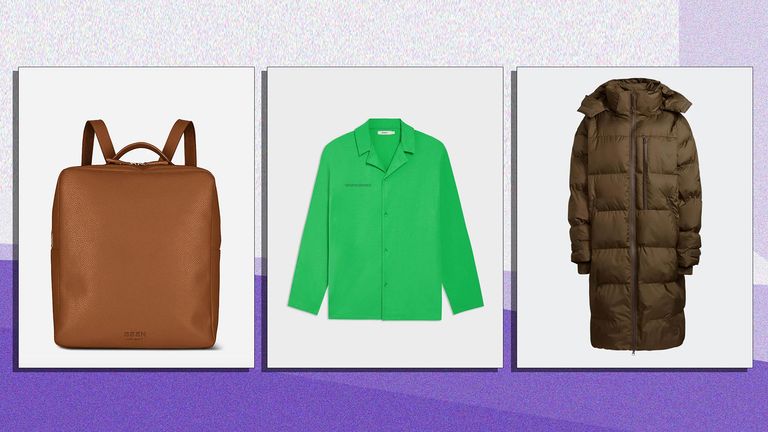 (Image credit: Been London / Pangaia / Adidas by Stella McCartney)
It has never been easier to shop for eco-friendly Christmas gifts. With all that's happening in the world, more and more of us are committing to a sustainable lifestyle to do our bit to save the environment and, over the years, many brands have been doing the same.
From high street retailers to independent businesses and giant fashion houses, sustainable fashion, beauty and interiors have been on the rise for some time now, making shopping consciously for Christmas gifts for your loved ones all the more enjoyable.
So whether you're looking for gifts for your family, or gifts for your boyfriend, why not do so while saving the planet? If there's one thing we've learnt this year it's that we need to take care of the world and what better way to start than the festive season?
If you're worried about limitations then don't. There are plenty of eco-friendly products that are just as good (or even better) than the alternatives you may be used to, you might just need a little assistance finding them. Luckily, we're here to help.
Here are some eco-friendly Christmas gift ideas to shop in time for December 25th.
1. Pangaia, Organic Cotton Pajama Shirt
It's no secret that we're completely obsessed with the brand here at My Imperfect Life—just read our Pangaia review for our verdict! The cotton pajama shirt comes in three different colors, Jade Green (pictured), Orchid Purple and Apple Red and comes with long pajama trousers too.
2. BEEN London, Islington Backpack
This incredibly chic multi-functional backpack can be worn with pretty much anything. Featuring a sleek design made from luxury sustainable materials, the versatility of this bag reigns supreme, seeing you from the gym to work and even a weekend away in a suitably stylish manner.
3. Celtic & Co. Sheepskin Mule Slippers
Made from carefully selected British sheepskin, these slippers by leading sustainable brand Celtic & Co. are just what you need after a long day. They're stylish but most importantly, they're soft, warm and comfy making your days and night at home the cosiest.
4. Adidas by Stella McCartney Puffer Jacket
When it comes to sustainability, Stella McCartney appears to be doing all the right things—this puffer jacket from her collaboration with Adidas is yet another example. We're into the clean and long line shape of this puffer jacket. It also comes in slight variations—long and black, cropped in black and cropped in khaki too.
5. Everlane The Cashmere Crew Sweatshirt
Women's Everlane The Cashmere Crew Sweatshirt
Everyone needs a cashmere sweatshirt in their wardrobe, especially now that we're officially in winter. This eco-friendly one by Everlane is the ultimate loungewear piece, available in multiple colors and super comfy.
$131, from Everlane
£99 £39, from Everlane UK
6. Girlfriend Collective Compressive Purple High-Rise Leggings
Girlfriend Collective is known for its amazing sustainable activewear and its compressive purple high-rise leggings are one of the brand's most popular items. Not only are they created with comfortable material and have an extensive size range but the leggings are made with a "recycled high-stretch fabrication" that features a "4-way stretch" suited for an active lifestyle.
7. Pela eco-friendly phone case
Pela eco-friendly phone case
A sustainable phone case
If you're after a Secret Santa present or want something that's affordable, cheerful and sustainable then the Pela eco-friendly phone case is just what you need. The cases are available in different colors, durable enough to protect your phone from drops and scratches and are also 100% compostable.
$59.95 at Pela
£44.95 at Pela UK
8. Linen lingerie set
It can be hard to find a cute lingerie set that doesn't cost a fortune, especially if you want an eco-friendly one. That's why this delicate set from Etsy is so popular. Made of crisp white linen, the set has received over 200 five-star reviews on the site and we can see why, it's so pretty!
9. Knitss Ralph wool-blend pants
Knitss Ralph Wool-Blend Pant
Wardrobe essential
If you love knitwear just like we do, you'll be obsessed with Knitss. The sustainable brand has all the wardrobe essentials you'll need, no matter the season. These wool-blend pants are super popular for being incredibly comfy and versatile to style. Wear them out with a nice pullover or lounge around in them at home, both work.
Sagal is a journalist, specialising in lifestyle, pop culture, fashion and beauty. She has written for a number of publications including Vogue, Glamour, Stylist, Evening Standard, Bustle, You Magazine, Dazed and Wonderland to name a few.