Best shampoo for curly hair: 7 options to hydrate and boost definition
We review the best shampoo for curly hair options—whether you're the proud owner of loose ringlets or tight coils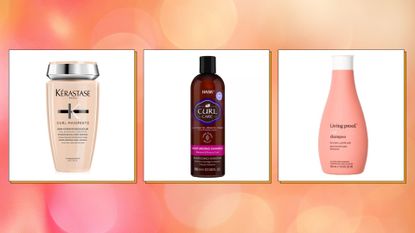 (Image credit: Future)
Ask any curly girl and she'll probably tell you that she's tried dozens of different wash formulas in her time, as it's not easy to find the best shampoo for curly hair. Curls are unique and so too are the requirements for products and tools that keep them bouncy and defined. But probably the number one factor that curls crave is moisture; their structure means that natural oils from the scalp take longer to make their way down the hair shaft—resulting in hair that's naturally drier and that has less shine.
"Curly hair has a completely different molecular structure to other hair types," says Errol Douglas MBE, textured hair specialist and pro expert for Living Proof. "The amino acid and lipid distribution is totally different, which leaves curly hair feeling dry, fragile and more easily broken."
As such, it's important to find shampoos that will protect and nurture your curls, as well as wash them properly. In fact, the right shampoo is an essential part of following the curly girl method correctly. In order to help you make the best decision for you, we've tested and assessed many of the curl-focused shampoos on the market, to bring you seven of the very best. There are options for those on a budget, and choices for all different hair needs—including those with thicker and fine hair, and those with colored locks.
Meet the experts on shampoos for curly hair
The best shampoo for curly hair as reviewed by a beauty editor
1. Living Proof Curl Shampoo
Specifications
Free from: Sulfates, silicones
Hero ingredients: Babassu, sunflower, amino acids
RRP: 12oz/355ml for $32/£31
Reasons to buy
+
Lightweight so won't weigh hair down
+
Detangles
+
Strengthens weaker hair
+
Suitable for colored and chemically treated hair
Reasons to avoid
-
Not that moisturizing
-
Narrow nozzle, so can be difficult to squeeze product out
Claiming to leave your hair three times stronger after just one use, Living Proof's curl range is suitable for all types of waves, curls and coils. Not only does the formula prioritise detangling, but it also really improves definition and enhances your curl pattern.
This one cleans brilliantly, but it isn't a mega moisturizing formula—meaning conditioner afterwards is a must—so look to some of the other options on our list should you be after a really nourishing or softening shampoo. (Note: the Curl Defining Gel is also a mega styling product.)
2. Kérastase Curl Manifesto Bain Hydration Shampoo
Specifications
Free from: Sulfates
Hero ingredients: Manuka honey, nougat, ceramides
RRP: 250ml for $24.35/£23.80
Reasons to buy
+
Smells incredible
+
Moisturizes hair without weighing down
+
Improves strength and elasticity
Reasons to avoid
-
On the expensive side
-
Lists silicones in ingredient list
Kérastase products are loved by A-listers across the land (including royalty, might we add), but until this year they've been missing a curly line-up. Curl Manifesto is another shampoo that suits curls across the spectrum with a formula that's fairly creamy and smells like an actual dessert, thanks to the inclusion of Manuka honey and nougat.
It also contains moisturizing ceramides—including a patented one that took four years to create—meaning this is a super nourishing yet lightweight curly cleanse that won't weigh your strands down, and one that makes light work of product build-up. Paired with the accompanying conditioner, take my word for it that this makes for a really lovely wash session. You won't even need to double shampoo.
3. Imbue Curl Liberating Shampoo
Specifications
Free from: Sulfates, silicones
Hero ingredients: Cocoa, cupuaçu, coconut
RRP: 400ml for $14.99/£8.99
Reasons to buy
+
Affordable
+
Lightweight
+
Hydrates and boosts shine very well
Imbue is a brand that's all about celebrating all types of curls, from kinks and coils to loose curls. The light shampoo is sweet-smelling, containing coconut, cocoa and cupuaçu to ensure strands aren't stripped of all moisture post-cleanse.
That said, isn't the most moisturising curly shampoo buy that you'll come across, but the brand does also offer a formula that's creamier and specifically tailored to type 4 (coily and kinky) hair—the Coil Awakening Cream Cleanser. You'll want to make sure to use one of the best brushes for curly hair after this, to ensure you're creating a more manageable texture.
4. Bread Beauty Supply Hair-Wash Gentle Milky Hair Cleanser
Specifications
Free from: Sulphates
Hero ingredients: Argan oil, lemon tea tree oil, aloe vera juice
RRP: $20/£18
Reasons to buy
+
Smells incredible
+
Vegan
+
Black-owned brand
Reasons to avoid
-
Lid can be tricky to unscrew with wet hands
-
Comes in a smaller pouch than the deep conditioner
An entire range designed for curly, afro and textured hair types 3a–4c, Bread Beauty Supply only launched in 2020 but it's made some serious waves in the beauty world since then. Kind of a shampoo and co-wash hybrid, Hair Wash is super gentle but leaves strands clean for days.
As well as smelling like a great combo of popcorn and lemon drizzle cake (yes, really!), this shampoo works up a very gentle lather that still leaves your hair feeling soft and clean. Paired with the accompanying mask, my curls were seriously happy after washing with this dream duo.
5. Hask Curl Care Moisturizing Shampoo
Specifications
Free from: Sulphates, silicones, drying alcohols
Hero ingredients: Vitamin E, argan oil, coconut oil
RRP: 12oz/355ml for $4.99/£6.99
Reasons to buy
+
Very affordable
+
Pearlescent, shiny formula
+
Lightweight
A super affordable brand, Hask's shampoo offering is a light moisturizing formula that shields your hair from frizz and damage, complete with a Curl Activating Complex to preserve and enhance your curl pattern.
It's a thick, pearlescent solution that cleanses nicely, but despite its name isn't the most moisturizing—so you'll definitely want that hit from an accompanying conditioner or a rich mask afterwards.
6. Pureology Hydrate Shampoo
Specifications
Free from: Sulfates
Hero ingredients: Green tea, jojoba, sage, lavender, bergamot, patchouli
RRP: 255ml for $35/£21.20
Reasons to buy
+
Vegan
+
Suitable for colored hair
+
Great for dry hair
Reasons to avoid
-
Not a curl-specific formula
The entire Pureology range targets color-treated hair, complete with a patented AntiFade complex (to stop your color fading, if that wasn't obvious), but you'll definitely want to opt for the hydrating option if you have curls.
Considering that this formula doesn't contain any sulfates, it lathers up an impressive amount, and is still good for your curls. You'll be wafting its fresh, almost minty aroma for a good couple of days post-wash. So whilst this isn't our top pick if you're after the very best shampoo for curly hair, it definitely comes in close if you have colored locks.
7. Dizziak Hydration Wash
Specifications
Free from: Sulfates, silicones, mineral oil
Hero ingredients: Quinoa protein, babassu oil, aloe vera
RRP: 200ml for $26.00/£20
Reasons to buy
+
Lightweight
+
Suitable for all hair types, not just curly
+
Rich in nutrients
+
A Black-owned brand
Reasons to avoid
-
Not a curl-specific formula, if that's what you're looking for
Dizziak was founded by former beauty journalist Loretta De Feo and it quickly became every dehydrated hair owner's go-to, popping up on dozens of influencer and beauty editor Instagram feeds. And it certainly lives up to the hype. Hydration Wash is absolutely packed with ingredients that hair and curls love; we're talking the likes of babassu oil, aloe vera and quinoa protein.
These ingredients are great for curls, but are suitable for just about every other hair type, meaning you can share with your non-curly roommates, or partner (only if you're feeling generous, obvs).
Ingredients to avoid when looking for the best shampoo for curly hair
As mentioned, it's all about moisture when it comes to curls, although this will vary somewhat between curl types depending on hair porosity and thickness.
"Very curly hair needs more nourishment, moisture, and typically less hold, whereas curly hair needs more hold," Errol explains. "Very curly hair can tolerate a richer oil and heavier bases like shea butter as they can absorb these ingredients better due to the dryness and fragility of this hair texture." Generally speaking, the tighter the texture, the more moisture it can handle.
But you could argue that the ingredients to avoid in shampoo are equally (if not more) important if you want to make the most of your curls.
Sulfates—If you've been embracing your curls for a while, you'll already know that sulfates are considered something to avoid as they can exacerbate dryness (read our guide on what sulfates do to your hair for a more in-depth explanation). "Curly or textured hair is prone to being dry and/or dehydrated," says Michelle Sultan, celebrity hairstylist and creative director for Imbue. "So it's best to avoid sulfates or any drying alcohols that will strip and dehydrate the hair any more than it needs to." Like many curl experts, Michelle says a sulfate-free cleanser is a must. "You'll find numerous benefits but the main one being that the moisture level in your hair is maintained far better by using low poo shampoo."
Silicones—Silicones are another ingredient that should be avoided if you have curls. "Despite the illusion of smoothness, they cause build-up and are hard to remove," Errol Douglas says. "They also attract dust and dirt to the hair, which is actually more visible on curly hair than it is on straight hair." If you do use silicones in your routine, it's worth regularly cleansing with a clarifying shampoo to remove any build-up. But Douglas notes that "going silicone-free will help you go longer in between hair wash days, which is important for curls as you want to avoid over washing, which can lead to damage."
Aside from taking note of the ingredients to avoid, and using one of the best shampoo for curly hair options, how else can you look after your curly hair?
It's well worth taking a look at our guide to how to brush curly hair without losing curls, to ensure you aren't unnecessarily disrupting your curl pattern by brushing the wrong way. And should you brush curly hair dry or wet? We asked the experts, so that you can perfect your post-shower hair-care routine.
Lucy is a beauty journalist who has written for titles including Marie Claire, Cosmopolitan, OK!, woman&home and Women's Health, as well as regularly contributing to My Imperfect Life. Her work covers everything from skin and haircare tips to trying and testing the latest beauty launches, and interviewing celebrities and experts. A certified dog person, her other interests include mental wellbeing, books, piña coladas and not getting caught in the rain.