Hold up! It's the Beyoncé workout routine—here's how the superstar stays in shape
Feel like Queen Bey herself by getting to grips with the Beyoncé workout philosophy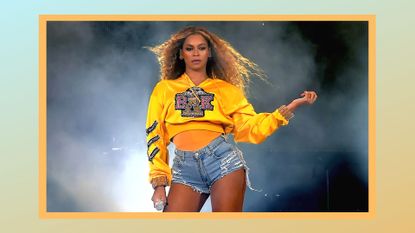 (Image credit: Kevin Winter/Getty)
In an exercise rut? Allow the Beyoncé workout routine to inspire you to get moving in the new year. As evidenced by her famously toned figure and athletic on-stage abilities, the 41-year-old music megastar certainly takes her training sessions very seriously, challenging her body with everything from battle ropes to sprints.
However, just like Kendall Jenner's workout routine, the triple threat is a fan of a short but intense sweat session. Because when you're busy ruling the world you want how you train to be as time-efficient as possible. What's more, she targets her arms, core and legs with some go-to moves that make beginner workout exercises accessible.
Above all, Bey's approach to working out is about feeling strong and confident—with fitness now more about how she feels.
"After the birth of my first child, I believed in the things society said about how my body should look," the singer admitted to Vogue. "I put pressure on myself to lose all the baby weight in three months, and scheduled a small tour to assure I would do it. Looking back, that was crazy."
Here's how she now moves with more moderation...
Beyoncé workout tips: how the star stays in shape
1. Speedy sessions
As you'd expect, Beyoncé has a packed diary—full, among other things, of bringing music to the world and being a dedicated mom. So it's unsurprising that she likes to keep her workouts short and sweet.
According to POPSUGAR, she might even train for a matter of minutes at a time and focus on squats, lunges and planks. The star's personal trainer Marco Borges revealed to Glamour that she also gets stage-ready using a variety of interval training, weight lifting and calisthenics as well as specific moves to target her legs, core and upper body.
It's lucky, then, that Borges' go-to move is a kettlebell squat-and-press that targets multiple body areas in one fell swoop. "It's an exercise that hits all the major muscles. If you did nothing else, you'd still get a great workout," he told Glamour, suggesting four sets of 15 reps. Not sure how to do it? Hold a kettlebell (or one of the best dumbbells for women) to your chest, with your elbows tucked in and your feet shoulder-width apart. Squat down deep, and then stand up, simultaneously lifting the weight overhead.
2. Upper body power
Beyoncé likes to work her arms, using boxing and weighted ropes, also known as battle ropes. Indeed, you might have seen her swinging a pair in Netflix's Homecoming documentary. "You run out of gas fast; by pushing through [that fatigue], you develop a ton of endurance," explains Borges to Glamour.
If you don't have some to hand, then the PT recommends "explosive" push-ups. This is like a traditional push-up, except that when you extend your arms you propel your hands off the floor an inch. Do four sets of eight to ten reps and feel the burn—after which you may want to make the most of Bey's bathtime self-care ritual.
3. Leg toning
Want to strut like Beyoncé? The music icon works hard sculpting her legs—and Borges shared the four-move lower body workout she uses with Elle. These are jumping lunges, plié jumps, pelvic lifts and reverse-squat kicks. Do three sets of ten reps each, or per leg, for the latter two.
But be prepared to stick with it. "You may be sore for a few days after the first few times you try this," warns Borges. "Our legs are one of the muscle groups that are constantly being used even when we don't think we're exercising. If you want to see rapid change, you must be willing to step out of your comfort zone because these muscles are conditioned to being constantly worked." Just make sure they're well-supported with a pair of the best black gym leggings!
5. Cardio work
While Bey may be visibly toned, she is also seriously fit—and able to perform effortlessly, even during the toughest of dance routines. It's in part thanks to the short, snappy cardio work that Borges gets her doing. "Sprints are ideal for building stamina and explosiveness, which B needs to move across the stage," says Borges. He gets her alternating between a one-minute sprint with two minutes of brisk walking for a total of 30 minutes.
The star has long been a fan of running—and it's actually the origin of her athleisure brand Ivy Park (which makes us believe that she's never short on the best workout clothes). "The name of the brand comes from where I built my strength and endurance as a young woman," she told Elle. "I ran and trained in the park, and that state of mind has stayed with me all these years later. It's the first place where I learned to listen to my body."
6. Dance moves
From "Crazy In Love" to "Single Ladies", Beyoncé has never shied away from an energetic dance routine—which burns major calories. So it's unsurprising that she counts choreography as cardio. "For me, dancing is what keeps me active," she told Shape.
Similarly, speaking to Self, she added: "I'll put on a song that I really like and do [biceps curls with] five-pound weights [for] the whole song and just try to burn out." We can only imagine how great her playlist sounds...
7. Stretch it out
Never forget to cool down—to improve your range of motion and strengthen your muscles. "I stretch B at the end of every workout," says Borges. He suggests lying on the floor with a towel or one of the best yoga mats for some cushioning.
Borges recommends bending and lifting your right leg and looping the towel over the arch of the foot. Next, straighten your leg and gently pull the towel down—hold the towel with your right hand and drop your leg over the right. Switch to your left hand and bring your leg across to the left, holding each for 30 seconds. Then, repeat on the other leg.
Want even more celebrity exercise inspo? Check out the workout routines for Emily Ratajkowski, Taylor Swift, Dua Lipa and Kim Kardashian.
Lauren is a freelance writer and editor with more than six years of digital and magazine experience. Most recently, she has been the Acting Commissioning Editor of Women's Health—where she co-produced the Going For Goal podcast—and has previously also written news and features for titles including The Telegraph, Grazia, Stylist, Dazed, The Sun's Fabulous, Yahoo Style UK and Get The Gloss. She covers all aspects of lifestyle, specializing in health, beauty, and travel. Can't live without: oat milk lattes, new podcast episodes, long walks, and great skincare.