Can you rent the 'Love Island' villa and where is it? Asking for a friend
Ever wondered if you can rent the Love Island villa? We've got the deets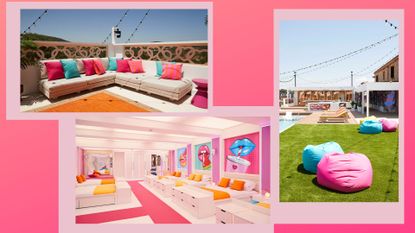 (Image credit: ITV Picture Desk)
As we prepare to bid farewell to our drama-loving islanders as the Love Island 2022 final approaches—you might find yourself wondering about their sunny abode, which will soon be vacant. The love pad, which has seen its fair share of heartbreak, grafting and 'necking on,' surely isn't left empty for three seasons of the year right? Which brings us to this all-important question—can you rent the Love Island villa?
While we've come to know the original luxury property very well over the show's past five seasons—from confessions in the 'Beach Hut' to heart-to-hearts at the Firepit—things have changed slightly in terms of location for Love Island 2022. The Love Island filming location has changed but that doesn't mean you can't get a taste of the firepit experience.
Where is the 'Love Island' villa?
Before you start packing your bags and practicing your slow-mo villa entrance, you might want to know where the Love Island villa actually is.
The constant sun and melting temperatures are a dead giveaway—Love Island is famously filled in Mallorca, though they have swapped locations this year. This year's villa is still on the sunny, Spanish island just an hour West of its OG spot.
The villa is called Sa Vinyassa and is situated on the outskirts of Cala d'Or and boasts some pretty stunning panoramic views.
Can you rent the 'Love Island' villa?
The luxurious property would make a particularly special vacation for dedicated fans of the show. They will be able to reminisce—at leisure—over all the most memorable Love Island moments that they've seen on screen, from the exact spot where they took place. That's our type of trip.
However, it would make the perfect holiday spot for any group of friends. As you'll have become acquainted with over several seasons, there is a stunning outdoor space—including numerous day beds and an infinity pool, so you can spend all day switching between sunbathing and cooling off. There's also plenty of space inside too—and while it's unclear how many it sleeps, we've seen the Islanders snuggle up in six double beds, meaning huge potential for a big girly getaway.
Now, while the same gorgeous villa has appeared in the past five seasons, the producers rent rather than own the property. This means that, in theory, you can too. Although it doesn't come cheap. According to The Sun (opens in new tab) in 2019, it will set you back a whopping £3,000 a week—meaning it's probably pricier now—and it's likely there's a bit of waiting too. What's more, it was sold in March for £2.57million to a new owner, with its future not yet clear. So, perhaps don't count on it for your next Mediterranean stay.
However, don't be too disappointed. You can most certainly crack on with Casa Amor—just a short walk away—which has previously been available to book via Villa Retreats (opens in new tab) for between £4,572 and £8,128 for a week, depending on the time of year. It has four bedrooms, five bathrooms and a picturesque pool area.
How to tune in?
To see the shiny new villa—and the unpredictable antics of its single residents—you'll need to sit down for the new season's first episode on Monday, June 6. Want to know exactly how to watch Love Island UK? You can catch up on the highs and lows of all the romance in one-hour installments airing every evening, Sunday to Friday, on ITV2 at 9 pm BST/ 4 pm ET.
Don't worry if you miss an episode—you can stream them online afterward on the ITV hub (opens in new tab) at a time convenient to you. Like while tucking into your cornflakes over breakfast the next morning. If you're wondering when does Love Island go on ITV hub, it's soon after the program is broadcast on TV. Not in the UK? You can watch via a VPN (opens in new tab).
If you're wondering how long Love Island lasts, you'll be delighted to know that it is thought to be running for at least six weeks and wrapping in mid-July. Still can't get enough? Each Sunday, the spin-off show Love Island: Aftersun will see a guest panel debriefing on the week, as well as exclusive clips and the first interviews with dumped Islanders. In the meantime, enjoy some of our favorite Love Island memes...
Best Love Island gifts and merch to shop now
Brand
Colour
Price
Refine ☵
Sort By
Lauren is a freelance writer and editor with more than six years of digital and magazine experience. Most recently, she has been the Acting Commissioning Editor of Women's Health—where she co-produced the Going For Goal podcast—and has previously also written news and features for titles including The Telegraph, Grazia, Stylist, Dazed, The Sun's Fabulous, Yahoo Style UK and Get The Gloss. She covers all aspects of lifestyle, specializing in health, beauty, and travel. Can't live without: oat milk lattes, new podcast episodes, long walks, and great skincare.