Can you rent the 'Love Island' villa? What you need to know about the summer and winter locations
Can you rent the 'Love Island' villa? If you'd love a getaway to the enormous properties we see on screen, this is what we know about actually staying in them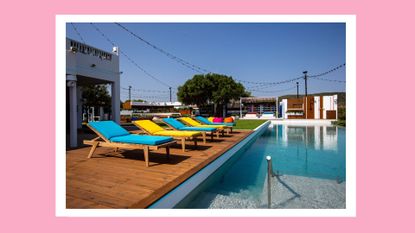 (Image credit: ITV/Future)
Can you rent the Love Island villa? The summer series of the show is wrapping up very soon (if you're wondering when Love Island 2023 finishes), leaving many of us wondering what happens to the Islanders' temporary home when they've packed their bags and left. The property, which always sees its fair share of grafting and "cracking on" (some of our fave Love Island quotes) surely can't be left completely empty for the rest of the year—so is it actually available to stay in?
We all know that the show returned to its Mallorca home for its 2023 summer series, after housing the contestants in a luxe property in South Africa for the winter season.
But the show wasn't always located in the luxury property we see in Mallorca today. For the majority of its seasons—apart from season 1—it was filmed in another villa. However, things changed venue-wise for Love Island UK season 8, which took place last summer, and was filmed in a different Spanish setting and saw us through multiple heart-to-hearts around the fire pit, as well as arguments, most notably from Davide and Ekin-Su. But while the filming locations have been shaken up, you can still get a taste of the Love Island villa experience.
So where is Love Island filmed today, and can you stay there? Here's what we know about renting one of the show's filming locations as a non-Islander.
Where is the 'Love Island' villa?
Before you start packing your bags and practicing your slow-mo villa entrance, you might want to know where the Love Island villa actually is.
The constant sun and sizzling temperatures are a dead giveaway—Love Island is famously filmed on the island of Mallorca in the summer, and the past two winter seasons in South Africa. As mentioned, the series had largely been filmed at the same villa (bar season 1), but producers were forced to swap locations for the 2022 summer series, as the previous villa was unavailable. And the same Spanish villa has been used for the summer series since then.
This property is just an hour West of its OG spot, and is called Sa Vinyassa. It's situated on the outskirts of the village of Cala d'Or, and boasts some pretty stunning panoramic views. As you can see on the show, there's plenty of outdoor space, housing numerous day beds and that all-important infinity pool. And there's also lots of space inside too, meaning there's huge potential at this villa for a big girly getaway.
Outside of its time as home to our Love Island contestants, the villa looks pretty different, without all of the colorful decor and neon signs we've come to recognize from the show.
But even without the Love Island-esque trappings (and maybe even more so), the luxurious Spanish residence would make for a particularly special vacation for fans, who would be able to reminisce over all the most memorable Love Island moments from the exact spot where they took place!
So what about the location for the winter editions of the UK show?
These, on the other hand, are filmed in South Africa, with the 2023 villa (new this year) set in the Franschhoek wine valley. The lucky Islanders got to stay in what is described as as an "eco retreat" located in the Cape Winelands, as part of the Ludus Magnus estate.
As we all saw, it also boasts seemingly endless palm trees, a ginormous pool (the biggest in Love Island history, we reckon) and day beds galore.
Can you rent the Love Island villa?
If you want to gather together a big group of pals and rent the Love Island villa, you're in luck! The 2023 summer villa is available to rent—but it'll cost you, and you may have to wait a while!
The home is available on multiple Spanish holiday letting websites, where they reveal that—outside of Love Island use—it has six double bedrooms, seven bathrooms (or which six are ensuite), and of course, that famous outdoor shower and luxe-looking infinity pool.
Websites reveal that the minimum stay per night is from €700, which is around $755, and £610. So if you want to stay for a week, expect to pay at least $5,000/£4,200! However, on many of the websites My Imperfect Life explored, the villa didn't have availability until 2025; so you could be waiting a while for that sunny vacation.
As for Winter Love Island, that villa is reported to cost upwards of a super-spenny £9,000 per night to stay in—and that's towards the end of South Africa's summer season, in March.
This means that if you want to stay in peak summer season, you may pay a lot more, or equally, you may fork out a lot less to stay in South Africa's winter, which tends to be from June to September.
So if you're wondering whether you can rent the Love Island villa to enjoy privately, you absolutely can, but it'll set you back a fair bit of cash.
How to watch 'Love Island' UK from another country
Want to know exactly how to watch Love Island UK if you're not caught up on the drama this series, or want to be sure to tune into the finale next week? You can catch up on the highs and lows of all the romance in one-hour installments airing every evening, Sunday to Friday, on ITV2 at 9 pm BST/ 4 pm ET, if you're in the UK.
And don't worry if you miss an episode—you can stream them online afterward on the ITV hub at a time convenient to you. If you're wondering when does Love Island go on ITV hub, it's soon after the program is broadcast on TV.
Not in the UK? You can still watch via a VPN, which will allow you to enjoy Love Island at the same time as your British pals.
In the meantime, enjoy some of our favorite Love Island memes...
Best Love Island gifts and merch to shop now
Price
Refine ☵
Sort By
Lauren is a freelance writer and editor with more than six years of digital and magazine experience. Most recently, she has been the Acting Commissioning Editor of Women's Health—where she co-produced the Going For Goal podcast—and has previously also written news and features for titles including The Telegraph, Grazia, Stylist, Dazed, The Sun's Fabulous, Yahoo Style UK and Get The Gloss. She covers all aspects of lifestyle, specializing in health, beauty, and travel. Can't live without: oat milk lattes, new podcast episodes, long walks, and great skincare.