The cast of 'Perfect Match' spills on how filming the Netflix show was different than other reality series
Yes, we talked to the cast of 'Perfect Match' directly to get the scoop on what really went down in that villa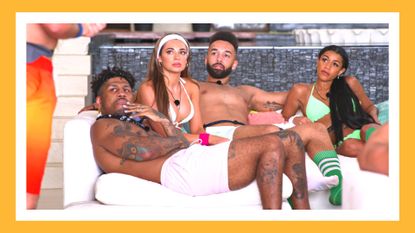 (Image credit: Netflix)
To pad out the cast of Perfect Match, Netflix's newest reality dating show, the streamer pulled personalities from all across its unscripted shows—Love Is Blind, Too Hot to Handle, The Circle and more—for a match-making show with a twist.
At face value, the new series is very much The Hunger Games meets The Bachelor, packing in all of our favorite stars into one house to see who can pair up and find their perfect match.
But really, how different is it from all the other dating shows we know so far? My Imperfect Life got the scoop directly from the Perfect Match cast. Here's what they had to say!
How did the cast of 'Perfect Match' find the Netflix series different from other shows?
As we mentioned, the reality stars involved in Perfect Match were plucked from a bunch of Netflix's unscripted series. Some of them have dated from behind a wall (Love is Blind) or while wearing a rubber panda mask during their date (Sexy Beasts), but despite their differences, all of the players have one common characteristic and that is that they are currently single.
We know Netflix reality stars are close, with some of them even going on to date each other IRL. (*cough* Georgia Hassarati and Harry Jowsey *cough*) But according to The Circle season 2 alum Mitchell Eason, the Netflix unscripted universe doesn't all know each other. Speaking to My Imperfect Life, Mitchell said: "The only difference was having everybody there….people that we do know, people that we don't, people that we're really close with. It was a unique atmosphere that I don't think any other reality TV shows had, that connection between other people, the newness to others, it was different."
Selling Tampa cast member Anne-Sophie Petit-Frere said the show was a massive change for her, as she "came from a show where all I was worried about was my money, my pocket, the real estate, and on this show, in order to find your perfect match, you really have to put yourself out there. Being vulnerable is something that I personally feel like I am not great at because I feel like, you know, it gives someone an opportunity to hurt you. But also, in order to find love. I feel like that's very much so necessary."
The Mole's Dom Gabriel agreed, saying: "I came from a show where I couldn't trust anybody and everyone's trying to stab you in the back, to a dating show. So carrying that over, it's like, yeah, there's not many traits I could have applied." We saw in the first four episodes alone that Dom has been much more vulnerable and open about his feelings than he was in The Mole.
The Circle winner Joey Sasso revealed that Perfect Match was not different for him at all: "Every show I've done, I just walk in going, 'I'm just gonna be myself and see what happens.' If I have any preconceived notions, I just know myself, I will not do well under those conditions. So I'm just like, 'I'm here for the party. Let's take it day by day and just see what unfolds.'" So far, it seems Joey has very much been here for the party, as he's partnered up with his ex Kariselle Snow, of Sexy Beasts fame.
What are the rules of Netflix's 'Perfect Match'?
Perfect Match is set up very much like some of the dating shows you already know and love. The ready-to-mingle singles are put together in a villa (where was Perfect Match filmed? We've got all of the locale intel for you!) where they are looking to find someone with whom to couple up. However, there's a select number of rooms available in the villa so all the reality stars taking part are not in the house all at the same time.
The ones who do find someone to couple up with are then put through a series of trials and challenges to see which couple is the "most compatible." If you win a daily challenge, you get to go on a private date with your partner and you also become a matchmaker as you get control of the board, which allows you to bring in someone new for two contestants.
Basically, whoever controls the board gets the ultimate power, as they can break up other couples who they feel are more compatible or a "threat" to them staying in the house. They can also send someone in the house who they feel hasn't found love yet to go on a date with someone new and they can also choose to bring in someone who may be a better match for themselves. We already witnessed a small teaser of this at the end of episode four with Too Hot to Handle's Francesca Farago choosing to put herself on a date with Love Is Blind's Damian Powers despite already being coupled up with The Mole's Dom Gabriel.
The ability to choose the show's new entrants is something relatively new to the dating show genre. Series creator Chris Coelen told Tudum: "The producers aren't steering the ship…if the participants choose to bring these people in or match 'em up with whoever, it's totally up to them. That's much more real, and it's much more fun for them."
How will the winners of 'Perfect Match' be chosen?
Unlike Love Island, the audience doesn't get to vote for our winner. It's actually down to the contestants themselves to decide who among them is truly paired up with their perfect match.
Speaking to Tudum, Coelen added: "Having a perfect match can mean they make a great summer fling, or it might mean that it's someone that they actually want to spend their life with. It really depends on what they're looking for at that moment. Perfect Match is a show that really bends to the whims of the participants and allows them to make it what they want."
The first four episodes of Perfect Match premiered on Netflix on Tuesday, February 14. Catch episodes 5-8 on February 21 and episodes 9-12 on February 28.
Liv is a freelance journalist currently studying English at university. She loves covering everything from entertainment and politics to lifestyle and travel. As well as writing for My Imperfect Life, Liv has bylines in The Times, HuffPost, Den of Geek, Bustle The Metro and The Bookseller.