Who has Georgia Hassarati from 'Perfect Match' dated before the show?
Check out Georgia Hassarati's romantic timeline and what she's up to now that the show's over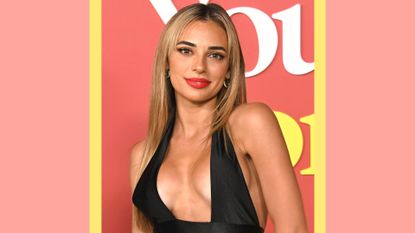 (Image credit: Jon Kopaloff/Getty)
Dating Netflix stars may be a dream to some, but to Georgia Hassarati, it's old hat.
The Too Hot To Handle season 3 cast member is currently on Perfect Match. Netflix's new dating series brings the best of the streaming service's reality stars back together in another attempt to help them find love. Contestants from Love Is Blind, The Ultimatum, Sexy Beasts, The Circle, Selling Tampa and more gather in Panama to complete challenges to determine the most compatible couple—and also give them the opportunity to play God as they bring in new singles to break up other Perfect Match couples. (Here's where Perfect Match was filmed if you need some getaway inspo.)
Hassarati has a leg up on the competition because she's already dated fellow Netflix reality stars, having left her season of Too Hot to Handle single only to end up connecting with another THTH star.
"I felt like I was really ready to meet someone. I don't think in Too Hot To Handle I was," Hassarati told us. "So following that experience, when the [Perfect Match] opportunity came my way, I thought, 'This could be a good thing for me. Why not give it a try? See where it goes.'"
So, what exactly do we know about her relationship history? Let's dive in.
Did Georgia Hassarati date Harry Jowsey?
Yes, however the timeline on Georgia's relationship with fellow Too Hot to Handle alum Harry Jowsey and filming the Perfect Match seem to be very close.
In Perfect Match, Georgia states she has been single for two-and-a-half years. However, she's been on and off with Jowsey since mid-2022. With that information, it confirms that Georgia did not date any of her season three Too Hot To Handle co-stars after leaving the show. And yes, it confirms that our Perfect Match winners, Dom and Georgia broke up.
Speaking about her split from Dom, she told My Imperfect Life, "It was filmed quite a while ago, about a year and a half ago now, so we've gone our separate ways. But I do wish him all the best, he is a really amazing person and whoever he ends up with will be a really lucky girl because he's lovely. I see him around, there's no bad blood, we get along. It's all fine, we just didn't end up together."
So where does she stand with Jowsey? Though they were on-and-off again for quite some time, they appear to be back on in early 2023.
Who did Georgia Hassarati date in 'Perfect Match'?
Georgia appears in episode three of Perfect Match, when she is put on a date with Chase DeMoor. However, once she comes back to the house after her date, she explores all the other connections she could have.
She says to Joey Sasso that she likes Chase, Nick Uhlenhuth, Shayne Jansen and Dom Gabriel, but she loves Francesca Farago, so wouldn't pursue anything with Dom, as they had been coupled up. Joey tells her that he thinks the best choice for her is Shayne, but he ends up coupling with her season three Too Hot To Handle co-star Izzy Fairthorne.
So, Georgia matches with Chase. But at the end of the episode, Francesca goes on a date with Love is Blind's Damian Powers, freeing Georgia up to potentially explore her connection with Dom.
Needless to say, Francesca was less than pleased with this pairing, though she had moved on herself. She was even more displeased that Georgia and Harry decided to take their romance a bit more public right before the show aired.
"I'm not going to say she's disingenuous, but it's just, like, sketchy, to me," Farago told Variety about Georgia's new relationship. "And his intentions are sketchy to me. It's just convenient that they're back together a week before our premiere. I don't really trust either of them."
Who did Georgia Hassarati date in 'Too Hot To Handle'?
Georgia was the "It girl" of Too Hot to Handle season 3. She not only captivated the audience but also all the fellas in the house. She had a connection with Harry Johnson, Stevan Ditter and Patrick Mullen before cooling things off with all of them in favor of newcomer Gerrie Labuschagne.
However, that relationship fizzled out, as he became too focused on making plans for the future, which freaked out commitment-phobe Georgia. She instead spent her time on the show working on herself and ended up leaving Too Hot to Handle single.
Catch Georgia Hassarati on Perfect Match season 1, which is now streaming on Netflix.
Liv is a freelance journalist currently studying English at university. She loves covering everything from entertainment and politics to lifestyle and travel. As well as writing for My Imperfect Life, Liv has bylines in The Times, HuffPost, Den of Geek, Bustle The Metro and The Bookseller.