Who is Joey Sasso from 'Perfect Match' on Netflix?
Joey Sasso makes a bold move in 'Perfect Match,' but who is he? Let's get to know the reality star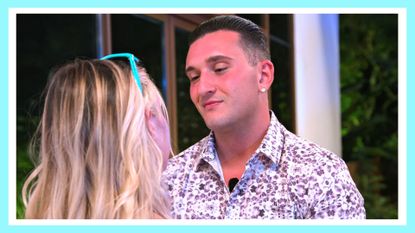 (Image credit: Netflix)
Joey Sasso is one Perfect Match contestant that has viewers talking.
The brand-new dating show from Netflix brings together some of the streaming platform's fan-favorite reality stars, reuniting single cast members from unscripted series Love Is Blind, The Ultimatum, Sexy Beasts, Too Hot To Handle, The Circle, Selling Tampa and The Mole in Panama in a The Bachelor-style attempt to find love.
And in Sasso's case, that meant reuniting with two of his exes: Kariselle Snow from Sexy Beasts season 1 and Francesca Farago from Too Hot to Handle season 1 and Love Is Blind: After the Altar season 1.
The Circle alum seems to know all the Netflix reality stars in the Perfect Match cast but what do we know about him?
Who is Joey Sasso from 'Perfect Match'?
Joey Sasso is a 29-year-old actor and reality star who grew up in Rochester, New York. Sasso started off behind the camera making movies on his family's home video recorder at a young age before realizing he wanted to be in front of it. He then began studying in his town's local theater company while also playing sports and becoming a nationally-ranked boxer.
He moved to Los Angeles when he was 18 and did commercials before appearing in films like 2015's Sinister 2 and 2018's They Want Dick Dickster, as well as a four-episode run on ABC's General Hospital in 2016. However, you could say his career really started when he appeared in Netflix's The Circle in 2020.
Joey was a standout on the Netflix reality series for his romance with Miranda Bissonnette and his bromance with Shubham Goel. But in an interview with GQ, Sasso revealed that he was shocked by the audience's reaction to him: "A lot of people perceived me in the beginning how people have perceived me in real life, that I'm a douchebag or a cocky asshole or a Jersey Shore wannabe. Especially living in L.A., you stick out like a sore thumb for being from New York, having an accent and slicked-back hair. But that's sort of been the story of my life, man."
What happened with Joey and Miranda in 'The Circle'?
In the first season of The Circle, Joey, like the other contestants, lived in an apartment complex where he could only communicate with his neighbors through a social media app. They would then compete against each other to be voted the most popular contestant. During his time on the show, he ended up connecting with Miranda, with the pair even sharing a kiss after she was blocked from the game.
But if you're wondering how their relationship faired outside of the competition, the answer to that is their relationship was very much friend-zoned. Speaking to Esquire in 2020, Joey revealed that they weren't really together: "We are in each other's lives. We are incredibly close. I love that girl to death. We have an amazing friendship that is unlike any relationship I've had with anyone else except my ex-girlfriend, who I've been best friends with since I was a child, so this means so much to me. For both of us, we just know that the love we have for each other—we know relationships can change that."
Who else has Joey Sasso dated?
Apart from Miranda Bissonnette, we also know from Perfect Match's premiere episode that Joey Sasso has dated fellow reality stars, Francesca Farago and Kariselle Snow.
When he first entered the villa, Joey stated that he loves blondes and "it is what it is." But then we find out that he and Francesca hooked up a few times after The Circle ended. It gets even better as one Joey Sasso ex wasn't enough for Netflix, so they also added in Sexy Beasts star Kariselle, who revealed that she met Joey in L.A. and "it was wild."
She tells viewers: "He looked me straight in my face, told me he's in love with me, literally said he was going to marry me someday and I fell for it." But after his declaration of love, Joey actually wasn't ready, so the two didn't speak for a few months until he popped up again saying he was ready before again falling off.
However, if you're wondering about Joey's dating history before his time on the streaming platform, then hold on to your hats because the details get even juicier.
The first batch of Perfect Match episodes also revealed that Joey was previously in a long-term relationship with someone who we think is the ex-girlfriend he was talking about in the Esquire interview. While he did state he had been single for four years, he revealed in the new Netflix series that he "think[s] a relationship like that, you don't just get over," hence why he is still hung up on it four years later, which didn't sit well with Kariselle.
Where did Joey Sasso finish in 'The Circle'?
In the finale, Joey was crowned winner of The Circle USA season one, and alongside the winner title he also bagged $100,000 in prize money.
What happened between Joey and Kariselle on 'Perfect Match'?
Out of all the Perfect Match couples, Joey and Kariselle proved most sincere, picking each other week after week. We were all surprised that they weren't crowned the Perfect Match winners , however, they did get engaged when the show came to an end.
"We would be sitting, talking about the future and what's going to happen after and I'm the type of person that, when I get something in my head I can't unsee it," Sasso told Newsweek. "So I remember it was lunch time and I think we maybe had a week left to go on the show and I just thought 'I'm going to marry this girl, I'm going to ask her to marry me."
Did Joey and Kariselle get married since the show wrapped? Unfortunately, the two broke up shortly after the show.
"We love very hard, so the highs are high, and the lows can be very low. At this point, we just know that we're probably better apart, but that we really want to try to work on our friendship," Joey told Netflix Tudum

Joey Sasso Instagram: what's his handle?
You can follow him Joey at the Instagram handle @joeysasso, where has more than 720,000 followers.
Perfect Match is now streaming on Netflix.
Liv is a freelance journalist currently studying English at university. She loves covering everything from entertainment and politics to lifestyle and travel. As well as writing for My Imperfect Life, Liv has bylines in The Times, HuffPost, Den of Geek, Bustle The Metro and The Bookseller.