You can do this Gigi Hadid workout routine from literally anywhere
Try the Gigi Hadid workout for some serious ab definition...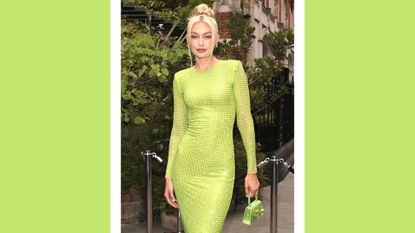 (Image credit: Ricky Vigil M/Getty)
After some Gigi Hadid workout tips? We don't blame you. The 27-year-old supermodel always looks strong and toned, whether she's strutting on the catwalk, posing in a fashion campaign or getting snapped strolling in the street. What's more, she's become particularly famed for her killer abs—which have shown no sign of fading since the mom-of-one welcomed daughter Khai, now aged two.
Sure, there are a lot of good genes playing a part in Gigi's lean, catwalk-ready physique (see: sister Bella and mom Yolanda). But, just like with Kendall Jenner's workout routine, the star certainly puts in the effort when it comes to fitness. Indeed, as you'll learn, she squeezes in regular sweat sessions even when she's on the road traveling around the world for work.
Without much further ado, from boxing to core work, read on to discover the perfect workout schedule that helps Gigi tone up. You're going to need a pair of the best black gym leggings to keep you feeling supported as you move, and one of the best yoga mats to stay comfortable during intensive core work. Because that definition doesn't come easy...
Gigi Hadid workout routine: what to know
1. Boxing sessions
Throwing punches in the ring has become a celebrity favorite workout in recent years—with Gigi joining stars like J-Lo and Shay Mitchell in opting to break a sweat with boxing. "When you're boxing, you get so into it mentally that you kind of forget what's going on and you forget that you're working out," the model told Vogue. "You always want more."
The star, who heads to Gotham Gym in New York, trains with owner Rob Piela who himself discussed with Vogue her secret to using boxing to stay in shape. "It's all about how hard you work and how much you put in—Gigi is a hard worker," explains the PT. "Staying fit is all about consistency. Don't miss workout days; don't get lazy in the winter." He gets her switching between boxing and floor work that keeps her core engaged. Talking of which...
2. Ab exercises
While Gigi's clothing line might feature lots of chic, slouchy pieces, she is also partial to showing off her impressively sculpted core in crop tops and low-rise jeans. So we're all ears for her exact ab routine, which Piela handily shared with Vogue.
The trainer suggests working on your core four times a week and doing planks, crunches and leg raises. "The combination of those three moves is golden," he explains. For the best results, follow his exact instructions:
Warm up the core with 10 minutes of boxing.
Perform three sets of 40 crunches each.
Raise your heart rate with 10 minutes of boxing.
Perform three sets of 40 bicycle crunches each, kicking each leg out once per bicycle.
Box for another 10 minutes.
Take a plank pose to hit the transverse abdominals, holding for about 60 seconds, or as long as you can maintain good form (abs tight, no sway in the back, and the neck in a neutral position).
Super-set straight into leg raises to hit the lower abdominals, performing four sets of 25 leg raises each.
3. Lower-body moves
However, Gigi doesn't just focus all her energy on her core. Indeed, she makes time for her lower body too, as evident in another 25-minute bodyweight workout Piela shared with Self.
It includes a warm-up to "get your core temperature up, muscles loose, and heart racing". This is followed by a main workout—featuring squat jumps and single-leg calf raises—then a cardio and core finisher. Here are his exact instructions:
Warm-up: do two sets of the below moves without rest...
Jumping jacks—25 reps
High knees—25 reps
Bodyweight squats—10 reps
Alternating forward lunges—20 reps
The workout: do two sets of the following moves, without resting in between...
Push-ups—10 reps
Tricep dips—10 reps
Sit-ups—10 reps
Wall sits—30 seconds
Squat jumps—15 reps
Single-leg calf raises—15 reps
Cardio and core finisher: do one set without rest...
Mountain climbers—30 seconds
Burpees—30 seconds
Plank—30 seconds
V-ups—30 seconds
4. Remote workouts
As previously mentioned, the key to Gigi's results is consistency, meaning she doesn't slack off when she's away from home. "It's fairly easy to let a busy schedule derail your normal workout routine," notes Piela to Self. "A full-service gym or an instructor isn't always needed to accomplish a workout regardless of location or space."
So how does he help Gigi from afar? "We get together as often as possible, and when she's here, we turn it up a notch," explains the trainer. "[But] we FaceTime when she's on the road. The motivation and support, no matter where she may be, is critical." This means she could be training just as hard in her hotel room with no equipment (although packing one of the best resistance bands for women won't take up much suitcase space if you want to increase the intensity).
Lauren is a freelance writer and editor with more than six years of digital and magazine experience. Most recently, she has been the Acting Commissioning Editor of Women's Health—where she co-produced the Going For Goal podcast—and has previously also written news and features for titles including The Telegraph, Grazia, Stylist, Dazed, The Sun's Fabulous, Yahoo Style UK and Get The Gloss. She covers all aspects of lifestyle, specializing in health, beauty, and travel. Can't live without: oat milk lattes, new podcast episodes, long walks, and great skincare.