IPL vs laser hair removal—which is best? We weigh up the pros and cons
Which is best for your skin type—IPL vs laser hair removal? Be sure to read our guide before parting with your hard earned cash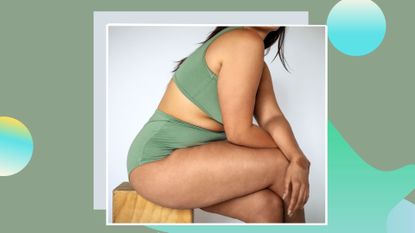 (Image credit: Future/Getty)
Where at one time shaving and waxing reigned supreme, these days there are myriad ways to de-fuzz your limbs, including laser hair removal and IPL for those seeking a high-tech alternative. But in the IPL vs laser hair removal debate, which is actually better, in terms of both affordability and results?
Before splashing out on treatments at the top end of the market, it's worth noting that the best at-home laser hair removal devices (IPL) serve up different results to laser. To help you understand the pros and cons of both, consultant dermatologist Dr Jinah Yoo explains what you need to know about both treatments.
Meet the Expert
Dr Jinah Yoo is a consultant dermatologist trained in clinical dermatology, immunology & immunogenetics and skin ageing & aesthetic medicine
IPL vs laser hair removal: How do the two methods work?
Diode laser technology is a long-lasting form of hair removal, and targets the active follicles that lie beneath the skin. Dr. Yoo says: "Lasers use one single narrow wavelength of light to selectively damage the hair follicle without affecting the surrounding skin.
"The melanin [natural pigment] in your skin, then absorbs this light energy and converts it into heat, ultimately damaging the hair itself. The eventual outcome will be a reduction in the amount and thickness of the hair."
IPL works in the same way, but with a broad spectrum of light instead of one pointed wavelength.
What is the difference between IPL and laser hair removal?
IPL and laser hair removal both use light to heat hair follicles, and prevent regrowth. But that's where the similarities end, clarifies Yoo.
She explains, "Unlike laser, which has one densified beam of light, IPL uses a broad spectrum of light with multiple wavelengths, meaning that its energy tends to be scattered, and much weaker."
It's worth noting that the majority of at-home laser hair removal devices rely on IPL. The only FDA-cleared at-home hair removal laser available on the market is the Tria Hair Removal Laser 4X, which claims to reduce up to 70% of hair growth after two treatments.
According to Yoo, there's a very simple reason why laser hair removal is generally best left to the professionals: safety. She says: "Lasers, if operated inappropriately, can cause considerable harm to your eyes and skin. If you are interested in laser hair removal, it's important to do your research and choose a qualified medical practitioner."
So while IPL may be generally safe for home use, laser hair removal should always be done in a professional setting, by a professional.
Why hurts more—IPL or laser hair removal?
Unlike hair removal creams, IPL and laser are arguably two of the more painful hair removal methods. When each follicle gets zapped during laser hair removal or IPL, it might sting—a sensation not unlike rubber band being snapped on the skin.
Typically though, IPL is considered to be less painful than laser hair removal, due to the built-in cooling that many IPL machines have. As such, it might be a better option for those with a lower pain threshold.
Dr. Yoo recommends a minimum of six laser treatments over the course of six to nine months, with a top up treatment once a year to maintain the best results.
Can IPL and laser hair removal work on all skin types?
Dr. Yoo told us, "For laser treatment to work, there has to be a big color contrast between skin and hair, which is why dark hair and light skin tones traditionally see the best results.
"Problems arise for very dark skin tones, because some lasers become confused and target the melanin in the skin instead of the pigment in the hair, which results in burning, pigmentation and scarring."
As such, laser hair removal is still very much possible for people with dark skin tones, but it's important to find a medical professional who will use the right laser for your complexion, in order to avoid damaging it. For example. Dr. Yoo likes to use the Lutronic Clarity II laser as it's safe and effective at treating almost all skin and hair types. She adds: "With dark skin, the laser settings are adjusted accordingly to protect the skin surface. It's precise and only targets the hairs."
Conversely, the majority of IPL devices can't be used on darker skin types. As such, neither are the best hair removal options for dark skin—read our guide to find the very best choice.
IPL vs laser removal: which is better?
Just like with electrolysis vs. laser hair removal, there are ultimately pros and cons to each technology.
Nothing beats the convenience of an at-home IPL device, especially given how science-led the latest iterations are. The Philips Lumea IPL 9000, for example, can be used both as a hair removal option for face and body, and has a built-in sensor that automatically selects the right setting for your skin tone (from very light to dark brown) and sensitivity. And, the Jovs Venus Pro has cooling technology to numb the area you're treating and can even be switched to red-light mode to improve collagen production for plumper, smoother skin over time.
There is also the price to consider. IPL hair removal devices work out to be significantly cheaper than a course of in-clinic laser hair removal and, of course, they are yours to keep should fluctuations in hormones cause fresh unwanted hair to grow. Getting to new hair growth early can also minimize the risk of any ingrown hairs. Laser hair removal can be pretty pricey, and experts estimate that you need around three-six treatments for the results to be as affective as possible.
Ultimately, though, the scattered light emitted by IPL is weaker and means more treatments, whereas laser hair removal has higher success rates for keeping limbs silky smooth for longer. And going to a professional is also best if you want to remove pubic hair without shaving. If you're wondering how long do hair removal methods last, laser is more of a permanent solution, meaning you should only need to go back for a top up after a year or two.
Overall, when deciding on IPL vs laser removal, it is your choice to decide on the best option for you, weighing up the pros and cons of each.
Fiona Embleton is a multi-award-winning beauty editor who has tested over 10,000 products in her 10 years + of writing and shooting beauty stories. For the past four years, she was the Senior Beauty Editor at Marie Claire, having previously worked in the role of Beauty Editor at both Stylist and Cosmopolitan. She has recently gone freelance and alongside My Imperfect Life, she has written for titles including ELLE UK, ELLE Canada, Buro 247, Harper's Bazaar Arabia, Vogue Scandinavia, and ES Magazine. Beauty journalism allowed her to marry up her first-class degree in English Literature and Language (she's a stickler for grammar and a self-confessed ingredients geek) with a passion for make-up and skincare, photography, and catwalk trends. She loves jumping on the latest internet-breaking beauty news, dissecting the best red carpet looks, and having the crème de la crème of dermatologists, make-up artists, and hairstylists on speed dial so she can tap them for the best advice. She's a discerning beauty shopper and knows it can be confusing trying to navigate what's hype and what really works. So if she really likes something, you can trust that she has reached that opinion by vetting it against everything else she's ever tried. Her career highs? Interviewing Cate Blanchett and winning a Jasmine Award for the deeply personal feature Cancer Stole My Mother's Scent.