Everything you need to know about JVN Hair—the sellout haircare range from Jonathan Van Ness
JVN Hair is the haircare range from Jonathan Van Ness, who some of the most covetable hair on TV...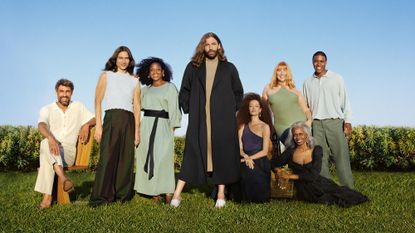 (Image credit: JVN)
Meet the haircare line that has stirred up so much hype on social media, it needs no introduction: JVN Hair. The brainchild of Queer Eye's resident hair and grooming expert, Jonathan Van Ness, it is, unsurprisingly, just as fabulous as he is and rivals even the best Olaplex products.
With 15+ years experience as a professional hairstylist in New York and Los Angeles, it's safe to say that Van Ness knows a little something about good hair. Van Ness explained, "Beauty is something that I have connected to my whole life. My mom was really into natural haircare, so that gave me a really strong foundation in understanding where ingredients came from. After doing hair for 15 years, I've learned so much about what works, what doesn't and what clients need."
On designing their own haircare range, Ness said, "It took me years to figure out how I wanted it [the haircare line] to come together and to find the right partner, because sustainability, inclusivity and ingredient quality was really important to me. I'm so proud of how it's come out."
The brand launched in the US at the end of August 2021 and arrived on UK shores in 2022—and it doesn't disappoint. Here's a breakdown of all you need to know about JVN Hair...
All about the JVN Hair products
Crucially, the JVN tagline is 'Come As You Are', which speaks volumes about its underlying message of inclusivity. To that end, the products in the collection don't focus on specific hair types or genders; rather it addresses hair concerns. So within this unisex line, you'll find four ranges:
Van Ness explains: "For so long the beauty industry has been the gatekeeper of how hair is 'supposed' to look. You know, if you're a male, your hair should look like this; if you're a female, your hair should look like that. For a long time, it didn't even acknowledge the existence of non-binary and trans people. I wanted to encourage people to come as they are and celebrate themselves." Essentially, JVN Hair will work for you whether you're making your first foray into the curly girl method, or you're trying to achieve expertly sleek and straight locks.
All of JVN Hair's 10 signature products are based on science-backed formulas, meaning all of them are free from silicones and sulphates. Aside from how great they make your hair feel, their sustainability credentials also make them truly stand out. Instead of plastic, all are housed in aluminium or glass that's infinitely recyclable. Even the sugarcane used to create JVN's hero ingredient hemisqualane is used in the packaging, which makes it compostable. It'd certainly be a great addition to your bathroom cabinet, if you're looking to make strides in your sustainable living journey!
Then there are the scents; the jasmine, sandalwood and bergamot in the Embody range leaves hair smelling like it's been misted in one of the best perfumes.
Is JVN good for your hair?
The short answer is 'yes'. JVN has opted for a lighter version of the hero ingredient squalane, hemisqualane, for his products, which is known for both smoothing and strengthening strands, without weighing fine hair down. Squalane is famed for its hydrating properties and its ability to protect the skin barrier. So much so that it's also the signature ingredient in Biossance skincare, a brand for which Van Ness is an ambassador.
Hemisqualane comes from sustainably sourced sugarcane. Van Ness told MyImperfectLife: "Hemisqualane is basically a smaller version of squalane. It's so penetrative that it instantly gets inside your hair. Then, over time, it gives more shine, strength and resilience, which is great. It's also totally silicone free, so it's safe for the environment, which we're really proud of. It's in every single one of our products."
Additionally, the range is infused with camellia seed oil, which is rich in oleic acid and replenishes the lipid layer on the surface of the hair to keep it looking shiny.
The stand-out products from JVN Hair
1. JVN Complete Pre-wash Scalp Oil
RRP: $28/£24
Meet the product that Van Ness admits he can't get enough of. Not for nothing, as it
literally gets to the roots of stronger strands and soothes a dry, flaky scalp. He adds: "It has turmeric in it to help decongest the hair follicles, plus it also contains hemisqualane which is really reparative for heat-styled hair, as well as bisabolol, which is a powerful anti-breakage ingredient. In clinical trials, it was shown to reduce breakage by up to 93% after three months when used twice a week, which is major!
"You just apply it all over your scalp, massage it in for 15 minutes and then wash it out. It's fabulous."
2. JVN Undamage Strengthening Shampoo and Conditioner
RRP: $18/£18
The reparative pair of course feature the line's hero ingredient hemisqualane but also ingredients you'd normally find in your moisturiser: ceramides to lock in moisture and jojoba esters to fill in cracks in the cuticle, which cause frayed ends and breakage.
Even the most damaged and over-processed hair will feel softer and more manageable after drinking in their goodness, which is why this shampoo and conditioner frequently sell out.
3. JVN Nurture Hydrating Shampoo and Conditioner
RRP: $18/£18
Folks with dry, frizz-prone hair will love the JVN Nurture Hydrating Shampoo and Conditioner, a duo spiked with aloe leaf juice, camellia seed oil and amino acids to both replenish moisture and improve the health of strands over time. Use alongside the JVN Nurture Deep Moisture Mask twice weekly, as a study found it instantly reduced frizz by 54%.
As someone with fine highlighted strands, I also loved the JVN Embody Daily Volumizing Shampoo and Conditioner. My hair felt immediately nourished without looking flat or greasy, while the addition of biotin and caffeine to stimulate hair growth made it even more appealing for long-term results.
4. JVN Complete Instant Recovery Serum
RRP: $28/£25
Another notable addition to your hair regimen is the JVN Complete Instant Recovery Serum, which is part styling cream, part leave-in repairing treatment and will completely change your perception of heat protectors.
Van Ness told My Imperfect Life: "A lot of people don't use heat protection because it makes their hair feel heavy and greasy. That's the silicone adding weight to the outside of the hair. Subsequently hair gets damaged from heat styling and hair color will fade." Apply to damp hair and comb through for best results. Using this is also one of our best curly hair tips.
5. JVN Complete Air Dry Cream
RRP: $24/£23
Finally, those who want to enhance the curl pattern of their hair or add touchable hold will adore the JVN Complete Air Dry Cream with strand-softening moringa seed oil.
Apply to damp hair and simply leave to dry naturally! It'll help you to create some brilliant curly hairstyles.
Shop the entire JVN hair range
Fiona Embleton is a multi-award-winning beauty editor who has tested over 10,000 products in her 10 years + of writing and shooting beauty stories. For the past four years, she was the Senior Beauty Editor at Marie Claire, having previously worked in the role of Beauty Editor at both Stylist and Cosmopolitan. She has recently gone freelance and alongside My Imperfect Life, she has written for titles including ELLE UK, ELLE Canada, Buro 247, Harper's Bazaar Arabia, Vogue Scandinavia, and ES Magazine. Beauty journalism allowed her to marry up her first-class degree in English Literature and Language (she's a stickler for grammar and a self-confessed ingredients geek) with a passion for make-up and skincare, photography, and catwalk trends. She loves jumping on the latest internet-breaking beauty news, dissecting the best red carpet looks, and having the crème de la crème of dermatologists, make-up artists, and hairstylists on speed dial so she can tap them for the best advice. She's a discerning beauty shopper and knows it can be confusing trying to navigate what's hype and what really works. So if she really likes something, you can trust that she has reached that opinion by vetting it against everything else she's ever tried. Her career highs? Interviewing Cate Blanchett and winning a Jasmine Award for the deeply personal feature Cancer Stole My Mother's Scent.