Olaplex as a treatment: which products should you use and how does it work? 
If you want to start using Olaplex as a treatment but don't know how, here's where to start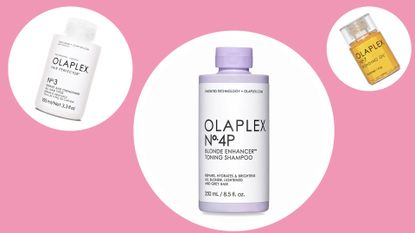 (Image credit: Future)
Using Olaplex as a treatment is nothing short of a superpower when it comes to repairing and preventing the damage that comes with coloring your hair.
Rather than gloss over any tatty ends like your average hair repair mask, the best Olaplex products are actually able to improve the structure of your strands, which means you can amp up or dial down your color more dramatically than ever.
But there are different ways to use Olaplex as a treatment for different hair types and needs—so here's how to use it for your particular concern so that you get the best results.
Meet the experts on using Olaplex as a treatment
Nicola Clarke is the Creative Colour Director at John Frieda Salons
What is Olaplex?
Olaplex was founded by Dean Christal, who teamed up with scientist Dr Craid Hawker and Dr Eric Pressly to create a new molecule that works from inside hair strands.
Called bis-aminopropyl diglycol dimaleate, this molecule was a technological first and features in high doses in the original Olaplex No.1 and Olaplex No.2 in-salon treatments. As an adjunct, there are now seven different at-home products, which all contain varying concentrations of the hero active ingredient, perfect for everything from thin hair to locks in need of the curly girl method.
How does Olaplex work?
Put simply, hair is made up of keratin fibres (whether you have a curly hair type or fine strands) that are held together by bonds. The most important of these are called disulphide bonds, which keep strands strong. Any time you change your hair color, you alter and potentially damage these bonds by causing them to split in two. When this happens, the oxygen molecules in peroxide attach themselves to these split bonds, causing hair to become brittle and snap off.
What using Olaplex as a treatment does—thanks to key ingredients like the bis-aminopropyl diglycol dimaleate molecule, carbon, nitrogen and sulphur—is attach itself to the broken bonds faster than these oxygen molecules. This allows Olaplex to repair the broken disulphide bonds by rebuilding them while your hair is being lifted or your color is processing in the salon, or doing its work in an Olaplex bun at home.
Nicola Clarke, Creative Colour Director at John Frieda Salons, who regularly uses Olaplex on celebrity clients such as Kate Moss and Cate Blanchett, explains: "Olaplex is the biggest game-changer in hair colour. It maximises the strength of hair by reconnecting disulphide sulphur bonds."
Better still, Olaplex is the only bonding treatment that can be added to any brand of professional hair colour, whether you're going bright blonde or following the copper hair color trend. You should be prepared to spend more time in the colorist's chair, though, as Olaplex-treated hair dye can take a smidge longer to lift.
Which Olaplex products you should use for treatment?
With nine products in the range, here's which Olaplex you should use in your hair routine based on your hair concern…
Olaplex for bleached hair
Those who regularly bleach their hair (whether you like a glossy blonde or take inspiration from celebrities with pink hair) will benefit most from the two-step in-salon method of using Olaplex as a treatment. The first—Olaplex No.1 Bond Multiplier—is mixed in with your color and contains molecules that prevent damaged bonds from reacting with the oxygen in peroxide. They seep into the hair strand and 'glue' together any cracks.
Once the color is rinsed out, Olaplex No.2 Bond Perfector is applied at the back wash. Left on for 20 minutes, it further binds with your hair to prevent any chemicals in the dye from doing their worst.
Olaplex for dry hair
It's hard for the natural oil on your scalp to travel down the length of your hair and moisturize the ends—especially if you have curly or Afro hair. That's when hair oils step in to help. Packed with vitamins and fatty acids, they can breathe life back into brittle strands and restore their light-reflecting sheen as well as strengthening weak spots so you can execute your favorite curly hairstyles with ease. Meet Olaplex No.7 Bonding Oil, a blend of lightweight plant oils that Olaplex is calling a 'weightless reparative styling oil'. One pump does everything (protects up to 450°F, smoothes frizz, adds shine).
Those who prefer to get their hair wizardry from a weekly mask should try the new Olaplex No.8 Bond Intense Moisture Mask. Dry hair doesn't stand a chance against ingredients like hyaluronic acid, a moisture-attracting molecule that holds 1,000 times its weight in water; ceramides for locking in that hydration; and oils including avocado and rice bran oils. 
Olaplex for hair growth
Makes sense: prevent breakage and your hair will grow longer and faster than ever before, perfect for those cute braided hairstyles you've been dreaming about. Olaplex No.3 Hair Perfector is essentially a strengthening treatment—but with a difference. Rather than quench hair with moisture to prevent premature snapping—which is what many post-dye conditioners and masks do—Olaplex No.3 is the at-home (hence slightly weaker) version of the Olaplex No.2 professional treatment.
As it sits on your hair, it forms a sleeve of repairing ingredients around the strands, rebuilding those injured disulphide bonds. Apply 1-3 teaspoons onto damp strands, comb through and then leave for at least ten minutes. Olaplex No.3 Hair Perfector even has Kim Kardashian's seal of approval: 'I notice a huge difference,' she says about using it after a new dye job.
Olaplex for damaged hair
For anyone with a damaged mane, Olaplex No.0 Intensive bond Building Hair Treatment is the answer to your healthy hair growth prayers. This extra-strength product boasts the highest concentration of Olaplex's patented molecule bis-aminopropyl diglycol dimaleate and works best in conjunction with the No.3 Hair Perfector two to three times a week.
It's easy to use: simply apply to dry hair until it is fully saturated and leave on for 10 minutes. Then work Olapex No.3 over the top and leave on for a further 10 minutes before it's recommended that you shampoo and condition. Hello hair with zero frizz, flyaways or frazzled-looking ends.
Olaplex for thinning hair & hair loss
Olaplex isn't formulated to treat hair loss or thinning hair, but it will keep the hair you have strong and prevent breakage—saving you the dreaded 'how to repair damaged hair' search. Start with non-toxic products to promote a healthy scalp. Olaplex No.4 Bond Maintenance Shampoo and Olaplex No.5 Bond Maintenance Conditioner aren't your average lather designed simply to send dirt down the drain.
Both help to repair broken bonds but also contain ingredients like acetic acid, rosemary leaf extract, biotin, oregano extract, burdock root extract and sodium hyaluronate to clarify the scalp, which in turn fosters healthy hair growth and potentially replacing those castor oil hair growth efforts. We recommend detangling damp hair with Olaplex No.6 Bond Smoother, a leave-in styling cream, to mitigate any damage from brushing.
Fiona Embleton is a multi-award-winning beauty editor who has tested over 10,000 products in her 10 years + of writing and shooting beauty stories. For the past four years, she was the Senior Beauty Editor at Marie Claire, having previously worked in the role of Beauty Editor at both Stylist and Cosmopolitan. She has recently gone freelance and alongside My Imperfect Life, she has written for titles including ELLE UK, ELLE Canada, Buro 247, Harper's Bazaar Arabia, Vogue Scandinavia, and ES Magazine. Beauty journalism allowed her to marry up her first-class degree in English Literature and Language (she's a stickler for grammar and a self-confessed ingredients geek) with a passion for make-up and skincare, photography, and catwalk trends. She loves jumping on the latest internet-breaking beauty news, dissecting the best red carpet looks, and having the crème de la crème of dermatologists, make-up artists, and hairstylists on speed dial so she can tap them for the best advice. She's a discerning beauty shopper and knows it can be confusing trying to navigate what's hype and what really works. So if she really likes something, you can trust that she has reached that opinion by vetting it against everything else she's ever tried. Her career highs? Interviewing Cate Blanchett and winning a Jasmine Award for the deeply personal feature Cancer Stole My Mother's Scent.