Did you spot this major Bridgerton set mishap?
The Ton is shocked by Netflix's major set mix-up that involved fellow royal drama The Crown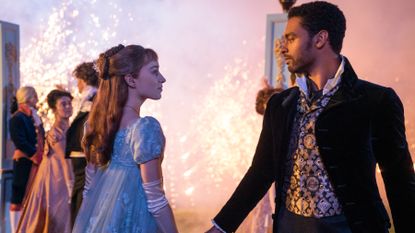 (Image credit: Netflix)
The Bridgerton series has left us all with a million questions, from who is Lady Whistledown, to what does the bee mean?But more recently we've been wondering if we've seen the Bridgerton set before...
If you've found the Bridgerton set oddly familiar and are you struggling to put your finger on it, maybe it's because you are also a fan of The Crown!
Eagle-eyed fans have noticed that Bridgerton has borrowed a lot of its set (and also some of Bridgerton filming locations) from its fellow Netflix drama.
The Crown and Bridgerton are both Netflix original series that focus on royalty and aristocracy in England, so it is only logical that Netflix would reuse old sets from The Crown for the new regency drama.
However, the two shows are set in completely different eras. The Crown is currently set in the 1980s and Bridgerton in 1813.
Because of this, fans are bewildered as to why Queen Elizabeth II and the fictional Duke of Hastings (played by Regé-Jean Page) from Bridgerton appear to share the same office...
A TikTok from Jenni Gabe showed that the exact same office appeared in The Crown and Bridgerton, despite the fact that the two are set well over 100 years apart.
Fans have commented in shock that the set designers did not even change the painting and decor that feature in the office space.
Many speculated that they had suspicions that the same set was used on both series. "I KNEW IT I KNEW a bunch of decor in Bridgerton looked familiar!!" Another commented: "They should have at LEAST changed the picture frames."
Other fans went straight to the comical side of this mishap. One wrote: "The queen wondering why there are crusty tissues everywhere"; and another hilariously pointed out: "Omg work from home buddies."
This revelation has many fans wondering where else the set might be duplicated on the two shows and has many fans hungry for a second series of Bridgerton.
Laura Harman is a journalist who has written for Woman & Home, Grazia and Good to Know and regularly contributes to My Imperfect Life.