Lovense Lush 2 review: is this a sex toy worth playing with?
Our tried-and-tested Lovense Lush 2 review finds a petite but powerful wearable vibrator focused on G-spot stimulation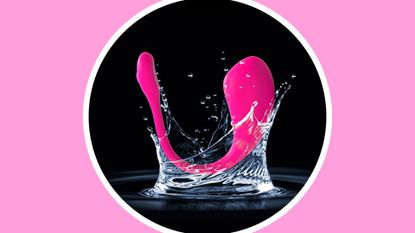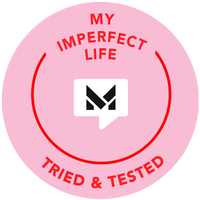 (Image credit: Amazon)
My Imperfect Life Verdict
The Lovense Lush 2 is a powerful wearable vibrator that is ideal for those wanting to spice up their sex life with long-distance or public play.
Reasons to buy
+

Powerful vibrations

+

Well-functioning app

+

Wearable

+

Waterproof
Reasons to avoid
-

No clitoral stimulation when inserted

-

The antenna can stick out

-

Charging port situated on the insertable end
Curious about the Lovense Lush 2? Then you'll be happy to hear our adventurous side loves the upgrade of the original Lovense bullet vibrator in our tried-and-tested Lovense Lush 2 review. (Yes, our in-house product tester personally put in the time evaluating this baby, because we're nothing if not givers!)
The new version of the pleasure gadget has been improved based on user feedback and, in our educated opinion, has become one of the best sex toys and app-controlled vibrators on the market—and we know how many types of vibrators there are to compete with! A love-egg style vibrator, the Lush 2 is a wearable device made from high-quality, body-safe silicone, and it can be controlled by the click of a button or with Lovense's app. (The original Lush model, which was released in 2015, was the first vibrator to be controllable via an Apple Watch, per the brand. The Lush 2 debuted four years later.)
The latter allows your partner to choose how much and what type of vibration you're getting from your toy from up to 30 feet via Bluetooth or from anywhere in the world over the internet. Vibrations come from the larger end of the curved toy, which can be inserted into the vagina to apply some much-appreciated pressure to the G-spot. (Fingers crossed for that elusive extended orgasm, eh?)
"Lovense is the only toy in the market that makes virtual sex nearly close to the real sex," co-founder and CEO Dan Liu told Tech.co.
Here are all of the must-know details—positive and negative—of the Lovense Lush 2 model, per our writer's thorough review.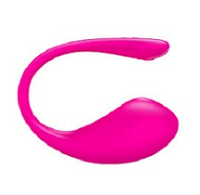 How we tested the Lovense Lush 2:
We diligently tested the Lovense Lush 2 not once, not twice, but three times. (You're welcome!)
Our first Lush 2 experience was alone, using both the app and the single button on the antenna to control it. Our second time, we had our partner—located several miles away—controlling the vibrator through the Lovense Remote app. Our third test was in public. We wore the vibrator out to a bar and sat across from our partner who was controlling it with the app.
During our tests, we assessed the following:
Vibrator strength
Vibrator form
Vibrator noise (particularly important for public play)
App connection
User-friendliness
Price point
Lovense Lush 2 review: Everything you need to know
FORM of the Lovense Lush 2
The Lovense Lush 2 is a C-shaped toy with one bulbous end (where the motor is located) that is inserted into the vagina, and one thinner end or "antenna" that sits externally.
This curved design means it's a wearable device that can be worn in public and controlled by a partner via the Lovense Remote app. It's fairly quiet, too, so it's discreet enough for public play as long as there's some background noise. (No masturbating in the library, sorry!) We did find that the antenna can sneak out the side of your underwear, especially if you're on the move, so definitely put some thought into the outfit you'll be donning during the act. If you're aiming for fully discreet you could also try the best vibrating panties.
The pros: The angled shape of Lush 2's larger end means it hits the G-spot perfectly when inserted, while the strong vibrations emanating from its powerful motor spread across the whole vagina. The flexible antenna stays outside the body searching for the Bluetooth connection required for using the app. It also comes in handy as a way to move the vibrator manually into the desired position and to control vibrations with the button on its tip.
The cons: The downside of this vibrator's design is that the antenna doesn't provide any clitoral stimulation, which means if you require that to climax then you'll have to stimulate your clitoris yourself. Or just use the toy externally—but then your G-spot might get jealous!
While we know some types of vibrators have so many different buttons to contend with that you feel more like you're trying to control the Starship Enterprise than a simple sex toy, we were pleased to find that the Lush 2 has just one button (located on its antenna) and it pretty much does everything. To turn on or pair the device, you simply hold down the button for 3 to 5 seconds until the red light flashes; push it once to move between vibration patterns. That's it. An orgasm never felt so easy!
POWER SOURCE of the Lovense Lush 2
You'll never have to bulk order a suspicious number of batteries for your vibrator again if you're using the Lovense Lush 2. This device comes with a USB charging cable that acts in the same way as a phone charger. It plugs into any USB port, including power banks, in case you run out of juice on any naughty public sex-capades.
It takes about 70 minutes to charge fully and you can tell it's charging when the red indicator light is lit up. Make sure you don't use it while it's fueling up, though—Lovense warns against it and where the safety of our vag is concerned, we listen!
FUNCTIONS of the Lovense Lush 2
Like our other beloved toy, the Lovense Nora, the Lush 2 has seven different vibration modes that all pack a punch—even the "weaker" ones. You can easily cycle through low, medium, high, pulse, wave, fireworks and earthquake (yep, it's as good as it sounds) by pressing the button on the antenna.
MAINTENANCE of the Lovense Lush 2
When you're spending upwards of 100 dollars on something, you want to make sure it lasts. We've found this to be a durable vibrator so far, especially when looked after carefully.
This entails covering it in water-based lube before insertion, cleaning it with water and mild soap or sex toy cleaner before and after every use, drying it thoroughly and then storing it in a bag or the box it came in. You know what they say: with great power comes great responsibility.
For the Lovense Lush 2, review the brand's recommendations that you recharge your toy at least once every six months to keep it in working order. If you're anything like us, though, that won't be a problem—you'll have to charge it a heck of a lot more than that.
APP CAPABILITIES of the Lovense Lush 2
Your Lush 2 vibrator can be easily connected to the Lovense Remote app using Bluetooth technology. This not only means that you can control your toy from your phone when masturbating solo (if that's what floats your boat) but also—more excitingly—that you can give someone else the power to control your vibrator from their phone. Just get them to download the app too and send them an invite.
With the Lush 2 being a wearable device, this function particularly lends itself to being used for discreet public play. You can sit opposite your partner in a restaurant, for example, enjoying secret pulsations in your pants while they relish having power over your pleasure.
If that seems a bit too adventurous, though, you and your partner can play with the app from the comfort of your own homes. Along with two different control panels, it also offers countless pre-programmed vibration patterns created by anonymous users, the opportunity to create your own patterns, a chat function for serious sexting and a video call mode too. You can even sync your toy to music or it can be sound-activated.
While some app-controlled vibrators can suffer from a poor Bluetooth connection, we didn't have any issues when using the Lush 2 and the Lovense Remote app, even under clothes or while in the bath.
SHOULD YOU BUY the Lovense Lush 2?
If your main need to reach orgasm is clitoral stimulation, then we'd say the Lovense Lush 2 is sadly not for you. Thankfully, we have a list of the best clit vibrators to fulfil that need. If, however, you're a sucker for G-spot stimulation or want a quiet toy to try out in public, then you'll no doubt think this vibrator is pretty lush. Enjoy!
Victoria is a freelance journalist with eight years of experience, writing everything from reviews and news pieces to meaty features for various online and print titles — including easyJet Traveller and b.inspired. Her work covers travel, lifestyle, health, and fitness. In her spare time, Victoria performs improv comedy and she's currently training to be a PT.