Olaplex No.4D Dry Shampoo review: a beauty expert's verdict
Our beauty expert's Olaplex dry shampoo review is here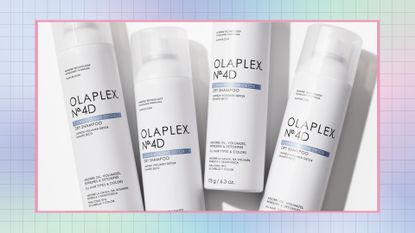 (Image credit: Olaplex)
My Imperfect Life Verdict
Carrying the signature bond-building technology that made the brand famous, Olaplex's dry shampoo is almost undetectable in the hair—both visibly and to the touch. The volume boost is on the subtle side, but you can rely on its invisible finish to push your next shampoo session back a day.
Reasons to buy
+

Very invisible finish

+

Smells lovely

+

Contains Olaplex's signature bond-building technology

+

Vegan and color safe
Reasons to avoid
-

Expensive for dry shampoo
Olaplex's products have been making headlines for almost a decade, so when the brand drops a new product, our ears immediately prick up. To that end, our beauty expert's Olaplex dry shampoo review is here to take you through the newest addition to the range.
The best Olaplex products are famous for their bond-building technology; repairing damage caused by factors like heat or color. Bond builders as a category have surged in recent months, but Olaplex has been doing this for a while and has now turned its attention to a much-relied-upon classic.
The latest haircare buy to join the coveted line-up is their 4D Dry Shampoo, promising a weightless formula without the gritty or chalky look and feel historically associated with this kind of product. So, will it become as iconic as Olaplex No.3? Our contributing beauty expert breaks it down below.
Meet the tester
Meet the tester
Lucy Abbersteen
My hair is color-treated, naturally curly, prone to dryness, and slightly fine. I frequently change how I style it, washing with the best shampoos for curly hair one week to a sleek DIY '90s blow-dry the next. Depending on said styling, I usually wash it every 3-5 days, and I'll often use dry shampoo towards the end of that time frame to extend its life by a day or two.
In terms of what I look for in a formula, I like good cleaning powers and a bit of added volume, though the latter isn't a huge priority. Because my hair is fairly dark, it's imperative that my dry shampoo doesn't leave any visible hint of chalky residue once rubbed in, otherwise I can't use it. I'm also not keen on formulas with cloying or excessively powdery scents.
A beauty editor's honest review of the Olaplex dry shampoo
Ingredients—what's in the Olaplex Dry Shampoo?
Without getting into too much of a science lesson, what sets the Olaplex products apart is its patented bond building technology—a molecule that repairs damaged and broken bonds in the hair. It features in everything from the cult treatment to No.4P Purple Shampoo, so it's no great surprise that this technology features in No.4D Dry Shampoo formula, too.
The rice starch in the formula is described as "ultra fine micro starch", contributing to its non-chalky and weightless feel. Also billed is extract of rambutan seed, which the brand notes is a sustainable source of antioxidants and therefore fends off pollutants and impurities—great news for city-dwellers. And, as with the entire Olaplex range, it's also both cruelty-free and vegan.
Application—how to apply Olaplex Dry Shampoo
Unlike treatments like the Olaplex No.8 mask, No.4D is used on dry hair. It can either be used between washes to help freshen things up, or you can use it on clean hair to add a bit of volume or as a pre-emptive option before, say, working out. Per the instructions on the minimalist can, here's how you should use it:
Shake the can well
Section off your hair—this will ensure you get dry shampoo into the under layers
Hold the nozzle six to 10 inches (15 to 25cm) away from your hair
Spray the formula onto your roots
Wait 30 seconds
Massage the product in
Olaplex No. 4D Dry Shampoo is an aerosol, so it's recommended that you store it in a cool, dark place such as a bathroom cabinet or cupboard when you aren't using it.
The verdict—is Olaplex Dry Shampoo worth it?
Before getting into my feedback, I feel it's important to acknowledge the price. There is no getting around the fact that 30 bucks is toward the top end of the dry shampoo price bracket. It's lasted me a reasonable amount of time so far, but for most people who go through cans and cans of dry shampoo this kind of price is more of a "treat" purchase.
Putting that to one side, this is a good formula, and the area it really excels is its invisibility. I've tried several dry shampoos that promise to leave no white residue but that require a lot of rubbing before they disappear—and sometimes they don't do so completely. That's not the case with this formula, which I found was almost invisible, so you can rest easy if you have darker hair. In my opinion, it would also work well as part of an Olaplex routine for curly hair.
Its cleaning powers are good, though there are dry shampoos I feel offer a superior clean, so be mindful of this if you're really pushing your next hair wash and trying it for the first time. But it has a nice scent that doesn't catch in the back of your throat, and freshens things up well. If you like dry shampoo to add a lot of volume and texture, it probably won't be right for you, as I didn't find that it adds lots and lots of lift—the effect is a nice lift that's subtler than other formulas, as it's designed not to have that gritty feel that adds texture. Overall, though? I think this is a great addition to the Olaplex lineup.
Lucy is a beauty journalist who has written for titles including Marie Claire, Cosmopolitan, OK!, woman&home and Women's Health, as well as regularly contributing to My Imperfect Life. Her work covers everything from skin and haircare tips to trying and testing the latest beauty launches, and interviewing celebrities and experts. A certified dog person, her other interests include mental wellbeing, books, piña coladas and not getting caught in the rain.