Best diffusers for curly hair: 5 options for bouncy and defined curls
We've rounded up the best diffusers for curly hair—both available to buy separately and with a new dryer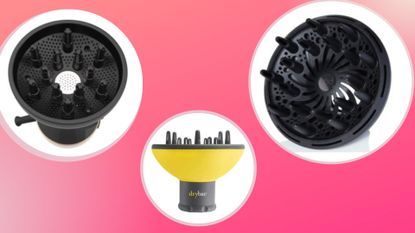 (Image credit: Future)
If you're drying waves, curls or coils, you need to be using one of the best diffusers for curly hair. For the uninitiated, diffusers are hair dryer add-ons that make the device look a bit like a megaphone—but drying your hair with a diffuser attachment is generally considered to be one of the best methods for achieving defined, bouncy and voluminous curls.
Their premise is simple: these attachments work to disperse air more evenly among sections of your hair for a gentler drying session. The main benefits of doing so are that this method is gentler on your hair, creates less frizz and yields more defined and healthy-looking (and feeling) curls and coils, meaning diffusers are essential if you're following the the curly girl method.
Does that sound like a must-have for you? Beauty editor, Lucy Abbersteen, has tested the best hair dryers for curly hair that come with diffusers, plus the top buys that can be purchased separately below, to help you make your purchasing decision. You'll find options for minimal hair damage, as well as more budget choices, and options from plenty of your favorite brands too, including ghd and T3.
Meet the experts on diffusers for curly hair
Lucy Jones is a stylist and curly hair expert at London's Larry King Salon, who uses hair dryers for curly hair everyday so advised us on what features to look for.
Michelle Thompson is an award-winning hair stylist, curly hair expert and an ambassador for hair tool brand ghd who gave us advice on what you should look for in a hair dryer for curly hair.
What makes the best diffusers for curly hair?
So, what makes one of the best diffusers for curly hair…the best? "When shopping for a diffuser you should look for one that has a good amount of prongs or fingers and holes," says award-winning hairdresser and ghd ambassador Michelle Thompson. "This will disperse the airflow evenly throughout whilst keeping the curls separated.
"A good powerful hair dryer that has a good temperature control and a cool shot is also a must." If you're looking for a new dryer as well as a diffuser, the good news is that today several models come with both. These include the following:
Now you know what to look out for in a hair diffuser for curls, take a look at our pick of the best.
The best diffusers for curly hair as reviewed by a beauty editor
1. Drybar The Bouncer Diffuser
Best all-round hair diffuser for curls
Specifications
Diameter: 15cm
No. of prongs: 12
Reasons to buy
+
Compatibe with non-Drybar dryers
+
Adjustable airflow
+
Ceramic lining, which helps to distribute heat evenly
+
Good quality feel
Reasons to avoid
-
Didn't fit some dryers by other brands
As its name suggests, this is a brilliant diffuser for creating bouncy curls in particular. The diffuser is pretty wide and has a very deep bowl shape, which means the airflow can be distributed around a good amount of your hair for suitably springy results. It's excellent for volume and also encourages good definition.
Although designed to fit with Drybar's Buttercup and Baby Buttercup models, the brand says it works with "most" other dryers. That said, it didn't secure on a couple of non-Drybar models I tried it with (which, to play devil's advocate, is partly down to some of those dryers having their own bespoke diffusers), so I ended up only testing it with the Buttercup dryer.
I advise checking the measurements compared to your hair dryer's nozzle before purchasing, or checking it out IRL first. But overall, it's really well-made and a great buy.
2. DevaCurl DevaFuser Diffuser
Best unique hair diffuser for curls
Specifications
Diameter: N/A
No. of prongs: 5
Reasons to buy
+
Can be used with any hair dryer
+
Really unique design
+
Great for boosting volume at the roots
Reasons to avoid
-
Can slide off non-DevaCurl dryers
-
On the expensive side
The first thing even non-experts will notice is the rather unique design of DevaCurl's diffuser—but don't be fooled; its uniqueness does get good results, even if it looks a bit unusual. The shape allows you to get air right into the roots thanks to its "fingers" as well as more precise drying around sections of your hair.
The other plus of this is that it's designed to fit over the nozzle of any dryers that align with the following specs: "Barrel diameter 2"-2 ½", barrel circumference 5 ½"-6 ½", and barrel length measuring 2 ½"-6 ½".
There's a very wide adjustable band around the nozzle end to secure the end of the diffuser, although it does have a tendency to slip off on the odd occasion. It's also slightly more expensive than other diffuser attachments, but it really ticks the curly boxes for creating both volume and definition, which is why it's one of the best hair diffusers for curls around.
3. ghd Professional Hair Dryer Diffuser
Best luxury hair diffuser for curls
Specifications
Diameter: 13.5cm
No. of prongs: 18
Reasons to buy
+
Sturdy
+
Extra wide prongs
+
Neutral color and design
Reasons to avoid
-
Only compatible with ghd Helios and Air dryers
-
Can only be bought separately from dryers
-
Only comes in black, so won't match all ghd dryer colors
Ghd's tools are developed with top hair stylists, so if they're good enough for the pros' kits, they're good enough for ours. Their diffuser works with either of the ghd dryer models, whether you're an Air or Helios owner, for a nice even airflow that promotes great bounce.
The prongs are on the wider side, meaning they can separate out sections of curls easily (with the help of one of the best brushes for curly hair, if you want), to add just the right amount of lift throughout your hair.
4. T3 SoftCurl Diffuser
Best hair diffuser for defined curls
Specifications
Diameter: 13.5cm
No. of prongs: 12
Reasons to buy
+
Lots of of holes for even air dispersal—resulting in quick and thorough drying
+
Good size
Reasons to avoid
-
Only works with the T3 Cura and Cura Luxe dryers
I used the T3 Cura Luxe dryer for years, but it wasn't until lockdown that I invested in the diffuser too, and it really changed the game for me. Combined with the dryer's volume shot function, my hair was soon springy and bouncy with every wash.
This diffuser does feel kind of lightweight, but it's absolutely loaded with holes allowing for fast and widespread air diffusing. It only works with T3's Cura and Cura Luxe dryers, so it's another one that's not a universal buy, but it is a great pairing for curly hair.
5. Bellissima My-Pro Diffon Diffuser
Best all-in-one hair diffuser for curls
Specifications
Diameter: 18cm
No. of prongs: 12
Reasons to buy
+
All-in-one dryer and diffuser
+
Compact—great for travel
+
Wide prongs
+
Great for definition
Reasons to avoid
-
Only two head/speed settings
Technically this is a diffuser and dryer in one, but it's definitely worth knowing about if you're after the best hair diffuser for curls. It features ceramic technology for smoother drying and a "tangle-free" grille to avoid getting your curls caught up in the fan, and in the USA the 5000 model is also infused with argan oil for added softness.
Considering that it's so compact, I was pleasantly surprised to find that it creates a really great amount of volume. It's ideal for travel, and super affordable if you don't want to spend hundreds of dollars/pounds on your dryer and diffuser combo.
What are the benefits of using a diffuser for curly hair?
In essence, using a diffuser is your one-way ticket to more defined and voluminous curls, so using one is one of our biggest curly hair tips. Because the air and heat are distributed more evenly throughout your hair, it allows for better drying and the preservation of your natural curl pattern, as well as less damaged hair.
"The benefit of using a diffuser is that you can encourage the natural movement of the hair whilst also keeping the definition of the curls and minimizing frizz," explains Lucy Jones, hair stylist at London's Larry King Salon. "By drying the hair upside down, you can also create volume." Bonus!
How to use a diffuser on curly hair—top tips to know
Buying a hair diffuser for curls is one thing, but knowing how to use it properly is essential.
"Make sure that the hair is prepped and all of the curls are moisturized and defined before drying," says ghd's Michelle Thompson. "Then, using your diffuser, hover around the head—try not to touch the hair during this stage, concentrate on the mid lengths and ends first. Doing this will help the curls/coils set in place.
"Once the curls are around 70% dry, then start to move the diffuser closer to the head and into the root until 100% dry."
She continued, "Also using a microfiber hair towel and squeezing the moisture or water from the hair allows the curls to form in their natural curl pattern, which also reduces frizz. Using a moisturizing curl cream can also help to define." Whether you should brush curly hair dry or wet is much debated, but many experts suggest not brushing it at all, and styling your curls this way instead!
In short, using one of the best hair diffusers for curls is going to ensure your hair dries evenly, while preserving your curl pattern and adding bounce. They're a worthy investment that you won't regret.
Lucy is a beauty journalist who has written for titles including Marie Claire, Cosmopolitan, OK!, woman&home and Women's Health, as well as regularly contributing to My Imperfect Life. Her work covers everything from skin and haircare tips to trying and testing the latest beauty launches, and interviewing celebrities and experts. A certified dog person, her other interests include mental wellbeing, books, piña coladas and not getting caught in the rain.