Liforme Yoga Mat review: is this fitness mat worth the splurge?
The Liforme yoga mat is one workout accessory that actually justifies its price tag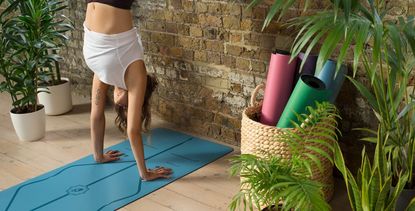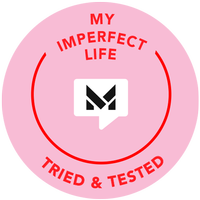 (Image credit: Liforme)
My Imperfect Life Verdict
The Liforme yoga mat is suited for both longtime yogis and fresh novices who want to take their practice more seriously.
Reasons to buy
+

Great grip

+

Markings help with form

+

Eco-friendly

+

PVC-free
Reasons to avoid
-

Expensive

-

Heavy to carry
Want to invest in a Liforme yoga mat? When it comes to great yoga mats, there are tons of options on the market and it can be overwhelming to narrow it down to just one. Whether mastering a difficult yoga pose or using it for an intense HIIT workout, we rated the Liforme yoga mat for its suppleness, durability, grip, and texture.
Liforme was created by American yoga enthusiast James Armitage, who wanted to help both instructors and yoga-devotees with their alignment. The mats are detailed with unique markings that they've deemed their "AlignForMe system" to help you have a more effective session.

Liforme mats are also highly ranked for their incredible grip. I personally wanted a mat that could handle both a warrior pose but could potentially double for other workouts, and Liforme's options offered the best of both worlds, making them some of the best yoga mats currently on the market.
The Liforme mats averages at $170 (£90-£115), a particularly steep price for a yoga mat. However, Liforme mats are yoga accessories that are worth the investment for those who want to take their practice seriously and won't leave them gathering dust in the cupboard.
The Liforme yoga mat: what you need to know
Design of the Liforme yoga mat
The Liforme mat comes in a wide array of colors but its most distinctive feature is the "AlignForMe" markings on each mat. With most people working out from home these days, the handy line along the center of the mat and clearly marked areas for hand and foot placements offer a great indication of whether or not you're aligned (or about to topple over).

Without the benefit of directions from an in-person trainer, the markings are a great help when taking yoga classes at home. I found that I was even more balanced than usual, as I was more aware of my foot placement. By shifting my feet a few centimeters within the markings, I even felt my posture change and correct itself.
Material of the Liforme yoga mat
The majority of yoga mats are made out of rubber, PVC or latex, which are not always environmentally-friendly materials. As a proclaimed "plant-friendly" brand, however, Liforme's yoga mat is made from recycled rubber and is PVC-free.

Once old mats are tossed out, Liforme states that it takes one to five years for the mats to decompose in normal landfill conditions. As many look to move away from plastic and there are plenty of biodegradable mats made from natural materials like cork, cotton, and more, Liforme mats are not the most sustainable activewear mats available, however.
---
---
Performance of the Liforme yoga mat
The very reason we use a yoga mat is to ensure we get a good grip, and each mat can vary in this respect. There's nothing more frustrating than trying to master a particularly unsteady tree pose and sensing that your mat is shifting beneath you. The Liforme crew claims to have the "grippiest Yoga mat material currently available on earth". It's a bold claim, yet the mat certainly is grippy.

It did not budge throughout my 30-minute home yoga session—and I certainly put it through a myriad of fitness tests. On my HIIT sessions, this mat can withstand impact even during my heavy-footed jumps and sweaty burpees. The mat is firm but comfortable and my knees, which tend to give me trouble, felt supported throughout.

I would be keen to try this mat out in a hot yoga class where I tend to be the sweatiest and slippiest person in the room. Liforme is pretty confident that it could stand the Hot Yoga heat, too, and states that the mats stay "grippy" even when "sweaty-wet."
Weight of the Liforme yoga mat
At 4.2mm, the Liforme mat is thick and noticeably weighty. If you're looking for lightweight activewear accessories to carry around, then this may not be suitable, as it could become cumbersome to tote while you're bopping about between yoga sessions. While it is a thick mat, however, I felt grounded and supple rather than squishy.

At 185cm long by 68cm wide, it's a significantly longer length, too. As a tall person, I've mistakenly purchased mats that don't span the length of my legs and arms, so I appreciate the room to stretch my limbs. Although, I do wonder if it's a little too long to fit in a traditional class. I wouldn't want to be that annoying person taking up too much space.
How to clean your Liforme yoga mat
It's recommended that you clean any yoga mat regularly, especially if you enjoy sweaty sessions. You'd be surprised just how germ-ridden these mats can get!

If you're wondering how to clean a yoga mat the right way, the brand suggests sponging it down with a tiny bit of dish soap and water every five to ten days. They warn that using heavy and abrasive sprays can wear down the durable material over time. Then, let the mat air dry whilst laying flat. Also, Liforme warns against wearing lotions and oils when using the mat as they can cause permanent stains.
Is the Liforme Yoga Mat worth its price tag?
When in the yoga studio, owning a Liforme yoga mat can feel like a point of pride. Many yoga enthusiasts save up to own one and it feels like a great investment to take with you along your yoga journey. I appreciate that the Liforme mat is made specifically for yoga practice, yet it's durable enough to withstand a HIIT class or other home workout if it calls for it.

It is a heavy mat to carry around and would probably leave you a bit out of breath if taken on a particularly busy commute. While it's not the most public transport friendly, Liforme has also released a lighter mat to travel with. As many adapt to working out at home, the O.G. mat is great for home-based workouts. The nearly $150 price tag is a stretch, yet for those who expect frequent use, this is a yoga mat that can withstand a lifetime of warrior poses.
L'Oréal Blackett is a journalist, presenter, and magazine editor specialising in women's lifestyle (BBC Radio, Bustle UK, Body Confidential, Daily Mirror). She also hosts popular podcast The Edit. Fuelled on coffee and a hip hop soundtrack, you can find L'Oréal sprinting a daily 5K or trying the latest HIIT class. L'Oréal also credits interviewing fitness guru Shaun T in his underwear (long story). She's currently training for her first marathon.