A complete guide to the 'Bridgerton' family tree
'Queen Charlotte' extended the branches of the 'Bridgerton' family tree. Here's a guide to the main fam of the Netflix series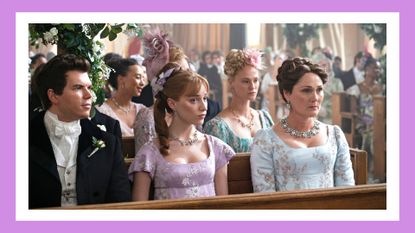 (Image credit: Liam Daniel/Netflix)
Plenty of new characters joined the Bridgerton family tree in Bridgerton season 2, and the Bridgerton spinoff, Queen Charlotte: A Bridgerton Story, gave us even deeper insights into the family members that we already know and love.
Sure, we had to say goodbye to the Duke of Hastings, husband to Daphne Bridgerton, in the show's second season because actor Regé-Jean Page announced that he would not be returning to the Netflix hit series, and crushed many a corset-wearing heart in the process.
But, thankfully, we got to welcome several new faces into the Bridgerton clan last season, including Anthony Bridgerton's new wife Kate Sharma (played by Sex Education actress Simone Ashley), her sister Edwin Sharma (newcomer Charithra Chandran) and their mother Lady Mary Sharma, portrayed by Shelley Conn.
A complete guide to the 'Bridgerton' family tree
1. Lord and Lady Ledger
At the tippy-top of the Bridgerton family tree, we have Lord Ledger (portrayed by Keir Charles) and Lady Ledger (Katie Brayben), the parents of Violet Bridgerton. We don't meet the couple in the original Bridgerton series but get to know them in the Bridgerton prequel, especially Lord Ledger's very close, ahem, friendship with the young Lady Agatha Danbury (played by Arsema Thomas).
Violet Bridgerton is only a young girl in Queen Charlotte: A Bridgerton Story (played by Connie Jenkins-Greig), but she seemingly catches wind of her father's affair with Lady Danbury later on as an adult due to a paper birthday crown he made for Agatha, which the latter had kept as a memento of their relationship.
2. Viscount and Viscountess Bridgerton
Speaking of Violet Bridgerton (played in both Bridgerton and Queen Charlotte by Ruth Gemmell), she is the widow of Viscount Edmund Bridgerton (Rupert Evans) and the mother of the eight Bridgerton siblings.
While the matriarch is a mainstay of the Bridgerton universe, her husband is seen in only one episode, "A Bee in Your Bonnet" in season 2. The episode begins with a flashback of Edmund 10 years earlier, as he's stung by a bee and dies of an allergic reaction, a loss that obviously impacts the entire Bridgerton clan, but especially Violet and her oldest son Anthony. Edmund died before the birth of his youngest child, Hyacinth Bridgerton.
3. Anthony and Kate Bridgerton
Following Edmund's death, eldest Bridgerton son Anthony (Jonathan Bailey) assumes the role of Viscount. Season two of the O.G. series follows his quest for love, during which he initially butts head but eventually falls for Kathani "Kate" Sharma, a "smart, headstrong young woman who suffers no fools—Anthony Bridgerton very much included," per Netflix. We don't get to see their nuptials onscreen, but the duo end the second season very happily married.
4. Benedict Bridgerton
The second-eldest son in the Bridgerton fam is Benedict (Luke Thompson), who is able to delve into his artistic passions as he does not need to uphold an official title, like his brother Anthony.
Benedict is the lead character in the third Bridgerton book, An Offer from a Gentleman, but will reportedly not be the focus of Bridgerton season 3—that will be one of his other siblings.
5. Colin Bridgerton
Yes, the third season will focus on third-born Bridgerton sibling Colin (Luke Newton) and his relationship with Penelope Featherington (Nicola Coughlan), even though their romance isn't explored on the page until book four, Romancing Mister Bridgerton.
6. Duke and Duchess Basset
The first and oldest daughter in the Bridgerton family is Daphne (Phoebe Dynevor), who gets married to Simon Basset, a.k.a. the Duke of Hastings, and welcomes a baby with him—the first Bridgerton grandchild, an adorable boy named August and nicknamed Augie—in season one of Bridgerton. (Fun fact: in the Bridgerton books, Daphne and Simon's first child is a daughter.)
7. Eloise Bridgerton
The fifth Bridgerton child and second daughter, Eloise (Claudia Jessie) is the heroine of the Bridgerton novel To Sir Phillip, With Love. On the screen, she's been crushing on printer's apprentice Theo Sharpe (Calam Lynch), but on the page, she ends up marrying Philip Crane (played in the show by Chris Fulton).
8. Francesca Bridgerton
Francesca Bridgerton, the third daughter of the family, has prompted many questions from viewers—that's because the actress portraying the teenager, Ruby Stokes, left the series after season two and has been replaced by Hannah Dodd for season 3 onward.
9. Gregory Bridgerton
The youngest of the Bridgerton boys is Gregory, played by Will Tilston.
10. Hyacinth Bridgerton
Hyacinth (portrayed by Florence Hunt) is the youngest Bridgerton sibling. She sadly never met her father Edmund, as he died before she was born, but she is named after the flower that he was picking before he passed away.
The first two seasons of Bridgerton are currently streaming on Netflix.
Christina Izzo is the Deputy Editor of My Imperfect Life.
More generally, she is a writer-editor covering food and drink, travel, lifestyle and culture in New York City. She was previously the Features Editor at Rachael Ray In Season and Reveal, as well as the Food & Drink Editor and chief restaurant critic at Time Out New York.
When she's not doing all that, she can probably be found eating cheese somewhere.