L'Oréal Paris Revitalift Filler serum review: does the bestselling hyaluronic acid live up to its promise?
Our L'Oréal Paris Revitalift Filler serum review reveals whether dry skin and fine lines are really plumped out by this serum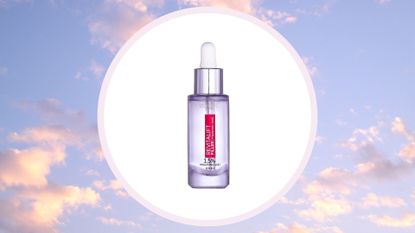 (Image credit: L'Oreal Paris)
My Imperfect Life Verdict
An affordable price and high-quality ingredients make this a stellar offering
Reasons to buy
+

Stylish packaging

+

High percentage of hyaluronic acid

+

Affordable price tag
Reasons to avoid
-

Fragranced, which may not suit those with sensitive skin
One bottle of L'Oréal Paris Revitalift Filler serum apparently sells every 60 seconds in the US—which is hardly surprising given the tech behind it and the fact that it looks deceptively expensive. So I decided to put this cult product to the test for a L'Oreal Paris hyaluronic acid serum review, to see if it truly lives up to the hype.
But first, a recap on what hyaluronic acid is. Hyaluronic acid (HA) is a humectant that can hold 1,000 times its weight in water. While it occurs naturally in the body, levels decrease as you get older, leaving skin feeling dehydrated and less firm. This is where a serum that harnesses the power of hyaluronic acid can make a serious difference to cushiony skin and softer-looking lines. When it comes to the skincare product order you should use hyaluronic acid in, it's a good shout to do it as your third step, after cleansing and toning.
The need to know
RRP: $25.99/£24.99
Best for: All skin types, but especially those concerned by horizontal forehead lines
Ingredients: 1.5% hyaluronic acid. Also contains the humectant glycerin
Aim of the product: Designed to hydrate while 'filling out' lines and wrinkles
How long it lasts: Based on twice daily use, this bottle should last between one and two months.
Texture: Gel-like
Is it scented? The formula is fragranced
A beauty editor's honest L'Oréal Paris Revitalift Filler serum review
Use—how do you apply L'Oreal hyaluronic acid serum?
The best hyaluronic acid serums draw moisture from their surroundings, so it's always best to apply the L'Oreal Paris Revitalift Filler serum immediately after cleansing onto a damp face, otherwise it could end up drying your skin out.
n terms of how often you should use Revitalift, the brand recommends two to three drops applied to a clean face and neck morning and night. Personally, I used it in the morning followed by day cream and my best sunscreen for face, as it helped to ward off any dryness from my retinol serum overnight.
Experience—how does the L'Oreal Paris Revitalift Filler feel?
Hyaluronic acid by nature is watery and gel-like in texture, so any serum that features it in high doses will have the same consistency. L'Oreal Paris Revitalift Filler serum is no different and massages easily into the skin.
Yes, it's scented, but for me that enhanced the pleasure of using the product—rather than being overpowering or unpleasant.
Results—does L'Oreal Revitalift filler work?
The science certainly stacks up. L'Oreal Paris Revitalift Filler serum contains 1.5% hyaluronic acid, which is more than standard drugstore formulations. It also just so happens to be the optimum amount to hydrate skin without causing irritation.
What's equally impressive about the L'Oreal Paris Revitalift Filler serum is the inclusion of two types of hyaluronic acid: 0.5% macro acids, which hold 1,000 times their weight in water to hydrate the skin's top layers leaving it looking dewy; and 1% micro acids, tiny hyaluronic acid particles that squeeze into the deeper layers, to plump skin from within.
Value—is the L'Oreal Paris Revitalift Filler serum worth it?
At $26, the serum sits neatly in the mid-price category of hyaluronic acid serums. The glass bottle and pipette elevates the user experience, making the L'Oreal Paris Revitalift Filler serum feel more expensive than it is.
But if you're looking for a serum that addresses multiple concerns, include hyperpigmentation, there are other serums available at a similar price point that feature more than just hyaluronic acid alone.
How it holds up
The first week of using this serum reminded me of when I first tried celebrity favourite Dr Barbara Sturm's Hyaluronic Serum. I liked the texture of the product but unlike hyaluronic acid serums that leave a tacky film over the skin for instant gratification, it absorbed quickly and I panicked that it wasn't working. While at two different ends of the market price wise (Dr Barbara Sturm's Hyaluronic Serum costs $300), the same rule applies: stick with it and within a week you can expect more supple skin because the hyaluronic acid is getting to work. Of course, Dr Sturm's Hyaluronic Serum also contains other powerhouse ingredients such as purslane, an antioxidant and anti-inflammatory—hence the hefty price tag.
Compared to other drugstore brands, however, L'Oreal Paris Revitalift Filler serum does contain one of the highest concentrations of hyaluronic acid (La Roche-Posay Hyalu B5 only contains 0.3%). But I do find you have to lock that hydration in with one of the best moisturizers for dry skin separately, whereas CeraVe Hyaluronic Acid Serum at just $19, has built-in ceramides, as well as vitamin B5, for additional skin barrier protection.
My Imperfect Life's verdict on the L'Oreal Paris Revitalift Filler serum
It's no secret that I adore hyaluronic acid. It's my hero ingredient for making skin looking smoother, brighter and generally more healthy. So even though I don't have dry skin, it's my insurance policy against sudden changes in temperature or any hormonal shifts that can leave my complexion dull and dehydrated. So is L'Oreal's Revitalift serum any good? My L'Oreal Paris Revitalift serum review is certainly a glowing one (quite literally).
Personally I don't mind that hyaluronic acid is the sole active as it allows me to pair it with other serums—like my best vitamin C serum or a niacinamide top-up— depending on what my skin needs that particular day. Also I know that rather than cocktailing lots of different actives at lower concentrations, this serum contains two scientifically proven types at a high 1.5% dose.
The only thing I take issue with is the word 'filler' in the name. I'm not going to tell you that a serum is going to magically improve the look of grooves like an injectable would. But the semantics can be forgiven when the price, the ingredients and the independent clinical results are this good: studies found that after just two weeks wrinkles were reduced by 47%; after six weeks that number goes up to 60%. I've been using this serum for just over six weeks and that assessment seems pretty spot on.
Fiona Embleton is a multi-award-winning beauty editor who has tested over 10,000 products in her 10 years + of writing and shooting beauty stories. For the past four years, she was the Senior Beauty Editor at Marie Claire, having previously worked in the role of Beauty Editor at both Stylist and Cosmopolitan. She has recently gone freelance and alongside My Imperfect Life, she has written for titles including ELLE UK, ELLE Canada, Buro 247, Harper's Bazaar Arabia, Vogue Scandinavia, and ES Magazine. Beauty journalism allowed her to marry up her first-class degree in English Literature and Language (she's a stickler for grammar and a self-confessed ingredients geek) with a passion for make-up and skincare, photography, and catwalk trends. She loves jumping on the latest internet-breaking beauty news, dissecting the best red carpet looks, and having the crème de la crème of dermatologists, make-up artists, and hairstylists on speed dial so she can tap them for the best advice. She's a discerning beauty shopper and knows it can be confusing trying to navigate what's hype and what really works. So if she really likes something, you can trust that she has reached that opinion by vetting it against everything else she's ever tried. Her career highs? Interviewing Cate Blanchett and winning a Jasmine Award for the deeply personal feature Cancer Stole My Mother's Scent.