This Topicals body retinol promises to fix keratosis pilaris
One beauty editor puts the cult Gen-Z brand's latest launch to the test with her Topicals Slather Exfoliating Body Serum review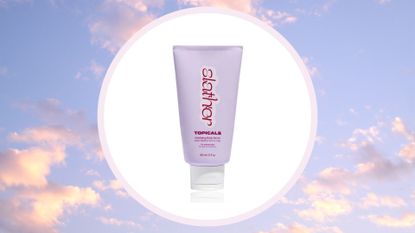 (Image credit: Future/Topicals)
My Imperfect Life Verdict
A great buy for maintaining and improving skin over time rather than a quick fix
Reasons to buy
+

Very lightweight

+

Improves skin over time

+

Fragrance-free

+

Powerful actives

+

Looks great in a shelfie
Topicals caused quite the stir almost as soon as it launched back in 2020, thanks to its skin-saving formulas housed in psychedelic packaging that everyone wanted to include in their skincare routine. It started with just two products in the lineup that were soon all over TikTok and Instagram.
Tubes of Faded—a gel packed with kojic and azelaic acids, plus melatonin to help clear hyperpigmentation—were posted alongside dramatic before and after images, with some claiming it had gotten rid of dark marks and scars that had stubbornly stuck around for years in a matter of weeks.
And as for Like Butter, a sumptuous leave-on mask that uses centella asiatica, turmeric, and antimicrobial Chinese rhubarb root to calm plus evening primrose and shea to nourish, its superpowers for healing eczema too went viral.
Since, aerosol versions of both products have launched as well as High Roller, a rollerball liquid that clears up ingrown hairs with zinc PCA, AHAs and BHAs. And the latest addition? A promise to fix our bumpy skin woes.
Meet the tester
Meet the tester
Ava Welsing-Kitcher
The skin on my body tends to be quite dry, especially since moving to arid Los Angeles. Within weeks, flaky patches started cropping up on my shins and around my elbows, which no amount of Aquaphor Healing Balm could fix. On top of that, the lifestyle switch from walking and commuting to driving everywhere means I'm sitting down a lot more, causing a minor build-up of keratosis pilaris: rough and bumpy skin along the backs of my thighs up to where they meet my bum.
Keratosis pilaris (also known as KP or chicken skin) happens when fine hairs on the body get trapped under the skin, causing a build-up of dead skin that scrubbing usually won't quite fix. It tends to collect on the backs of the arms and underside of the thighs, especially if clothing is rubbing or after long periods of sitting down. I've been looking for something to tackle both issues right at the root, to clear up excess dead skin and clogged pores—so as soon as Topicals Slather launched, I had to try it out.
A beauty editor's honest review of the Topicals Slather Exfoliating Body Serum
Ingredients—What's in the Topicals Slather Exfoliating Body Serum?
The body serum is a blend of powerful actives to resurface skin and unclog pores. The main star is an encapsulated (meaning its efficacy is preserved until it makes contact with the skin) retinol, which has been custom-blended to ensure the high strength is applied at lower concentrations for the most effective, gradual results. Retinol is a hero for kickstarting the skin's natural processes, like collagen production and shedding dead skin into gear, to improve its texture and suppleness.
Next is urea, a humectant and emollient, drawing water from the environment into the skin while softening and conditioning it. Its main job in this serum, however, is to act as a keratolytic agent to slough away any build-up of dead skin while helping the skin underneath retain water for moisture. Alongside this is squalane, an oil derived from olives that closely matches the sebum our own bodies produce for natural conditioning.
Lastly, we have lactic and glycolic acids to resurface the skin with each use. Glycolic acid is one of the stronger AHAs and can sometimes cause a reaction in more sensitive skin types, or have adverse effects in deeper skin tones. However, the fact that skin is thicker on our bodies means you can give it a try even if glycolic doesn't usually have a place in your facial skincare routine. The formula is described as safe for those with hyperpigmentation (and keratosis pilaris, of course).
Application—How to apply the Topicals Slather Exfoliating Body Serum
The serum is more on the runny, milky side rather than creamy, so it shoots out of the tube fairly quickly. Just one or two spurts is enough to cover the entire body and to add a little more to problem areas, and the texture means that a little goes a very long way – so definitely don't overshoot it. The formula is scent-free, so no risk of irritation if you're sensitive to fragrance.
I used it 3-4 times a week after a shower, sometimes after I had scrubbed and other times when I had used a softer sea sponge, to see if there was any difference in results (there wasn't, I just had fewer dry patches after the stronger scrubbing sessions). For such a light texture, I was surprised at how supple and softened my skin felt immediately after using, with a slight glow to show it was properly moisturized. This lasted for several hours and I didn't feel the need to layer a body oil on top as I usually would. I always followed up the next day with SPF on my body to protect the renewed skin, as I would on my face.
The verdict—Is the Topicals Slather Exfoliating Body Serum worth buying?
Over time my skin did seem to be doing a better job at maintaining its hydration levels, didn't feel so dry and tight after showering, and overall felt more strengthened. It seems to do a better job than my usual routine of scrubbing at dry patches, then layering thick emollients on top in the hopes of keeping flakes at bay.
The KP seems like it's starting to clear up gradually, but after trialing for just a week I didn't have unrealistic expectations. I'm anticipating that with prolonged use over the next couple of months, it'll do a great job at keeping my skin cell turnover functioning as normal. The light texture also makes it perfect for hotter climates as it sinks into the skin instantly, but the one downside is that it can only be applied at night due to the presence of retinol.
I think it's definitely worth the price, which isn't really expensive when you compare it to other KP-specific products from brands like Ameliorate, body retinols, and even some of the best retinol serums for the face. If you're after an overall marathon skin conditioning rather than just a quick moisturizing fix, I would definitely recommend adding it to your lineup.
Ava Welsing-Kitcher is a freelance beauty journalist who's earned her stripes at InStyle, Stylist, and The Sunday Times STYLE. Though she can write about anything beauty and wellness, her main passion is hair - especially curly and afro textures. You can find her trawling through ingredients lists and product samples to really get to the bottom of what makes an excellent beauty buy.