Olaplex No.8 vs 3: which of these hair repair products is right for you?
If you're torn between Olaplex No.8 vs 3, we've broken down the pros and cons of each—so which of these hair repair products is best for you?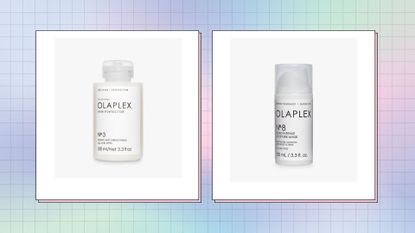 (Image credit: Olaplex/Future)
If you're torn between the Olaplex No.8 vs 3 debate and wondering which of these is the best Olaplex product for your hair concern, look no further. Our beauty expert has the inside track on how both of these popular hair treatments perform, to help you make a decision on the right one for you.
Olaplex's range of at-home products is hugely popular and universally beloved after making the transition from our salons to our homes. Made with impressive technology, which is designed to help prevent damage and rebuild the hair's broken bonds, it's no surprise that their hair care range is such a success.
The cult haircare brand's line-up now includes a shampoo, conditioner, hair oil and styling cream, but the Olaplex No.8 and the Olaplex No.3 are the most popular 10-minute hair healers. Both products are intended to be used as masks, put on your hair for at least 10-minutes (but sometimes overnight), to repair extreme damage and build back your hair bonds.
We put both through their paces, to bring you the low-down on each product and why one might be preferable over the other, depending on your hair type and goals.
Olaplex No.8 vs 3
Olaplex No.8 vs 3—Base formula
Since they're part of the Olaplex family, both No.8 and No.3 contain the hero ingredient—the bis-aminopropyl diglycol dimaleate molecule (try saying that three times in a row)—which helps to repair weak and injured bonds in the hair, to keep strands strong and healthy and help you out if you're looking for how to repair damaged hair.
Any time you color your hair, you alter and potentially damage these bonds, leaving them vulnerable to peroxide molecules, which can deplete the hair of protein so it becomes brittle and snaps off. As such, both can be used post-color, or as stand alone S.O.S products when you've been too heavy-handed with heat styling.
However, No.8 has a very different function from Olaplex No.3.
According to Jenni Mennella, Senior Director of Global Eduction at Olaplex, No.8 is "a conditioning mask" and the nourishing ingredients in the formula reflect that—so basically it's like the best moisturizers for dry skin, only for your hair.
No..3 is a more clinical strengthening treatment, with a higher amount of the bis-aminopropyl diglycol dimaleate molecule—making it arguably a better choice for colored hair.
Olaplex No.8 vs 3—Extra ingredients
The Olaplex No.8 Bond Intense Moisture Mask adds shine and body as well as throwing copious amounts of moisture, for frazzled hair. In fact, you'd be forgiven for thinking you were about to apply skin care to your hair, as the ingredients list would fit your 'how to choose moisturizer' checklist!
In addition to the bis-aminopropyl diglycol dimaleate molecule, there is hyaluronic acid, a moisture-attracting molecule that holds 1,000 times its weight in water; ceramides for locking in that hydration; amino acids to build resilience, plus avocado and rice bran oils.
Olaplex No.3 Hair Perfector, on the other hand, contains a higher percentage of the bis-aminopropyl diglycol dimaleate molecule and fewer pampering ingredients—aloe and jojoba oil are the only two notables on the ingredients list.
Olaplex No.8 vs 3—Application
Simply apply Olaplex No.8 to towel-dried, freshly-shampooed hair (perhaps after using one of the best shampoo bars) from the mid lengths to the ends, in place of conditioner. Start with 2 pumps for shoulder-length hair; use less or more depending on length. Work the product through with your fingers, leave on for 10 minutes, then rinse fully.
If hair is seriously damaged, Mennella recommends a two-step application starting with the No.3 for deeper repair, followed by No 8. If you pair this with the best microfibre hair towels, you're going the extra mile to prevent breakage while drying.
Used alone though, a generous amount of No.3 should be applied to damp, unwashed strands for 10 minutes once or twice a week.
Olaplex No.8 vs 3—Results
Independent clinical trials on Olaplex No.8 reveal strands have two times more shine, four times more hydration and six times more smoothness, after just one 10-minute session.
No clinical results have been released alongside the Olaplex No.3 review surge, perhaps on account of it being the first at-home Olaplex product to launch back in 2014 when it was still a small entrepreneurial business. But some of the top hairdressers in the world, including Nicola Clarke, who is responsible for Kate Moss' tresses, have described it as "game-changing".
Both leave hair with a light-reflecting sheen when used together, but what's really nice about the No.8 is that it's quite lightweight, so hair never feels greasy or weighed down with product
No.3 is a bit more heavyweight, so really does resurrect bleached hair and noticeably restores body and shine, while leaving a touchable softness to each strand.
Our verdict on Olaplex No.8 vs 3: which one should you buy?
While Olaplex No.8 is an incredible hair mask, Olaplex No.3 is our favorite on account of the high percentage of bis-aminopropyl diglycol dimaleate, the superstar molecule that works to repair the hair from the inside out.
We like to think of No.3 as the foundations of strong, healthy hair (great if you want to know how to grow your hair longer!) and No.8, with its shine-enhancing ingredients, as the decorative touch afterwards.
Both have a place in your hair regime, but the science behind Olaplex's patented molecule is so compelling that we reckon treating your hair to the maximum at-home dose in between salon appointments is best delivered in the form of the No.3 product.
Fiona Embleton is a multi-award-winning beauty editor who has tested over 10,000 products in her 10 years + of writing and shooting beauty stories. For the past four years, she was the Senior Beauty Editor at Marie Claire, having previously worked in the role of Beauty Editor at both Stylist and Cosmopolitan. She has recently gone freelance and alongside My Imperfect Life, she has written for titles including ELLE UK, ELLE Canada, Buro 247, Harper's Bazaar Arabia, Vogue Scandinavia, and ES Magazine. Beauty journalism allowed her to marry up her first-class degree in English Literature and Language (she's a stickler for grammar and a self-confessed ingredients geek) with a passion for make-up and skincare, photography, and catwalk trends. She loves jumping on the latest internet-breaking beauty news, dissecting the best red carpet looks, and having the crème de la crème of dermatologists, make-up artists, and hairstylists on speed dial so she can tap them for the best advice. She's a discerning beauty shopper and knows it can be confusing trying to navigate what's hype and what really works. So if she really likes something, you can trust that she has reached that opinion by vetting it against everything else she's ever tried. Her career highs? Interviewing Cate Blanchett and winning a Jasmine Award for the deeply personal feature Cancer Stole My Mother's Scent.